Twitter has been trending with #ArrestQariAbbas as the seminary teacher Qari Abbas aka Maulvi Ghulam Abbas Sehto was granted bail after molesting a 12-year-old boy at a mosque in Buddak village near Kandiaro.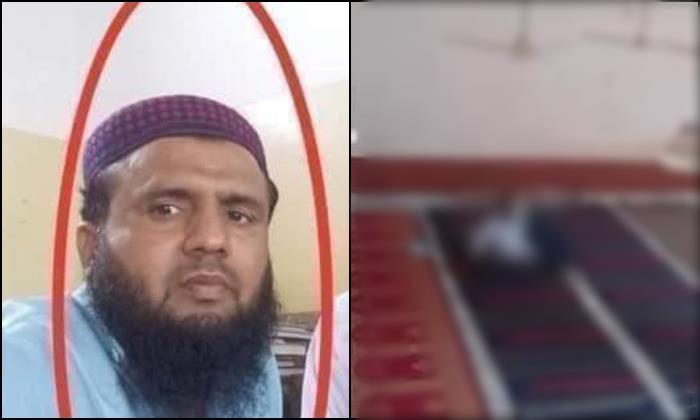 The incident has gone viral on social media after video started circulating on Twitter showing Qari Abbas doing unethical acts with the child he was suppose to teach the Holy Quran.
An FIR was registered against Qari Abbas aka Maulvi Ghulam Abbas Sehto by the child's mother at the Kandiaro Police Station in Naushahro Feroze District for raping her her child however, the accused was granted bail by a local court.
Read more: Justice For Rimsha: Sargodha teacher rapes student.
According to The Express Tribune, the Station House Officer (SHO) of the Kandiaro Police Station Rehan Hussain Wassano told the news outlet they had reviewed the video footage of the incident that the child was not raped and the however, the accused "was carrying out unethical acts" according to the officer.
SHO Wassano also mentioned of having received a video footage from another student accusing Qari Abbas of rape however, action could not be taken at the time since there was no official complain. The officer told the news agency:
The student did not come to the police station to register a complaint against him. We will investigate the matter if anyone files an official complaint.
The current incident involving Qari Abbas (Maulvi Ghulam Abbas Sehto) was reportedly filmed by a former student of the accused to used to come to the mosque to study Quran but left after he was abused by the teacher a couple of times.
The former student said that he was abused by the seminary teacher multiple times two years ago and even reported the incident to his parents however nobody believed him at the time. The boy / former student who filmed the incident said in his video:
I told my parents about it a couple of times, but instead of listening to me, they beat me,
According to the former student, he heard cries coming from the mosque and was able to catch Qari Abbas (Maulvi Ghulam Abbas) in the act and sahred the video so that people would take him seriously.
The incident has gained a lot of attention on social media and people the hashtag #ArrestQariAbbas has been trending on Twitter.
Read more: Justice for Julie Khan: Arrested in an alleged fabricated case.