KARACHI: Sindh Government has issued notifications stating that it will be providing 25 percent relief on taxes due for the year 2019-2020. This includes Motor Vehicle Tax, Property Tax as well as Professional Tax.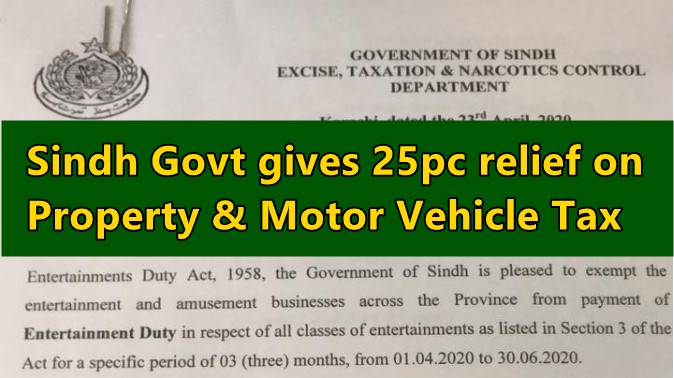 Entertainment Duty has also been exempted for a period of three months from 1 April 2020 till 30 June 2020. The news on the exemption was shared by Senator Murtaza Wahab on Twitter.
Read more: Sindh Govt SOPs for Businesses and General Public.
This decision has been taken keeping into consideration the impact that the coronavirus pandemic and the resulting lockdown.
The 25 percent relief on Motor Vehicle Tax is only for commercial vehicles that include the following:
Loader
MCR (including Riskshaw and Qingqi)
Mini Bus
Pickup
Coaster
Delivery Van
Station Wagon
Taxi
Van
If some has already paid taxes for the year 2019-2020, the 25 percent exemption will be adjusted during the next financial year 2020-2021. This includes all three categories mentioned Property, Professional and Motor Vehicle Tax.
Read more: Sindh Vehicle Verification Online.