Pakistani cricketer Shoaib Malik crashed his modified Toyota Supra sports car into a truck near the Nishtar Park Sports Complex in Lahore on Sunday.
The car accident occurred after Shoaib Malik left the National High Performance Centre (NHPC) after Pakistan Super League (PSL) draft was conducted today.
#ShoaibMalik met a horrible accident on his return from #Psl6Draft .. he's fine Alhamdulillah
Look at the condition of his car.. pic.twitter.com/9Cvuc1SWb7

— Bilal Anwar (@Bilal_Sayss) January 10, 2021
Shoaib Malik was not injured in the car accident but his Toyota Supra sports car sustained damages from the front side when it crashed into the truck in Lahore.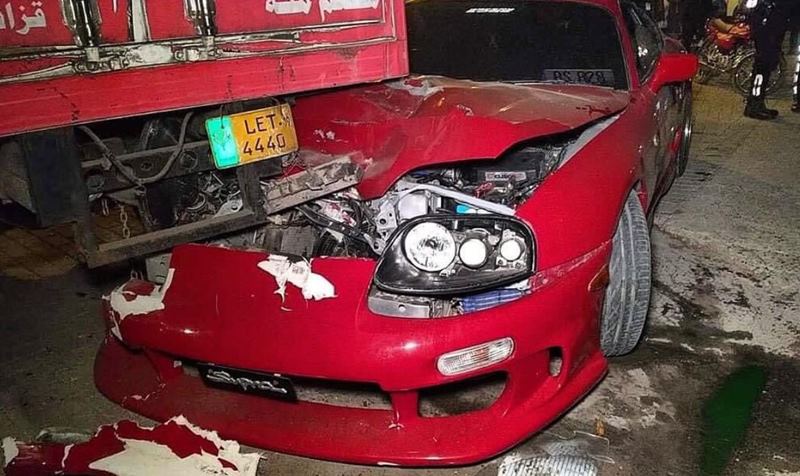 Shoaib Malik exited the National High Performance Centre (NHPC) in Lahore at a high speed and was unable to control the car resulting in the accident.
Malik reportedly left the NHPC with fellow cricketer Wahab Riaz and both were seen racing on the street when the crash occurred on Sunday.
Moreover, an eye-witness told a local news outlet that the Shoaib Malik told him not to make his video while he was sitting in modified Toyota Supra sports car after the crash.
"I am perfectly all right everybody. It was just a happenstance accident and Almighty has been extremely Benevolent. Thank you to each one of you who've reached out. I am deeply grateful for all the love and care." the former cricketer said on Twitter after the car accident.
Read more: Hania Aamir Dance Video Goes Viral.
Follow INCPak on Facebook / Twitter / Instagram for updates.