KARACHI – Finally an ordinary person will be able to visit Sindh Governor house, the historic building where Pakistan's flag was hoisted for the first time on 14th August 1947, It is the same Governor House where Muhammad Ali Jinnah (Quaid E Azam) resided after independence in August 1947.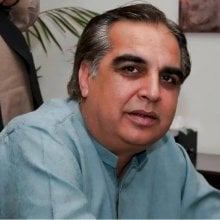 Sindh Governor Imran Ismail finally not only singing about Tabdeeli but bringing it in real for the the citizens to visit Sindh Governor House, Open for public to visit.
According to Governor Imran Ismail the Sindh Governor House building will be open for public viewing from September 7th 2018.
I hope they don't charge entry ticket and keep it free for everyone as people are poor and they want to see who been burning their hard earned money on lavishing lifestyle in State houses such as Governor House Sindh.
Read More: How far have we come
While speaking to the media Imran Ismail disclosed that the historic building of Governor house has rare artifacts. He also said the public will be able to walk in the spacious gardens and be also allowed to visit the building of Sindh Governor house from inside.
PTI keeping its promise to shun lavish lifestyle has taken this step. Responding to a question, the governor said that after taking charge of his position he has been using only two rooms of the official residence and only one government vehicle unlike the protocol of previous governors which included 40 cars.
The public would be allowed to enter the premises from Gate 1 after formal identification.
Sindh Governor House Address
Aiwan-e-Saddar, Civil Lines, Karachi Sindh
Previous Known Names of Sindh Governor House
Government House
Governor General House
President House
Few Historical Facts of Sindh Governor House
Built in 1939, and has been the residence of several prominent figures, including the Commissioners,pre-independence British governors of Sindh,  the Governor-Generals of Pakistan,the President of Pakistan and the Governors Sindh province.
Built at the cost of 700,000 rupees
Governor House building started in the year 1936 by renowned architect R.T. Russel and was completed in 1939. Graham, the succeeding governors of Sindh, Sir Hugh Dow (1941–1946) and Sir Francis Mudie (1946–1947)