KARACHI: Home Department, Government of Sindh has issued a notification on 1st march, 2021 directing to lift all the restriction imposed on all commercial activities and Amusement Parks across the province.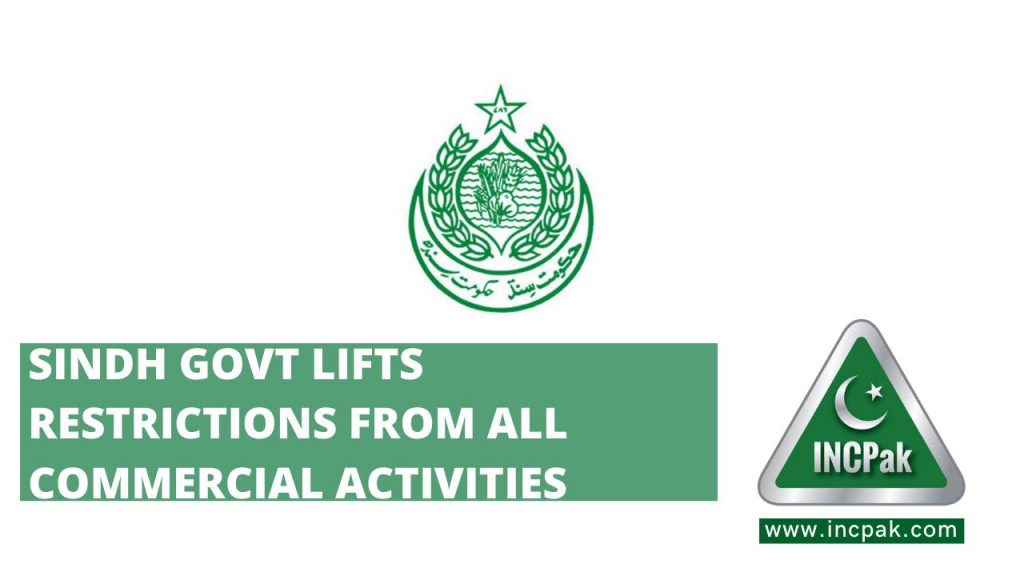 The notification order states "In pursuance of the NCOC, Government of Pakistan decisions and exercise of the powers under section 3 (1) of Sindh Epidemic Disease Act 2014 (The Sindh Act VIII of 2015), the Government of Sindh is pleased to direct as under with immediate effect and till 31st March, 2021 unless changed or amended earlier"
Time limit has been lifted from all commercial activities and Amusement Parks
Condition of 50% work from home is removed.
No indoor marriage/wedding – as per earlier decisions only outdoor events/marriages allowed with upper limit of 300 persons till 10:00 pm under defind SOPs – Marques with defined modifications are ventilations – No buffet service is allowed.
Restaurants – as per earlier decisions no indoor dining – only outdoor dining and takeaway/home delivery.
Compulsory Mask wearing and Social distance – at all Government and Private offices and public places.
Smart Lockdown (SLDs) as may be necessary as per earlier decision based on disease hotspots as appropriate by respective Commissioners and Deputy Commissioners under Sindh Epidemic Disease Act 2014.
50% Spectators attendance in Pakistan Super League (PSL 6) pool matches is allowed.
Read More: Primary schools, universities reopening from February 1, decides NCOC
Further as per NCOC decisions relaxation in the following allowed w.e.f 15th March, 2021 unless reviewed earlier on the basis of disease spread pattern.
Indoor wedding ceremonies with stringent COVID SOPs
Indoor dining subject to the review on 10th March, 2021.
Opening of cinemas with stringent COVID SOPs
Notification Copy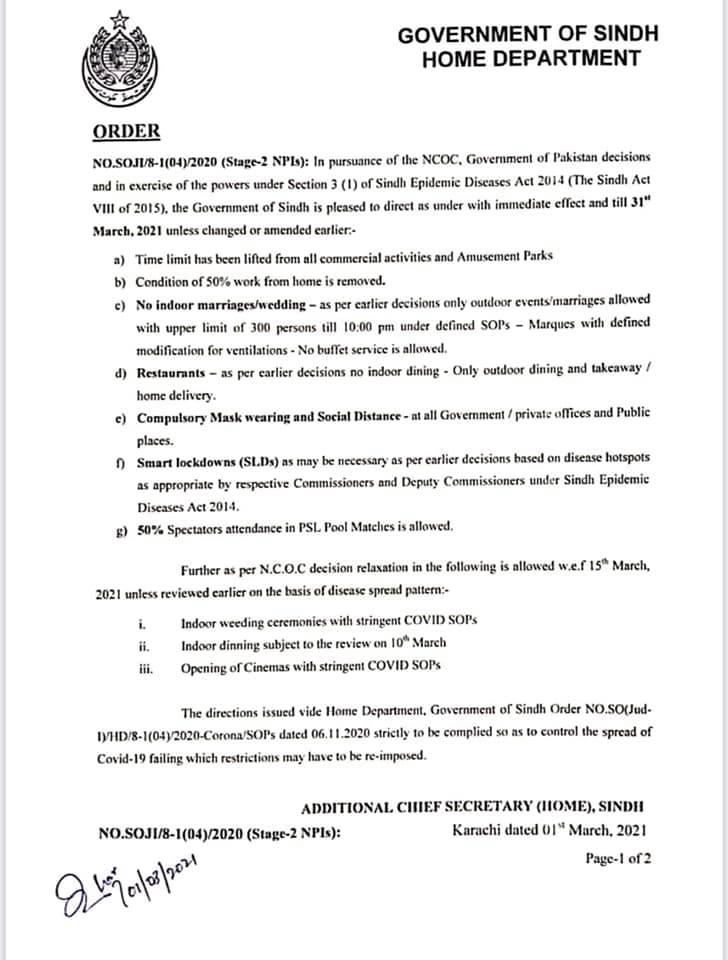 The directions issued vide Home Department Government of Sindh Order dated 06.11.2020 strictly to be complied so as to control the spread of COVID-19 failing which restriction may have to be re-imposed.
Read More: Gold Rate in Pakistan Today – 2 March 2021
Follow INCPAK on Facebook / Twitter / Instagram for updates.