KARACHI: Two trains collided in the city's Landhi area early Thursday morning, leaving at least 21 people dead and resulting in injuries to 65 others including children.
The accident occurred in Gaddafi Town Landhi at 7:18 AM when Zakaria Express collided with the stationary Fareed Express. Two bogies of Fareed Express and one bogie of Zakaria Express were completely destroyed due to the collision.
Fareed Express was at Juma Goth Train station when Zakaria Express crashed into it. Initial investigation reveals that the driver of Zakaria Express ignored the signal.
21 bodies and 65 injured have been brought to Jinnah Hospital, said Dr. Seemi Jamali, Head of Emergency Department at Jinnah Hospital. "Many among the injured have head injuries and some are in critical condition," she added.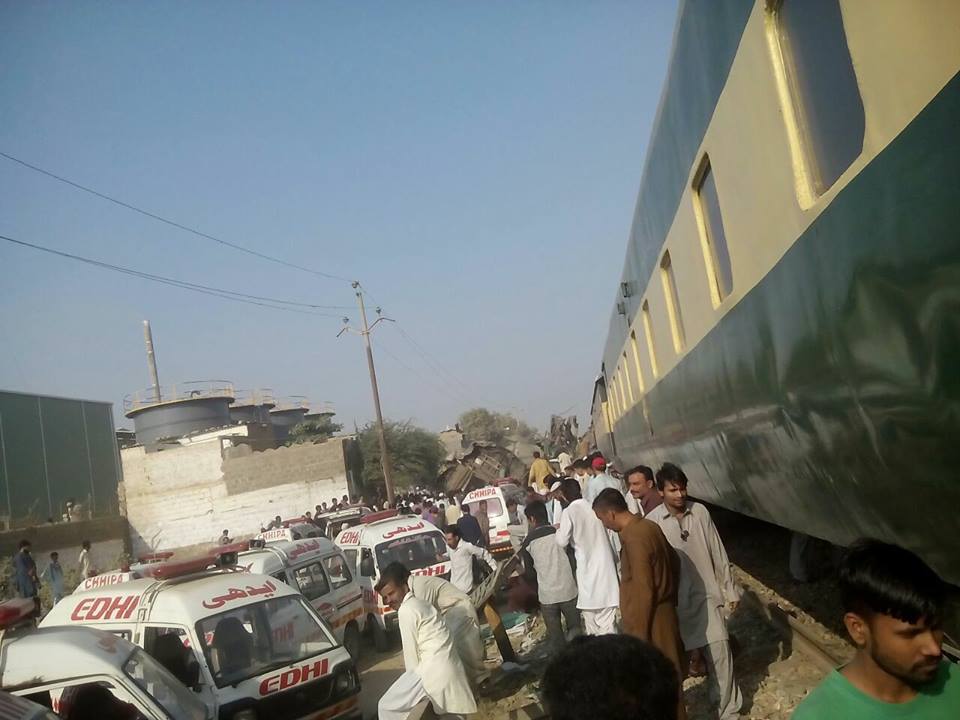 The crash resulted in traffic jam, and ambulances carrying the injured got stuck on the roads.
Emergency has been declared at Jinnah Hospital, Abbasi Shaheed Hospital and Civil Hospital.
Fareed Express was coming to Karachi from Lahore, while Zakaria Express had set off from Multan.
All trains from Karachi have been suspended till rescue work is completed. Trains on their way to Karachi will be stopped at another station before they reach Landhi.
Prime Minister Nawaz Sharif and President Mamnoon Hussain expressed grief over the accident and offered their condolences to the families of the victims. President Mamnoon Hussain ordered investigation into the collision and announced financial help for the victims' families.
Accident was human error 
Speaking to journalists in Islamabad, Railway Minister Khawaja Saad Rafique said that the accident was caused through a human error and the signal system of the Railways was functioning perfectly.  He announced Rs 1,500,000 for as compensation for the dead, and Rs 300,000 as injured.
He said that he will reach Karachi shortly to investigate the situation at the site.
Images courtesy of P.R Pakistan Railways Facebook Page