Karachi Blackout – Major power breakdown in Karachi plunges city into darkness  On the 7th July, 2015 around 9 pm PST, Electricity said goodbye to Karachi – A large number of city localities plunged into darkness on Tuesday night as a major fault occurred in the transmission and distribution system of power distributor K-Electric.
KE officials were quoted as saying that feeders at Bin Qasim power plant tripped, which resulted in the major power breakdown that has engulfed most parts of the city.
The power breakdown also affected commercial activities of the city with business centres and markets turned dark, and people facing difficulties making their way out of densely populated shopping malls.
Karachi's electricity distribution system is a complex, and delicate, web and a major fault at one section often leads to chain reactions and breakdowns of power generation and transmission.
Usually on micro-blogging website Twitter K Electric stays active, after 7 hours of Blackout they issued the notification on Twitter and Facebook.
Outage prolonged due to tripping of Hubco/Jamshoro. KE teams making alternate arrangements to normalise the situation.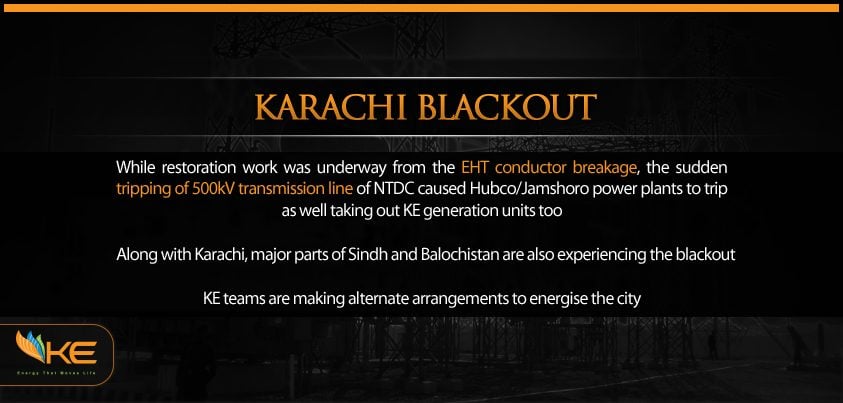 After 7 hours of fixing the issue and restoring,  the second tripping caused blackouts in Karachi, Hyderabad, Thatta, Kotri, Mirpurkhas, Badin and Nawabshah. Hub, Lasbela among some other areas in Balochistan also suffered blackouts.