APNA CITY OFFER – Zong 4G, has introduced Nowshera Special offer. The offer speaks volumes of Zong's proactive customer-centric approach that has made it the leading network of Pakistan.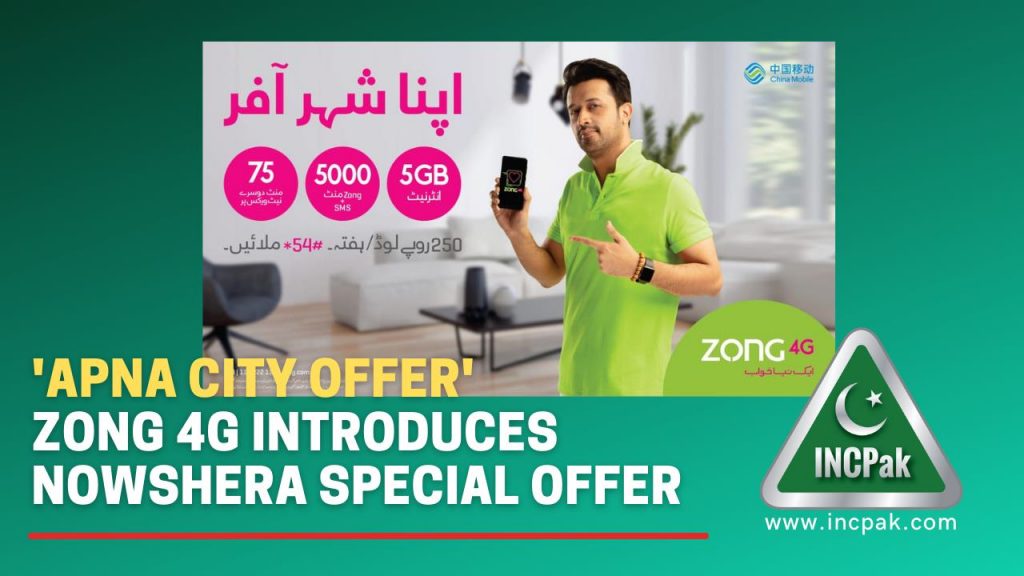 ZONG APNA CITY OFFER
Through the Nowshera special offer, the residents of the city can enjoy
Nowshera Special offer
75 All Net Minutes,
5,000 MB Data,
5,000 On-Net Minutes,
5,000 SMS
PKR 250 only
This Nowshera Special Offer is weekly based, now people can avail the offer by dialing *54# or contacting their nearest retailer or Zong franchise. Offer can also be subscribed by using the My Zong App. Users of other networks can simply call the helpline 0314-3334455 or contact the nearest retailer or Zong franchise to convert their number to Zong.
"We have led the industry in introducing products and services that are built around evolving customer needs," shared Zong's official spokesperson. "It's the love of our customers and their trust in Zong 4G that has made us the true leader of digital transformation in the country. Shaping and supporting their digital lifestyles, we proactively work for the digital enablement of Pakistanis across the country."
Besides the attractive Nowshera offer, Zong has recently introduced special offers for Attock, Kamra, Hazro, and Bannu. In addition, the company has also brought numerous unbeatable international roaming offers that is helping thousands of Pakistanis stay connected to their loved ones as they travel abroad. The offers have been particularly helpful amid the coronavirus pandemic.
APNA SHEHR PUNJAB OFFER
APNA SHEHR PUNJAB OFFER, Now in your city, Zong introduces location-specific hybrid bundles at unbeatable prices. 
Customers residing in Punjab region can also visit their nearest retailer and request for Apna Shehr Punjab Offer subscription 
ELIGIBILITY
Apna Shehr Punjab Offer is expanded to entire central Region 
HOW TO SUBSCRIBE
Punjab customers can subscribe to the offer by dialing *2222# 
Other Zong Offers
TERMS & CONDITIONS
These offers are location-based and can be changed at any time.
Standard tariff will be applicable on internet, calls and SMS made from outside the offer boundary.
These offers are not auto-recursive.
No call set-up charges are applicable.
Below mentioned Taxes/ Charges would be applicable:
Advance Income Tax (AIT) rate of 12.5% applies on every recharge
Sales tax (GST) of 19.5% on usage applies