Pakistan's superstar and multi talented celebrity Ali Zafar who was recently seen on the big screens all over the world for the first time this year with the super hit flick Chashme Baddoor, is equally as popular in India as he is Pakistan. His popularity is increasing after his recent flick been declared the first Super Hit movie of 2013. His acting skills, the critical and commercial response toward the movie has proved that Ali is here to stay in the Big Town of the India. After the stupendous success of his debut film Tere Bin Laden, that made Ali Zafar a household name – He followed it up by working with one of the biggest production houses in the country – Yash Raj Films in their romantic-comedy Mere Brother Ki Dulhan, where the actor managed to hold his own alongside stars like Katrina Kaif and Imran Khan.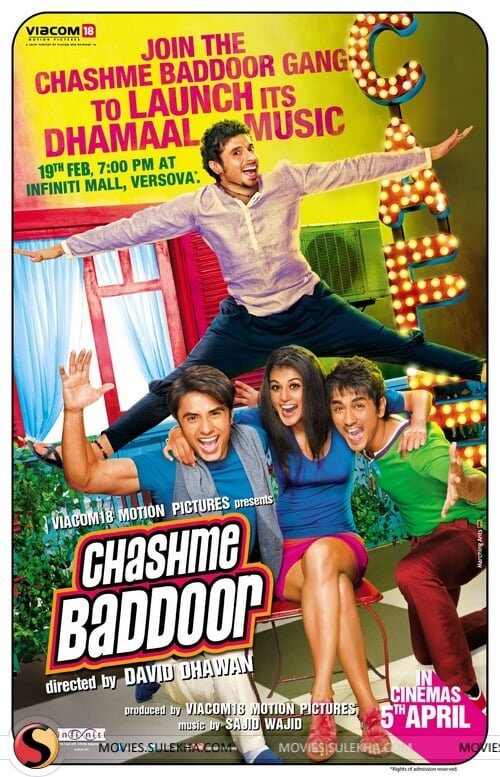 Ali Zafar played the 'Siddharth'  in Chashme Baddoor and with the recent success of David Dhawan's Chashme Baddoor , Ali Zafar now scores a hat trick as the film had the box office cash registers ringing. The actor, who boasts of an ever-expanding fan base worldwide has also impressed critics on home turf – Talking about his performance in the film says acclaimed critic and trade analyst Taran Adarsh,"Ali Zafar gives a wonderful account of himself in Chashme Baddoor as he lights up every sequence he features in." Adds Srijana Mitra Das, TOI "Zafar is endearing with his clenched-jaw charm, graceful as he dances, cute as he romances and rather hot when he throws a punch or two." Says Subhash K.Jha , "Ali Zafar is far more sober and controlled than his co-stars. It takes some doing to remain steadfast in your stipulated sobriety while all your co-stars pull out all stops."
These days, we've seen so many Pakistani stars trying to make it big in India. Like Sarah Loren, Veena Malik, Humaima Malik are some of them. We have not yet been seen in any of the major projects.
Overwhelmed with the accolades coming his way says Ali Zafar, "I'm humbled with people's compliments – The industry has proved that if you have talent, good intentions and hard work, it will accept you even if you are from somewhere else and I'm glad audiences are embracing the film and acknowledging our efforts".
Ali Zafar is presently busy on a Musical Tour in North America and is busy shooting for his upcoming movie "Aman Ki Asha" where he is playing the character of a Pakistani boy. Ali Zafar is making his whole nation proud with his skills, hard work and talent. We wish Ali Zafar all the best with all the future projects. He has got the spark which shines in the Cinema.