Ahead of the Pakistan and New Zealand T20i and test matches commencing next month, six members of the squad have been tested positive for COVID-19, the New Zealand Cricket board revealed on Thursday. Consequently, the whole squad has been issued with a "final warning" by the New Zealand government after penetrating rules while in isolation.  
Pakistan and New Zealand cricket squads are in line for three T20I and two test series, laid on by the latter. Currently, New Zealand is hosting West Indies for multiple tests and T20I series scheduled from November 27 till December 15.
Pakistan's tour in the country officially starts on December 10 with Pakistan [A] and New Zealand [A] playing a couple of four-day practice games. The three T20Is between Pakistan and New Zealand will take place in Auckland from December 18, followed with a two-Test series between December 26 and January 7.
The total of 54 members, including 34 players and 20 staff members left for New Zealand on November 24th. Prior to their departure from Lahore, the green shirts were tested for the novel virus at multiple occasions, clearing a total of four tests. Therefore, the opener batsman Fakhar Zaman was dismissed from the squad for acquiring high grade fever.
In addition, on arrival into the hosting land, the Coronavirus tests were conducted again by NZ government, in Christchurch, where the Pakistani team is currently based. And unfortunately, six tests have returned positive, ruining the excitement.
Pakistan Squad Members Test Positive for COVID-19 in New Zealand
The news was brought forward by New Zealand Cricket. "It was made aware today that six members of the Pakistan touring squad, currently in managed isolation in Christchurch have tested positive for Covid-19" it stated. However, the names were not revealed, keeping it a secret whether the positive members are the players or from staff.
Moreover, out of six Pakistani players positive for Covid19, two were deemed "historical cases", while the other four were new infections. NZC also conveyed that the Pakistan team had flouted protocols on the very first day of their quarantine in the isolation facility. Hence, a final warning has been issued to the players, revoking the players' ability to train while in isolation at their Christchurch hotel, making clear they would not tolerate risky behavior in a country.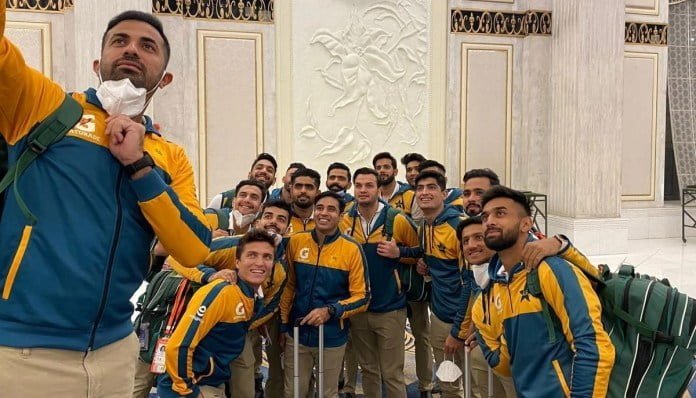 Further, New Zealand Health said the Pakistani players positive for Covid19 will now "be tested a minimum of four times while in managed isolation and the entire squad would be confined to their rooms."
It continued, "Several team members have been seen on CCTV at the facility breaching managed isolation rules, despite clear, consistent and detailed communication of expected behaviors".
"The team as a whole has been issued with a final warning."
Besides, top health official Ashley Bloomfield of New Zealand also detailed, "It is a privilege to come to New Zealand to play sport, but in return teams must stick to the rules that are designed to keep Covid-19 out of our communities and keep our staff safe."
Such strict actions by the New Zealand officials illustrate the country's efforts to wipe out the global pandemic smoothly. It is pertinent to mention that New Zealand was the first country to limit and eradicate the Coronavirus at its initial stage, with a total of nearly 2000 cases.
Read More: Argentinian Football Legend Maradona dies at 60
Ramiz Raja Questions Local Testing Authorities
The former Cricketer and current commentator Ramiz raja tweeted, wishing a speedy recovery to Pakistani players positive for Covid19. However, there was more to his tweet. Questioning the local testing services, Ramiz Raja stated, "Wishing a speedy recovery to the 6 Pak team members who have tested positive. However, it begs the question that why did the local testing failed to red flag them even after being regularly tested? Clearly the development has thrown the teams preparation into turmoil."
Read More: England confirms tour to Pakistan for a T20I series in October 21, 2021
Follow INCPAK on Facebook / Twitter / Instagram for updates.