Have you ever seen any headphones in the market representing Pakistan? Because Elements Protection Live Earphones does it.  Live Earphones were designed in Pakistan for Pakistani specially. Although made in China but clearly mentioned at the back of the box. On both ear pieces  you will see crescent and star, presenting Pakistan and it really looks great.
Live Earphones just landed at Bytes.pk and I got the chance to review them. Overall the quality after comparing with various earphones which you normally get in the market, Live Earphones really speaks for themselves. Tried out calling with LG G3 the call  was clear and the person on the other end did not feel any disturbance which means mic was working perfect.
A pretty looking piece with star and crescent logo, In a way it also represent INCPak ( Pakistani Ideology ) the orange color buds gives it a very charming look. Its excellent for average music and phone calling with very flexible and attractive cord ( Black & Orange ) which makes it more appealing and resolves the issue of cable damage which we often face, to a great extent. Elements Protection Live Earphones have been priced to combat the usual earphone issues of sound quality and durability and they are good for moderate music listening and excellent for calling purpose.
Technical Specifications
10mm         Dynamic Speakers
Freq              20Hz – 20KHz
Silicone ear tips
1.2 TPE Flat Cable
Sensitivity     104dB±3dB
IM                  16Ω±15%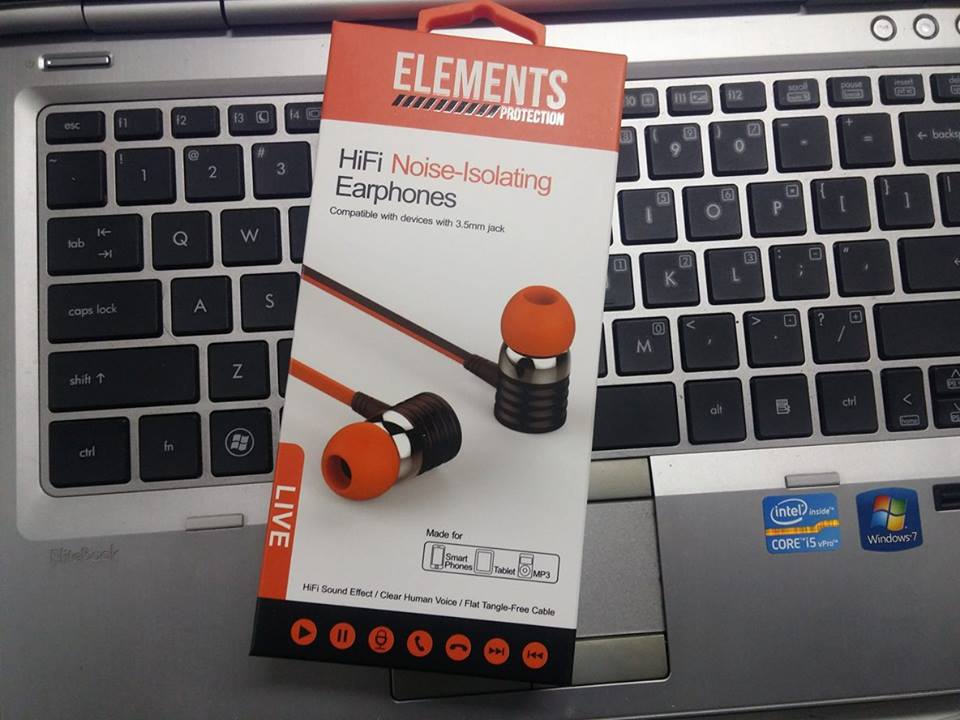 The mobile accessory market is swarmed with countless fake earphones from price range starting at Rs.100 more or less, however the experience shows a total waste of time and money as you would be lucky if they lasted even for a few weeks. Elements Protection Live Earphones at just Rs.399 is not a bad deal. They have the quality of sound good enough for phone calling – clear and loud and just good enough to enjoy  music. The tangle free cable is the key to durability as it will protect the cable from damaging.  So guys I suggest since you have tried almost all the available earphones in market try this one out, you wont be disappointed. These earphones are million times better than the fake earphones available in the market. You can make out from the packaging which is far better and assures the built quality of these earphones.
Since Elements Protections Live Earphones represent Pakistan and INCPak ;)  and I feel proud to be the first one to review them introduce them to you all.

Share this post and get a chance to
Win free  E
lements

P

rotection

L

ive

E

arphones
  
Share your views and load me up with your feedback.