Google on Thursday updated the Google Chrome beta 30 with several new features, for Windows, Mac, Linux, and Android. Aside from making it easier to search by image, this release is very developer-focused: new APIs and experimental features are the name of the game.
Search by image with one tap
Chrome beta now lets you right-click or long-press an image, and search for it via your default search provider. Here's how this looks for a Google search:
New gestures are simple, better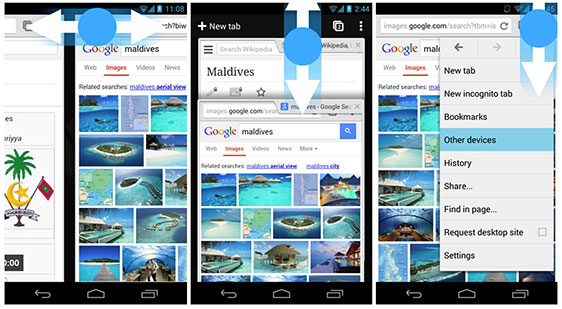 Chrome's navigational gestures have been refined, though there weren't that many to begin with. You can now cycle between tabs by swiping your thumb from side to side without starting all the way at the edge of the screen. You can also swipe down from the URL bar to get to the tab interface and then easily swipe it away on any open browser screen, or hold down on the menu button to bring up the menu screen rather than simply tapping it. It's not entirely clear what the purpose of that last gesture is except that it makes the overall touch interface feel more streamlined.
WebGL for "high-end GPUs"
Chrome Beta now supports WebGL, a web standard that enables the ability to do three and two-dimensional rendering on the web. This news is particularly exciting for developers, who will be able to take more liberties with their mobile web content. That means better in-browser apps and functionality and the ability to play games or watch video without the need for a third-party application.
New API support and other goodies
There are two new experimental features that have been added to both the desktop version of Chrome and Chrome for Android. The Web Speech API will add immediate speech recognition so that users can do voice input on any compatible webpage, and the Vibration API will give developers access to the vibration abilities on any compatible device.
Web pages will also be able to request to read your accelerometer or gyroscope in real-time with Device motion events. Google suggests that this particular ability will be helpful with websites like isthisanearthquake.com, which will let you know if what you're experiencing is your cubicle partner shaking their leg or the earth below you shaking its mantle.
 Download Now Google Chrome beta  for Windows 8/7/Vista/XP !
Download Now for Android