How to access Youtube in Pakistan – Here I am going to be sharing couple of methods after which you will be able to access Youtube like any other site and also there is a post for Android Smartphones get rid of slavery check the post  URL below. 
1. Personally I was sick & tired of using Hotspot shield and Cyber Ghost VPN, Since I am Chrome user I found this great extension after which I am using Youtube like any other site known as ZenMate Chrome – Search  ZenMate in Chrome Store and you will find it once Install … Wallah :)
2. Not many people are aware of Tor Browser ( Tor Project )  Here the Download Link : https://www.torproject.org/download/download.html.en
    Download This Browser based Firefox all the blocked sites works including YouTube and you can change your country each time you click  BINGO !
3. INCPak Proxyfree –  Forget all the methods you've been trying to access Youtube in the past we've made it easier for you to access youtube right being within INCPak site just click on the link below and Search your Video because the link has straight Youtube in it – It is accessible via PC and Phones – Tested Personally
https://www.incpak.com/freeproxy/
At Last  How to Access Youtube via Smartphone, Checkout this post which I mentioned earlier I am using you will enjoy URL is given below
I wasn't able to access youtube since almost two months hotspot shield been disconnecting and other vpn setting were uselessHow to access Youtube in Pakistan !
Here's the Screenshot of Youtube using Chrome
I searched my Directed Video Bus Yun hi  back in 2002 :)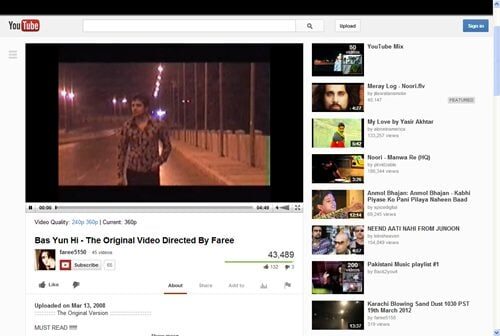 And It was no working slow depending on the Internet Speed it was working fine !
well I tried several methods before but I was not able to reach out Youtube FINALLY its working like before, I think once you know the site and all you can directly go onto the server site and click the logo than It gonna rumble.
Just wanted to share with you all ! Its good to have youtube access back !
That's all from me for now
Take care and Love you all.
The Post updated on 3rd Jan, 2014 –  Like and share support INCPak Team because we've been bringing you the best solution and sharing with you – Our INCPak Facebook Official Page is MUST LIKE and Sharing Is Caring On Facebook is where you can share your  queries and issues.