How to fix IMEI Issue permanently – Sometimes when any rom is flashed on Mtk65xx device with the help of SP Flash tool and sometime Rom files contain any other imei number or it contains invalid imei bug and you fix it with the help of mtkdroid tools with NVram/imei backup and imei is restored but when you do a factory reset your phone shows again invalid imei or  imei number of any other device.
Here is permanent fix for Fixing original IMEI… kindly download the required softwares and follow these steps as mentioned.
Required file Download
1. Maui Meta 3G

2.Android Gadget Driver

3.Base File…here this file is for mtk 6582…if you have any other mtk65xx download it via google for your mtk65xx

Check IMEI number by PTA – Clear or Stolen?
Steps to follow
1- your device shouldn't connected download required driver files i.e android gadget CDC driver
2- on your pc Go system Properties>Device Manger click on actions in Menu..Now click on Add Legacy Hardware (NOTE..if you have already installed any vcom android driver first uninstall it and install the driver with this method..so then it will detect device otherwise it will not detect the device (SS # 1)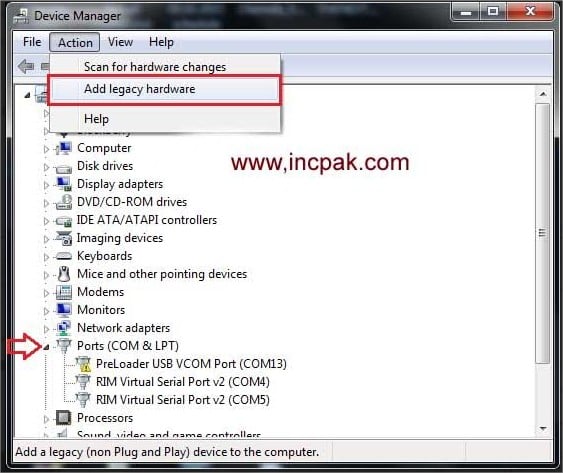 3- Now on next screen you will see a dialogue Box… select Install the hardware that I manually select from a list (Advanced) then Click Next (SS#2)
4- on next screen click on Show all devices and click on Next(SS#3)
5-on next screen Click on Have Disk(SS#4)
6-Browse Extracted Zip of CDC driver downloaded and select inf file and click Next (SS#5)
7- Now select Gadget CDC VCOM Dirver and click Next and it will start installing driver.(SS#6)
Now as you have installed drivers you can proceed to next Step.
1-Switch off your phone with battery inserted .
2-Open Meta Maui Meta 3G
3- Click on options and select connect with phone in meta mode.-On the top right area of the screen, click on  RECONNECT.(SS#7)
5- While your phone is OFF, connect it to your PC with your cable. Your phone will boot and get stuck on the Phone logo. It's safe, don't worry .. You're in the Meta mode.
6- A popup will come up showing the state of your phone. Close it. It's safe too
7-Click the drop down menu and select IMEI DOWNLOAD.(SS#8)
8- Click CHANGE NVRAM and select the database file for your phone. You should download data base file for your respective mtk65xx. (SS#9)
9-Once you've loaded the NVRAM database file, click on whichever SIM you wish to change and in the space for IMEI, enter the correct IMEI for your phone.(SS#10)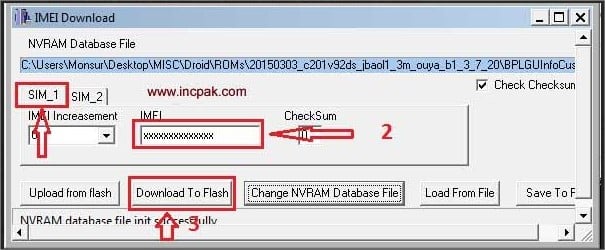 10-When you put 13 number of you imie the 14th number will automatically appear in checksum box…so only write 13 numbers 14th will be there automatically…Now click on Download to Flash. (SS#10)
11- Repeat the same process of point no 10 for Sim 2 and click on Download to Flash
12- Remove and battery and reinsert it and turn on your device.
13- Now you have permanent IMEI number for you device
Credits :- 
Shafqat Khan and Farhan Imaan – INCPak Forum