Pakistani telecom company Jazz has just introduced the Jazz Weekly Voice Offer Package which is aimed helping customers stay connected with their loved ones from home.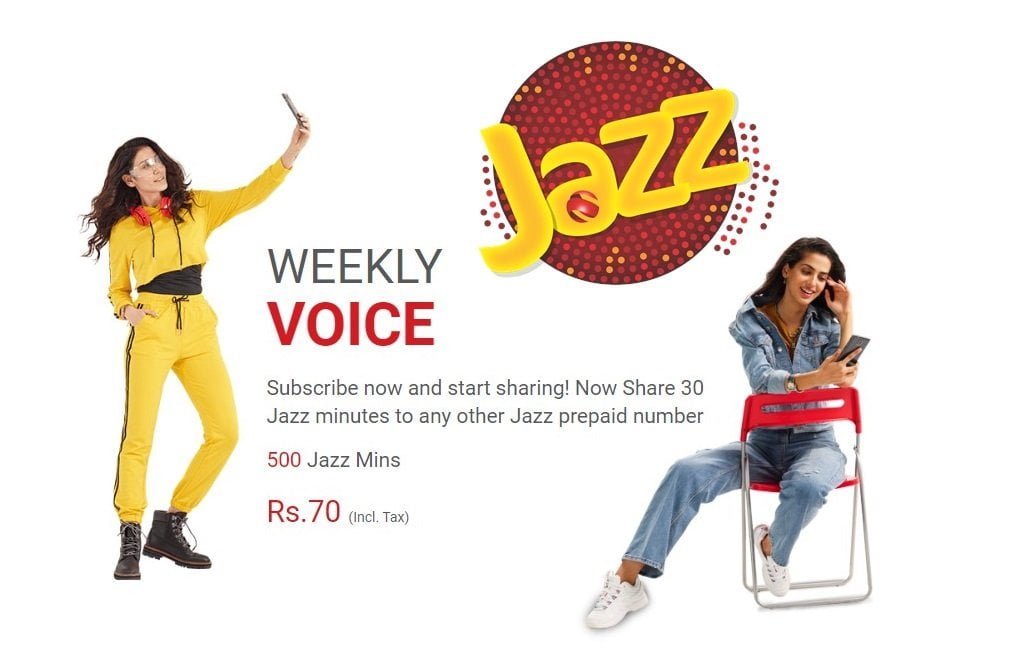 The Jazz Weekly Voice Offer Package has 500 on-net minutes and not just that but 30 of these minutes are shareable with your "Loved Ones".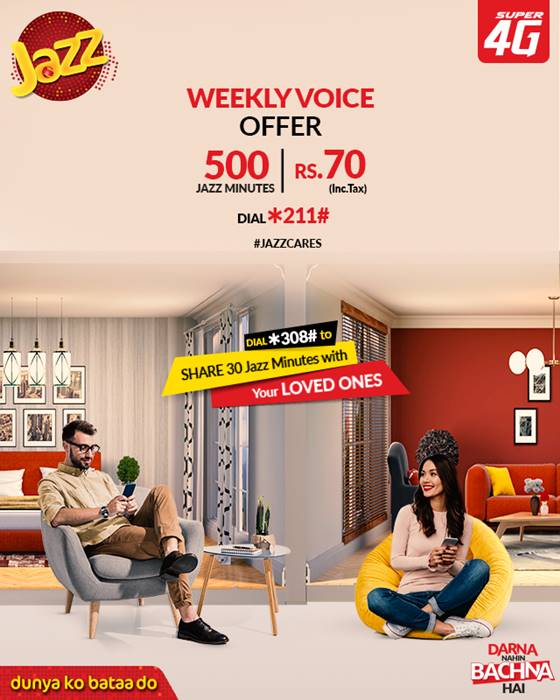 Read more: Ufone offers free WhatsApp to helps you stay connected from home.
Jazz Weekly Voice Offer Package (2020) Details:
Recharge Required
Rs. 79
Subscription Fee
Rs. 79 (Incl. Tax)
Minutes Sharing Fee
Rs. 2 (Incl. Tax)
Offer Validity
7 Days
Shared Minutes Validity
Same Day
Midnight (12AM)
Subscription Code
*221#
Sharing Code
*308#
Offer Status
*221*2#
Shared Minutes Status
*308*2#
Shared Minutes Limit
30 Minutes
Package Terms and Condition
Upon dialing *211#, customer will be subscribed to Weekly Voice Offer for exactly 7 calendar days. Call setup fee of Rs 0.15 will be applicable.
This bundle is non-recursive and customers will have to dial *211# again to avail the bundle more than once.
All minutes will be posted at the time of subscription and will expire at 23:59 hours of the 7th calendar day.
Shared incentive is applicable to prepaid customers only.
30 Jazz Minutes will be shareable in a single transaction by dialing *308#.
There are no restrictions on the number of times minutes can be shared with a single customer.
Similarly, no restrictions are imposed on the number of times minutes can be shared as long as customer sharing the incentive has more than 30 minutes remaining in his/her bundle and has a balance more than Rs 2 available in his/her account.
PKR 2 (Incl. Tax) sharing fee will be applicable on the customer who is sharing the minutes. Insufficient balance will result in failure of sharing.
Validity of the shared minutes will be Same Day – Midnight.
Call Setup fee of Rs. 0.15 will be applicable on the shared incentive i.e. 30 minutes.
Status of shared incentive can be checked by dialing *308*2# by customer receiving the minutes.
Earlier Jazz also introduced its Work From Home Bundle which gave users 10GB Internet Data and Free Jazz Minutes from 8am to 6pm for a week in just Rs. 100.
Read more: Jazz introduces Work From Home Weekly Bundle Package.
Follow INCPak on Facebook / Twitter / Instagram for updates.