After success of TW 4.1.1 Jelly Bean its time for Jelly Bean 4.1.2 based on JMP Rom for Noir A8  and A9, we patched camera, WiFi, FM and the kernel to make this work for Noir A10, we patched the baseband file as you know that  A10  and A110 are same phones.  This is not tested yet on A9, we need some A9 volunteers for testing. TouchWiz is the most simplest and stable ROM. Jelly Bean experience along with TouchWiz makes it more interesting when you get many widget options.
This Benchmark test is by Default after Installation along with the running apps and SD card filled as you can see that Benchmark shows the results which are greater than STOCK ROM  JB ! which means TouchWiz Jelly Bean 4.1.2 For all three models gonna Rock !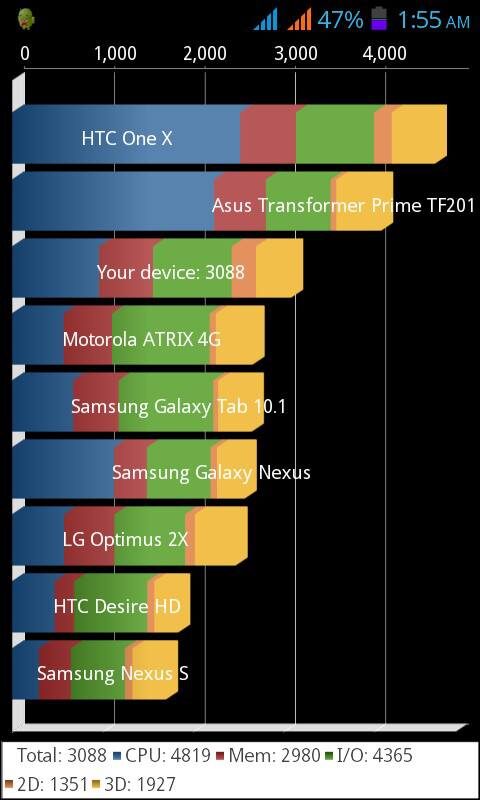 This rom is for hardcore gamers.
TOUCHWIZ V2.1 Features :
-> Highest GPU Performance ( Which You Will Feel )
-> CPU Optimization With Kernel Script
-> JMP™ Special Size Optimization
-> JMP™ RAM Optimization Script
-> JMP™ Special GPU & CPU High Performance Tweaks
-> Get Now Up To 60 FPS Direct ( Fully GPU & CPU Utilization )
-> Samsung™ Touchwiz Stable Launcher ( 3D & Fully Customized )
-> JMP™ Status Bar & Background Pattern
-> WiFi Signal Issue Fixed
-> Minor Bugs Fixed
-> Sony™ Xloud Sound
-> Sony™ New Bravia 2 Engine for better image display
-> Pre-Rooted
-> Reboot Option Added in Power Menu
-> Fully Dodexed and Zipaligned
-> Performance Tweaks
-> Sound Enhanced (Call & Little Music)
-> Ad Free Mobile By Default ( No Need Extra Application )
-> All in one Backup App (Sms,Contact,Application,Call Log,Bookmark,Calendar)
-> GPS Issue Fixed
-> Xtream™ Project Included
-> New Inbuilt Gemini Memory Cleaner Widget
-> Butter Project Included.