Previously we successfully ported LeWa ICS on QMobile Noir A8 and we said we'll be back after making it more efficient and stable OS, This time we are coming with LeWa + Jelly Bean 4.1.2 currently INCPak Team testing the features, Here I would like to share some screen shots and tell about what's the difference in our upcoming LeWa + Jelly Bean 4.1.2
BATTERY 
Even without turning any Power saving feature of  LeWa + Jelly Bean 4.1.2 it gives you excellent timing unlike Jelly Bean 4.1.1 as I turned the Smart Save the difference is wide and visible
Jelly Bean 4.1.2 ease the stress no doubt ! when you compare it with ICS or JB 4.1.1 there's a huge difference, it's much stable and quick response and lewa has it's own charm plus features.
NOTIFICATION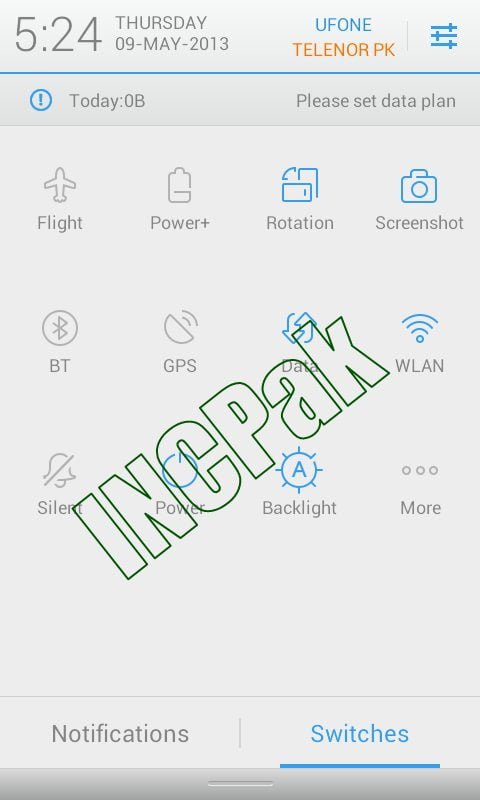 Switches are easy to customize and they look awesome in white as compared to previously used Black Theme – The Default theme of LeWa is White but you have the option to switch to LeWa Dark as well which is black.
 LOOK  o.O 
LeWa has its own stunning interface and you can customize it the just way you want its just all click away.
KEYBOARD
TouchPal Keyboard its way better than stock one and its free I am using it swipe and the customizable layout interface makes it easier for you to adjust just the way you want it.
Things we have tested !
> Battery timing              – No Issue
> GPS                                    – Working
> BT                                      – Working
> Camera                            – Working
> Music Player                 – with lyrics feature
> Volume                            – No Issue
> Video Playback             – No issue
> Heating issue                 –  Fixed
Rest of the other features like Skype which you cannot sign out in Jelly Bean 4.1.1 has the same issue we are looking for alternate version of Skype for Jelly Bean since ICS one mismatched !
There's lot more before we launch we are updating it ! so don't forget to give us your feedback along with your suggestions concerning Lewa enhancement and feature which you think should there in INCPak Edition :)
Have a Great Day !