Expected to launch on 28th April 2015, but on the micro-site dedicated to smartphone, leaked the images of the flagship LG G4.
Now you won't find these images on the micro-site because leaked images  has been taken down but leaked images made there way till Android Police, something unusual noticed about LG G4, Smartphone having Genuine Leather rear panel for premium variants in six different colors ( Black , Brown , Maroon , Blue, Gold  and Yellow ) set will also arrive in Plastic rear panel with textural hammer array pattern in three colors White Black and Gold.
LG G4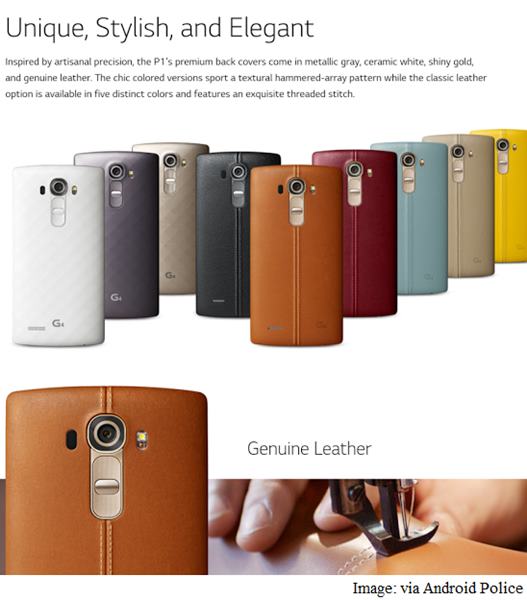 LG is definitely onto something different this time, LG G4 will be having removable 3000 mAh Battery, The LG G4 will house an SD card slot to expand the inbuilt storage, alongside a removable 3000mAh battery – something rather rare on Android flagship smartphones nowadays. While the handset measures 149.1×75.3×8.9mm, there is no word on its weight.
The software version listed on the briefly leaked site is surprisingly Android 4.4.2 KitKat OS. However, the version might bump up to Android 5.0 Lollipop by the time it hits the shelves.
LG G4 Specs 
LG has till date confirmed a few of specifications for its upcoming G4 smartphone. The handset will feature a 5.5-inch QHD (1440×1560 pixels) resolution IPS display with a pixel density of 535ppi; LG UX 4.0 with new features, 16-megapixel rear camera with an f/1.8 aperture; LED flash and laser autofocus, and an 8-megapixel front-facing camera.
About the Price don't want to speculate anything so it would be better to wait for couple of weeks.
Expecting that LG won't repeat the mistakes which they made in LG G2 and LG G3, specially when it comes to battery backup, LG G3 Battery drains quite fast.
we'll update you as soon we get the price and detail information about LG G4.