Panasonic 4K display resolution Toughpad tablet has a 20″ screen initially debuted at CES in January at IFA in Berlin.The Toughpad 4K UT-MB5's 15:10 aspect ratio is a little unusual, but the 3840 x 2560 resolution adds up to 9.8 megapixels—more than the 8.3 megapixels offered by 4K displays with more typical 3840×2160 layouts. When you factor in the screen's dimensions, the pixel density works out to 230 PPI.
 Panasonic 4K tablet Specification
https://www.incpak.com/tech/samsung-develops-worlds-fastest-embedded-memory/
4K 3840 x 2560 display resolution
230 ppi IPS display with 176-degree viewing angles
supports 10-finger touch
Bluetooth-enabled optical Anoto Live Pen
weighs in 2.3kg
six-hour battery life
Intel Core i5 1.8Ghz processor with Nvidia GeForce graphics
run on Windows 8.1
three USB 3.0 ports
HDMI out, an SD card slot
There will be two models:
weigh  2.3kg
includes 4GB (expandable to 8GB) of RAM
 a 128GB SSD
Second Model:
2.7kg Performance model
8GB RAM (expandable to 16GB)
a 256GB SSD
Panasonic is targeting design pros with that latter version, such as those working with 3D modeling tools, while the lower-powered spec would be a better fit for healthcare users, retail or sales professionals.
Microsoft is reporting that the Panasonic Tablet will ship in the US and Europe beginning this Saturday, September 7th, but Panasonic executives at the IFA event are confirming a November timeframe. The Toughpad on stage is being described as a "prototype," further reinforcing that the slate is not ready to ship.
https://www.incpak.com/tech/google-nexus-5-rumors/
Panasonic reps quoted pricing for the standard version at €4,508 (about $6,000), with the Performance version MSRP to be announced. The optional pen will retail for €280 (about $370).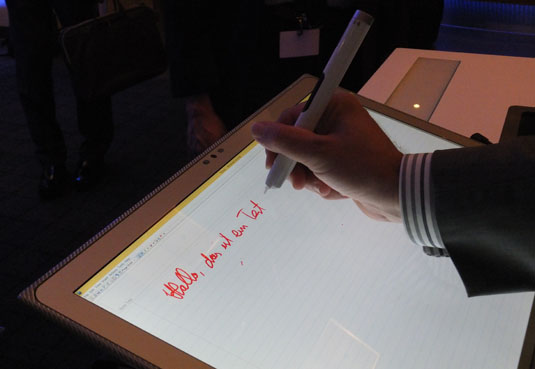 https://www.incpak.com/tech/toshiba-new-excite-tablet-series/