PTCL Official Website was hacked earlier by Pakistani Hacker known as Sultan, The reason why he hacked PTCL's website he mentioned on the website very clearly.
Lots of people didn't believe that PTCL Official website been hacked, They thought like the CIA , FBI sites are secured PTCL got the same security but the answer it NOT at all.
Sultan turns out to be

S

ultan

G

olden for the Youth !
He outspokenly shared not only the issue he faced regarding Bundles volume degraded to 30 GB by PTCL but this concerns to many other users, those who are mostly spending time on PC " EVO Wingle 9.3 Device " 
Here's what Sultan Shared on PTCL website .
Screenshot
PTCL OFFICIAL WEBSITE HACKED BY SULTAN
Sultan became hero for many just by throwing this message right on PTCL fellas face.  He's next Generation " Sultan Golden " 
It's totally unfair as the PTCL is charging and reducing volume, which causes problem to many users specially those who use torrent and frequent up / downloading .
PTCL failed to recover the website for several hours and failed to secure it, which shows how qualified talented Skillful Dynamic Nut heads are working in PTCL these days. ( PARCHI )
PTCL must consider the request and should provide least 75GB instead of 30 GB which is too low, If they avoid this time tomorrow ghost of Sultan will deface the website which is pretty shameful.
NOTE : PTCL is not the entity of Pakistan Government but Privately owned Company, which is providing Telephony and Internet across Pakistan.
There is no doubt that Pakistani Youth is Talented and they are can go way beyond anyone's expectations, " Sultan " just proved it by speaking out for all others.
INCPak Facebook Official Page – Response by the visitors .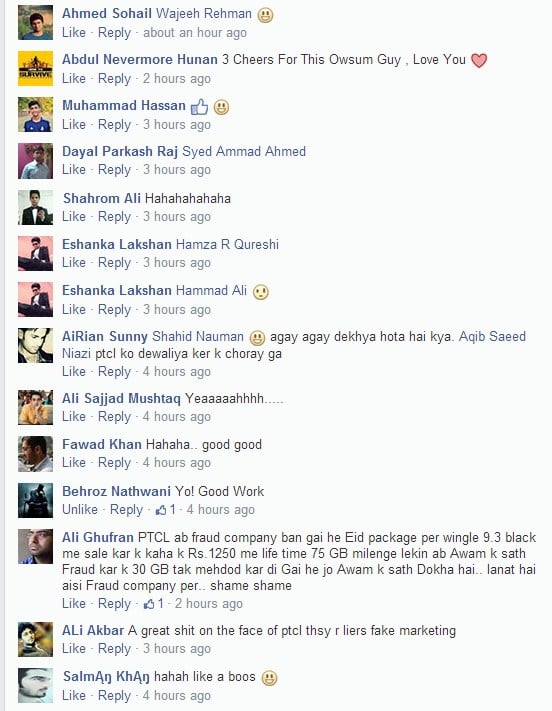 I hope PTCL fellas will look forward to what he shared.