So finally I am back in Androidness with Qmobile Noir i9 , launched this week yet I have to explore this phone but since most of you are looking for Benchmark Results and specifications here's the screenshots.
Our Previous Post in which, we introduced QMobile Noir i9 – Video Included ( Don't forget to check )
Qmobile i9 3G Specification, Unboxing and Price in Pakistan
 QMobile Noir i9 – AnTuTu Benchmark Result !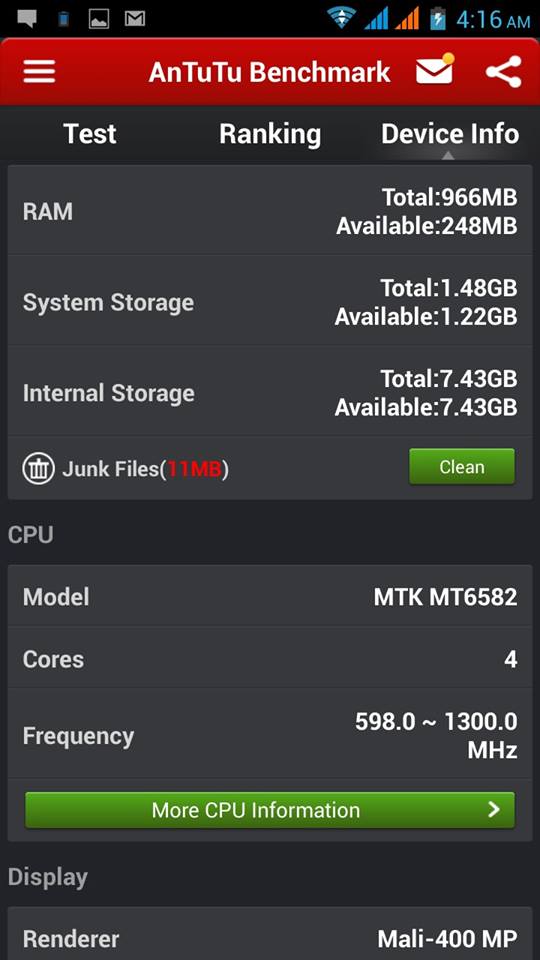 People wanted to see the Smart Gesture ( Optional Features ) which are included in QMobile Noir i9 Quadcore Smartphone, here's the screenshot which surely would help you out to choose which smartphone to buy.
Smart Gesture " feature " which I am not relevent of as yet, but let me explore the phone, since we've planned to upgrade Q phones to kitkat. hopefully we'll bring KitKat for those Quad phones which our INCPak Team members owns.  Include this QMobile i9 in our fleet as well.
I wanted to be completely free and fair with everyone, QMobile Noir i9  Company price is 16,500/- whereas I bought this new seal pack smartphone for 15,800/- now there's no magic involved when I noticed what shopkeeper is doing, they get 4 to 7 percent of overall company price's percentage which is in their hands to waive off,  this difference of 700 rupees on Qmobile Noir i9  makes a huge difference, because with the Set  4GB Sd Card comes along which I am sure is not sufficient so you might want to have extra Gigs like 8 atleast in 200 rupees you get it exchanged than and there.
beside it the Qmobile's default protectors aren't good you what I would suggest you that, get 5 Inches protector when you get the set , rest accessories like headphones and back covers since Qmobile Noir i9 gives you options to change the color by changing the back covers.
while buying this smartphone I confirmed the prices of Qmobile Noir A900 , Q price is 18,800/- while you will get this set NEW in just 16,500/- that's huge difference beside this QMobile Noir A20 which is 15,800/- Q price , you can get this phone in 14,500/-  
INCPak Team always assures that we give you the core and makes your Smartphone experience much more fun, while we offer INCPak Roms and other stuff for free. That's why we started INCPak Forum ( www.incpak.net ) for the technical assistance and discussions join us there and support INCPak.com by sharing posts and commenting :) we appreciate your valuable comments and there are 3 moderators to reply you back on comments :)
Your Support is our strength to make INCPak – Pure Pakistani Youth Empowered Website. 
Have a great day,
May Allah Bless you all.