Realme is relatively new to the market. There are still many people unaware of the smartphone brand Realme but it's a sub-brand by Oppo the more popular smartphone maker.
The two are so close together that the devices even use the same Oppo's UI called ColorOS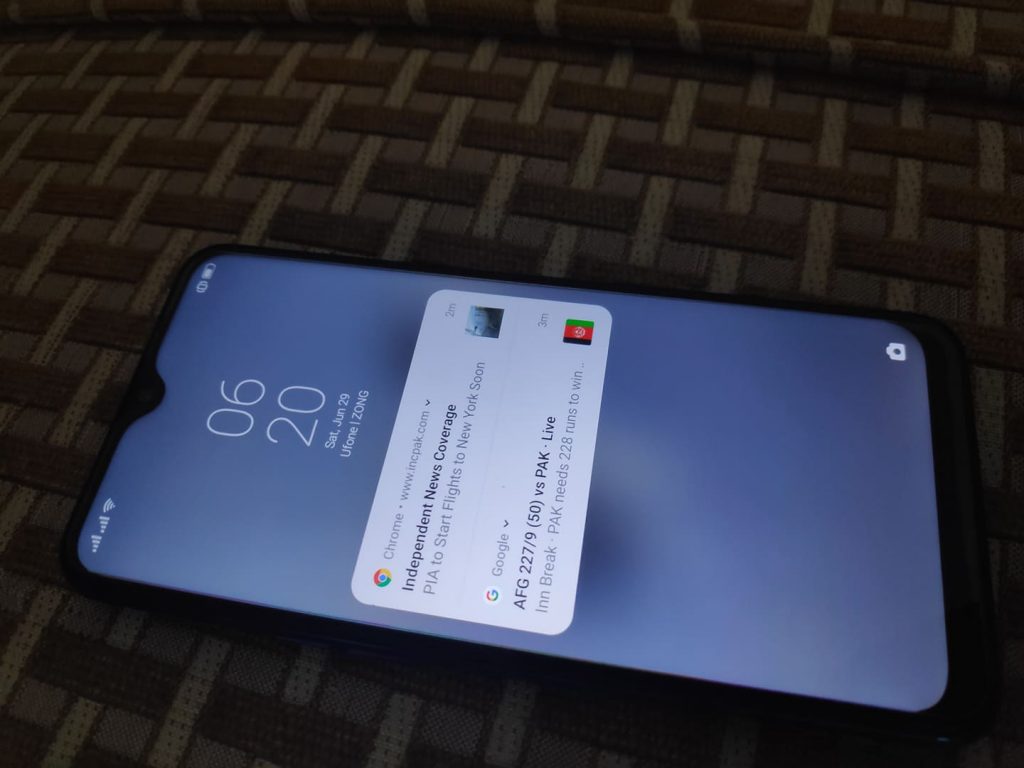 Today we will review Realme's device known as the Realme 3. This device comes in 3 variants, the 3/32GB Rs. 22,999, 4/64gb Rs.24,999 and a Real Me 3 Pro variant is 33,999. The later having completely different specs. We will be reviewing the Realme 3 4/64GB variant.
Please note that the Realme 3GB RAM and 32gb Storage has the same specs, just the difference in RAM size and storage.
Realme 3 Specs
Display 6.20-inch (720×1520)
Processor MediaTek Helio P60 (Pakistan Variant) and P70 (Chinese/Indian variant)
Front Camera 13MP
Rear Camera 13MP + 2MP
RAM 4GB
Storage 64GB
Battery Capacity 4230mAh
OS Android 9.0 Pie
Accessories included
The phone comes with a 2A charger (does not support fast charging)
Android and UI
The phone comes with the latest Android 9 Pie out of the box with the company's own UI on top of it called ColorOS. For this specific model it's the ColorOS 6 which is the latest version with Android 9. Most of you might be aware of ColorOS since it's the same UI that is used by Oppo in their own smartphones.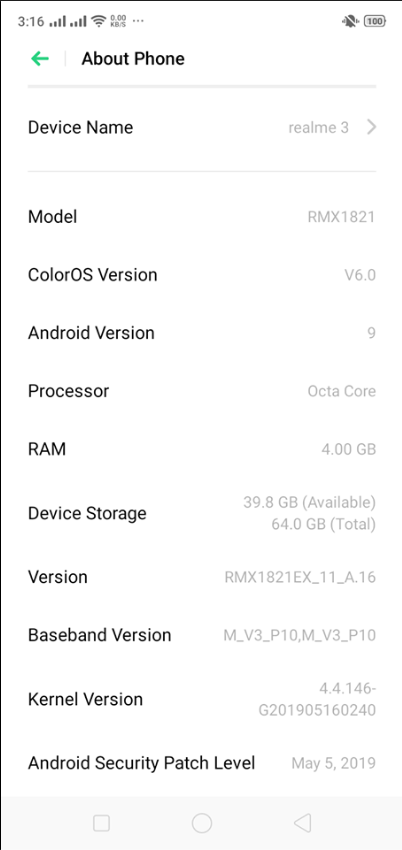 Display
Realme 3 has a 6.2 inches IPS LCD display with a resolution of 720×1520 pixels. The display could have been a full HD 1080p display but the display quality for a 720p is very nice and sharp. We did not feel any pixilation whatsoever while using the device. Also, the 720p resolution will help with a better battery time.
Build Quality
Realme 3 has a plastic build which is very common for this price bracket. The phone in no way feels cheap. The phone in fact feels quite sturdy in the hand and the build feels solid.
Performance
Realme 3 is powered by MediaTek's Helio P60 chipset (Indian Variant has the P70) which is quite powerfull for this price bracket. The phone can handle almost all basic tasks very efficiently. Apps load times are very fast compared to other phones in this price point. We used this phone for a month and haven't had any troubles with performance. The phone also features 4GB of RAM which makes multitasking very nice and fluid. The apps stay in memory and you can simply switch to them from your recent apps list and continue where you left off. To our surprise, the phone was capable of keeping multiple apps in memory. It is to be noted that in no way can we compare this phone to any flagship device. Saying that the phone held its own means with phones in this same price bracket.
Gaming
Another important topic these days when it comes to smartphones is gaming. Personally, we tested a few popular games such as PUBG, Injustice, Clash of Clans on this device and it is very capable of handling these games. PUBG is set at medium setting by default on the first launch and there are no lags or stutters at those settings (a few rare stutters to occur but that isn't because of the phone but rather the game itself as those are faced even on flagship phones). We also did try to set the game on High settings (HD with Extreme Frame rate) and the phone was able to handle the game very well although we did notice a few lags here and there nothing too serious. The gameplay at high was also a nice experience. Although at high settings there are those rare occasions when the phone takes a second to load details in the distance but nothing too serious.
The best feature we found was the phone's GameSpace feature. All heavy games are automatically added to the list and what Game Space does is upon launching the game that is in the list, the phones clear up RAM and prioritize the game over all other processes. It can turn on DND (Do not disturb) mode and you can play your games uninterrupted from any calls or SMS.
Temperature
The phone stays cool with normal everyday usage which includes social media apps and even the camera. However, the phone does heat up a little while gaming and by little I mean it just warms up a bit but it's still very much cool compared to other phones on the market and even some phones with Qualcomm processors. However, the phone does heat up a bit while charging. We noticed that the phone reaches temps of 43c-45c while charging and it quite warm to the touch. With the month of usage and about 15-16 charges the phone reached the temperature of 45c twice and upon reaching 45c the phone stops charging and gives a message "Temperature too high, battery cannot be fully charged". It takes about 4-5 minutes for the phone to cool down and the charging to continue. It should be noted that the phone at the time of giving these errors was placed in a non-airconditioned room with an ambient temperature of around 40c. We noticed that it helped to take off any back covers that the phone had and put it on charge. We did not experience this message more then twice.
Battery
Battery life on this phone is fantastic. The phone comes with a 4230mAH built-in non-removable battery. With our usage, we easily got around 2 days battery life out of the device. The usage included all time Wi-Fi with the occasional 4G when out and about and the use of social media apps throughout the day. Although the usage was not extreme. There was also little bit of gaming being done on the device as well such as PUBG. The phone was basically able to give an estimated screen on time of around 10-11 hours. So with normal usage you will be able to last 2 days without charging and in case of heavy usage the phone is pretty capable of going about 1.5 days without charge. In our one month of using this phone we only charged this about 15-16 times, each time charging the battery to a 100%.
Charging
The phone does not support fast charging or VOOC charging which the company likes to call it and is available in their pro variant. The phone comes with a 2A 10W charger in the box and it takes about 3 hours to fully charge the device when the phone is around 10-15%.
Camera
Rear camera result is pretty decent even the night-shot works very well, you'll find Gcam versions for Realme 3 as well which enhance camera's overall performance.
Here are some samples of Realme 3 Rear camera result using stock camera.
Want to know more about Islamabad? Top 10 must visit places in Islamabad
The front camera is good for portrait/selfies with additional built-in filters makes it easy ON THE GO for social media platforms posting.
Conclusion
For the price bracket this is definitely a good buy. We were quite happy with the overall quality of the phone and the usage of this device. In our time of using the device, we did not face any lags or hang-ups while using the phone. We would recommend anyone on a tight budget to look into getting this phone.
Read More: Toyota IMC revised Automobiles Prices [July 2019]
Join us on Facebook Group: INCPAK Tech Forum for more discussion about smartphones.
Follow INCPAK on Facebook / Twitter / Instagram for updates.