CyanogenMod 12 – As we all know that CyanogenMod Team started rolling out CM 12 Nightlies for a wide range of devices officially at the beginning of January 2015. CyanogenMod 12 is based on the latest OS update from Google – Lollipop. With Lollipop, Google has given its OS a major visual overhaul and brought a brand-new material design to Android which Google promised at I/O 2014. The OS Lollipop has been integrated into CyanogenMod for a lot of devices and LG Optimus G Pro is one of them.
CyanogenMod 12
In addition, the OS comes with a lot of useful features including Smart Lock, Lock Screen Notifications (More Interactive), Ambient Display and more.
First Boot / Setup:

The first thing that you will notice when you install CyanogenMod 12 on LG Optimus G Pro is a brand new Boot Animation unlike the boot animation of CyanogenMod 11. CyanogenMod 12 also comes with a new setup process that looks very similar to Google's new setup process in Lollipop. However, CM's setup process lacks the ability to automatically import your accounts and other data from another Android device over NFC or the ability to restore a cloud backup of the device. This is because these are proprietary features from Google and cannot be replicated by the CyanogenMod's team.
Home Screen:
CyanogenMod 12's home screen looks radically different from CyanogenMod 11's homescreen. This is mainly because of the UI overhaul that Lollipop brings to the table and has nothing to do with any of the customization done by CyanogenMod team though. 
Compared to the Trebuchet launcher in CM11, the stock CM launcher in CM12 does not contain any customization options and even lacks support for gestures and icon packs. While a bummer for many, popular third-party launchers like Apex and Nova, which contain these features and more, have already been updated for Lollipop and can be easily installed from the Google Play Store.
Personalisation Options
Compared to CM11, CM12 lacks a lot of personalisation options at the moment, which is a given since it has only been in development for a month. Nevertheless, the ROM still contains many handy features that will be appreciated by power users.
Themes:
The new Theme Engine from CyanogenMod is extremely powerful and allows themes to completely change nearly every aspect of the UI. Applying a theme can change the default system font, the system icons, notification and ringtones, boot animation and more. You will also be able to mix 'n' match themes to create a theme that matches your taste.
Status Bar:
Material Design Notification Bar with interactive buttons makes it more cooler in Lollipop. Moreover, the major animations overhaul in the CyanogenMod 12 has made it more smoother and lighter.
Benchmark: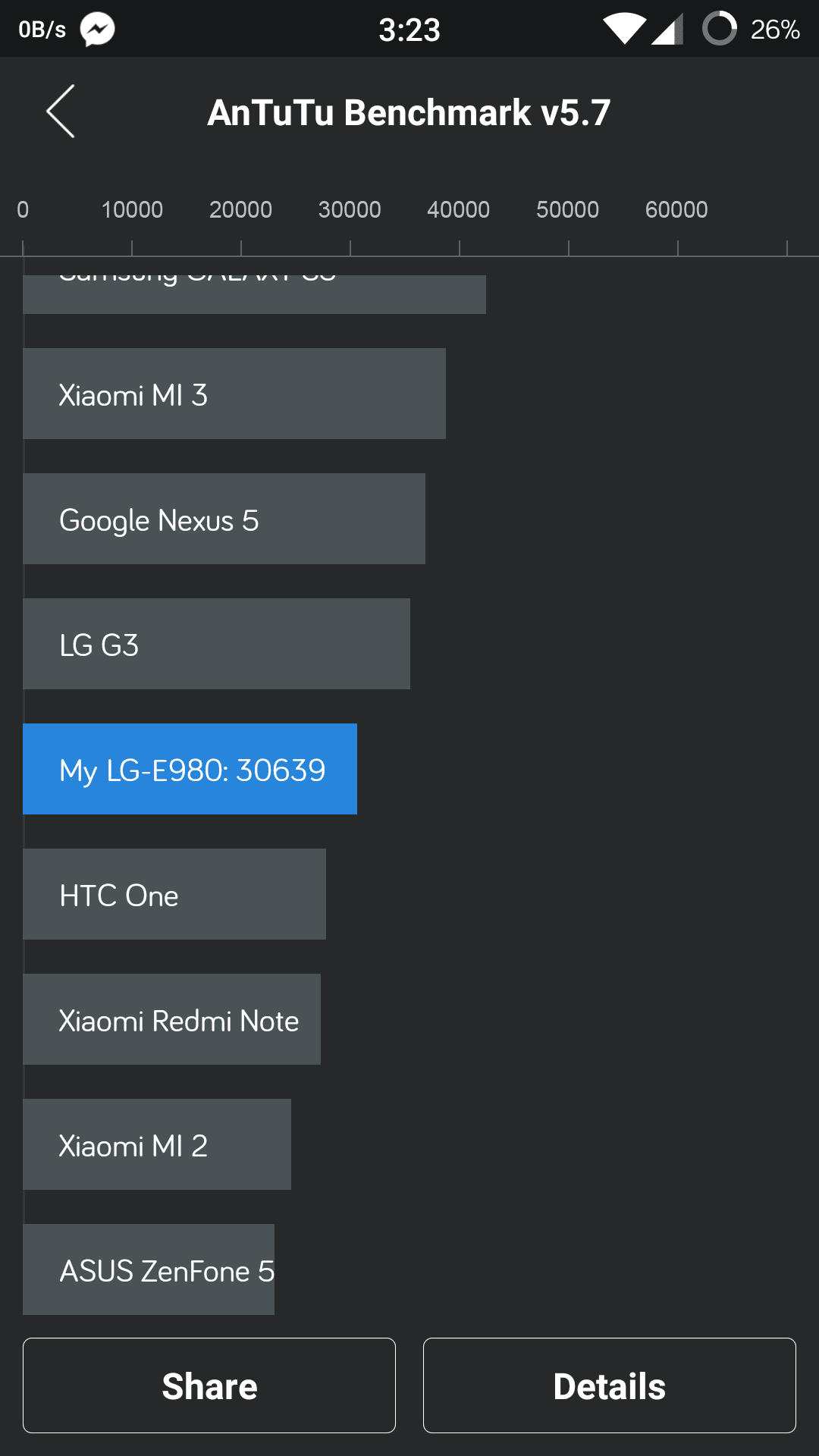 LG Optimus G Pro scores around 20,ooo on default OS i.e. 4.1.2 by AT&T. Its Benchmark scores have been drastically increased in Android 5.0.2.
Conclusion
In its current state, CyanogenMod 12 lacks  a number of advanced features like lockscreen customizations that CM11 users had grown accustomed to. However, it is only a matter of time before the CyanogenMod team ports forward their code, improves it for Lollipop and then adds it back to their ROM.
UPDATE#1: CyanogenMod Team has recently started rolling out CyanogenMod 12.1 Updates to various devices including LG Optimus G Pro (E980). They have updated their source codes to Android 5.1.
UPDATE#2: Android 5.1.1 updates have also been seen on Nexus Devices but Google hasn't officially announced anything yet.
Go to the following link to download CyanogenMod 12/12.1 Nightlies for LG Optimus G Pro (E980):
https://download.cyanogenmod.org/?device=e980
Credits:
–Ali Jee – For Posting and for Screenshots
–CyanogenMod Team – For their great work
–Farhan Imaan – For providing a platform