Ansab Prince INCPak forum member shared Rivo Rhythm RX60 Unboxing Images , Antutu Benchmark Results and his user experience, He bought this smartphone for 12,400/- one of the best thing about Rivo Rhythm RX60 is the battery backup which is 3000 mAh rest of the features are similar with Qmobile Noir i9. Check out the specs.
Hands on Rivo Rhythm RX60  Snaps
Monster Battery
RIVO Rhythm RX60 Rear Camera Result
Rivo Rhythm RX60 Specs
– Rs 12,400
– Dual SIM
– 3000 MAh Battery.
– 1.3 GHz Quad Core MTK Processor
– 1GB RAM – 8GB ROM
– Card slot microSD, up to 32 GB
– Android 4.4.2 (KitKat)
– 5 Inch IPS HD LCD capacitive touchscreen
– 8 MP, autofocus, With dual-LED flash
– 2 MP Front Camera
– 3G/WiFi
– Bluetooth/FM
Technical Info 
Rivo Rhythm RX60 Antutu Benchmark Result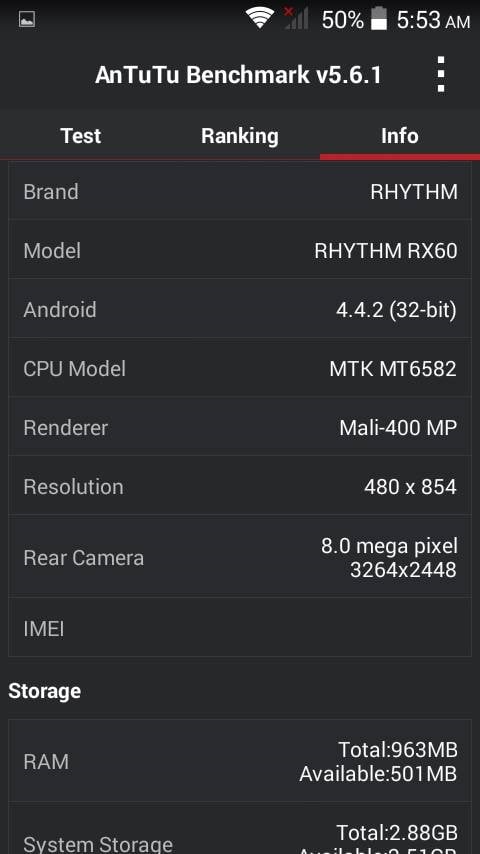 Too many screenshots and Snaps so sharing in Slide Show
 Rivo Rhythm RX60 Snaps and Screenshots 
RX60 Smartphone looks great as Mango Man Aka Jawad Naqvi said Battery + Display = Combo :) that's right, Qmobile Noir M90 was lacking of good display and QMobile Noir i9 had heating + Battery backup issue, Rivo Rhythm RX60 resolved both issues in budget friendly price.
I would recommend those who are looking for 1 GB Ram smartphone go for this one.  Not bad in 12,400/- :)