Automobiles in Pakistan are way too expensive compared to anywhere else in the world, specially when you are getting completely outdated models with stone age features. The Coffin on Wheels " Suzuki Mehran " still coming brand new and people are buying it due to resell value.
Suzuki Mehran Aka Alto debut in 1989 way before 70% percent of the readers were not even born, It was 3rd series of it's series of its kind right after Suzuki FX which no doubt made the concept of the future of Pakistan in early 80s clear,that how economically gonna get messed up, In 1989 Suzuki Mehran aka Alto launched with the price tag of 125,000/- Pakistani Rupees and now Pak Suzuki Mehran price is 8 lacs 20 thousands only :)
Suzuki Motors moved to Pakistan and became Pak Suzuki in actual  Paused Suzuki , I am sure you must be wondering why am I talking Anti Suzuki here? I will go through simple and detailed as much as possible so that, I clear my view about this Junk.
Suzuki Mehran EFi variant

Since 1989 till now 2014, The shape of the vehicle is still the same, recently mind blowing changes Pak Suzuki did by turning carburetor into EFi ( Electronic Fuel Injection ) where the reality is majority of the Suzuki Mehran Owners drive on CNG ( Compressed Natural Gas ) .
suzuki Mehran Dashboard  Old one.
Suzuki Mehran's New Dashing Dashboard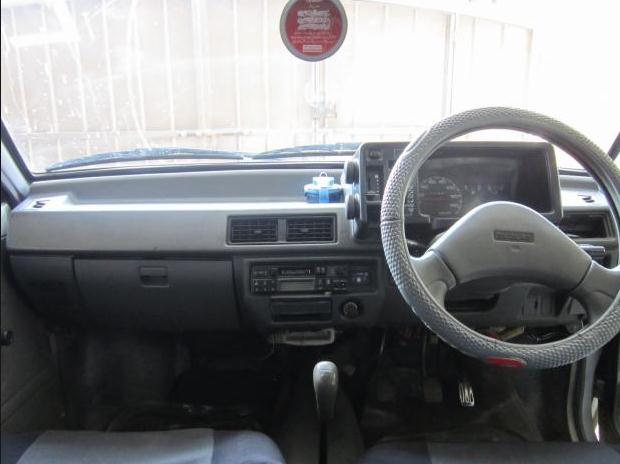 The Interior not a single screw different apart from innovative Dashboard Change wiping off two AC holes, making it more  fesible to keep the stuff on it.
This Year Suzuki Mehran is celebrating 25th anniversary quietly, Apart from the cons about the 800cc EFi non Turbo CNG Charged miserable vehicle ever manufactured, The Most selling Vehicle on the Pakistani Surface ever due to it's capacity which is 4 door means 4 people but usually even 8 to 10 gets inside the cabin by sitting one another.
Suzuki Alto back in Japan and India specially moved on and constantly kept changing the shape and the models but instead of making move like Japanese or Indians, Pak Suzuki came up with bright idea of launching Suzuki Alto in 2002 whereas the production of the coffin on wheels continues on without any objection.
Read More : Pak Suzuki Wagon R Specification and Price in Pakistan 
Why Suzuki Mehran is more demanding ?
1 .Because of the fuel consumption, on petrol it gives you 14 to  16 Km per litre and on CNG goes over 20 km, beside it the suspension it's more like for some sort of loading truck, Suzuki Mehran don't have any dynamics behind rear wheels like Hydrolics, Pak Suzuki still believes in lifting the weight rather then providing the comfort.
2. You will hear people saying here in Pakistan it's easier to maintain Small cars specially Suzuki Mehran, Thick Reason Spare Parts availability anywhere you go, no matter Waziristan ( FATA ) you will find spare parts and the mechanic who can fix this junk.
3. Easy to park " Parking " specially entire Pakistan's urban structure got no Parking Projects beside recently introduced Parking Plaza's, it is very difficult at times Mission Impossible to Park your vehicle, Suzuki Mehran gets anywhere.
4. As I mentioned earlier resell value, I don't understand when you are buying something at the same time you have the thought of selling your vehicle ( THE FUTURE )  Pakistanis are Futurist I must say, I mean people don't look for the comfort , the safety that this 800cc junk got no ABS , No AirBag , hardly Seat Belts front seats added after Government came up with visionary idea of Motorway before that Pak Suzuki never hesitated about the Safety issue by least giving seat belts.
2014  think again  Suzuki Mehran ? Resell value ? This vehicle is not powered at all, while Google tested Self driven vehicle aren't we still lost in the stone age. I am not sure about the Market Price of Suzuki Mehran but it's more than 635,000 /- Pakistani Rupees  Nearly or almost 6000 US Dollars ?
You may or may not agree with my opinion but it is my right Newly Suzuki Mehran got  EURO II  title while the European union is totally unaware of it, else NATO might attack Pak Suzuki on the charges of violating misusing Europe's name in reality these are General Tires Sad but true there is nothing Euro about it.
Seriously, when ever I see someone driving brand new Mehran the only things pops up in my heart, O Allah bless them with atom of  wisdom or destroy this Coffin on Wheel once for all. InshaAllah next time I will be focusing on what's behind the wheels that's pretty much shocking once you know about Mehran indepth but I am expecting Pakistani People to get aware and not to waste the money buying this.