If you are looking for Free Online Photo Editors to touch up those images without going through the hassle of downloading huge then make sure to read through this article as we've compiled a list of editors that offer basic functionality without charging anything.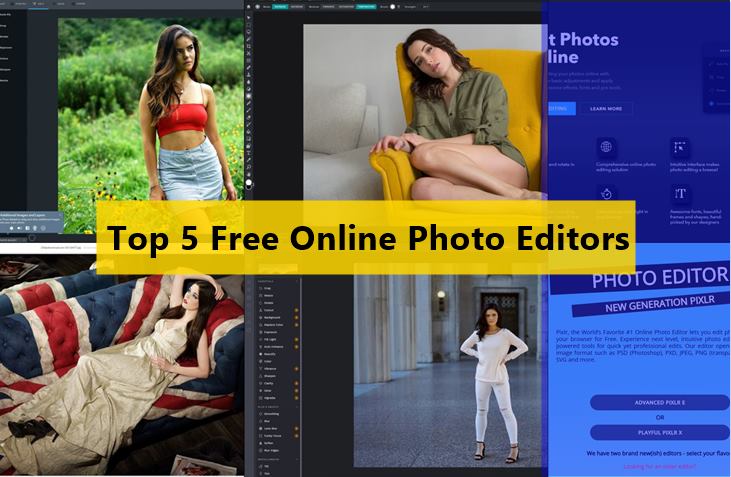 Online photo editors are best for bloggers, vloggers and for all those people who are on-the-go and constantly on the move but need to do quick edits using professional mode tools and features.
Why download the software when you can tune-up your images online without any hassle. Simple tweaks such as adjusting exposure, crop, brightness, contrast, or even adding Text, emojis, symbols have never been so easy, all thanks to a number of free online photo editors.
Read more: Facebook introduces Instagram Reels to rival TikTok.
There are several Free Online Photo Editors available on the web which they require no downloading at your computer or tablet. These can instantly be loaded via your browser (few of these require Flash) so here we've selected 5 best one which offers the most friendly user interface (UI) and robust features to make your task easier.
Most of these editors have basic and advance functionality depending on your task and preference. However, it is obvious that web-based editors don't offer a full experience like Adobe Photoshop but as mentioned earlier, these editors are designed as portable alternatives which can be accessed from anywhere and instantly.
Top 5 Free Online Photo Editors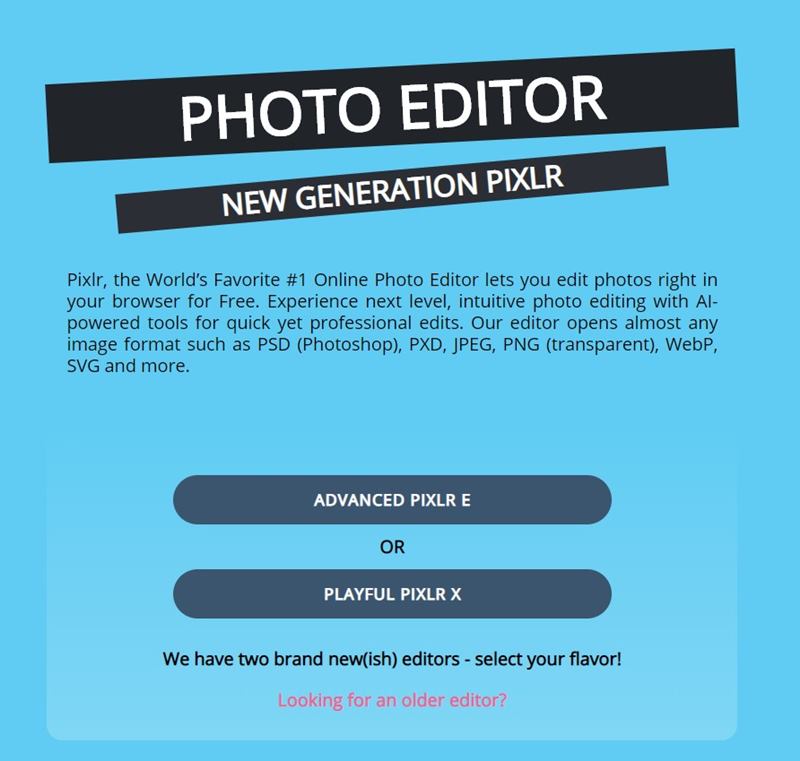 Pixlr is known as the #1 Photo Editor Online, offers intuitive photo editing with Artificial Intelligence (AI) powered tools for quick yet professional edits. The best thing about Pixlr is, you can edit PSD (Photoshop), PXD, JPEG, PNG (Transparent), WebP, SVG and many other formats.
The User Interface (UI) is friendly and professional, those of you are familiar with Adobe Photoshop can easily understand the tools, filters works end to end alike adobe.
Pixlr stands out to be one of my favourites when it comes to Online Photo Editors, Free version offers
Access to Pixlr X and E
Basic editing tools
A limited set of overlays
A limited set of stickers
Supported by Ads
Premium and Professional versions are also available online starting from 3.99$ monthly to 14.99 per month.
Befunky offers basic photo editing tools while you get other options to create photo collages with collage maker, The most easy-to-use designer tools and Interface.
Befunky also supports a number of Image formats and the basic version is free to use while the paid version costs 6.99$ per month or 4.99$ billed annually at 59.88$ offers All-in-One power pack features for professional editing, however the basic free version offers features mentioned below:
Photo Enhancer
Photo Frames
Crop Photo
Blur Image
Resize Image
Photo Effects
Touch Up
Photo to Art
Text Editor
Essential Features
Canva is one of the most popular among the blogger and social media content creators community the all-in-one package takes you to the next level by not just offering you free photo editor but to make profile covers, logos, presentations with easy-to-use Canva drag-and-drop features and layouts to designs.
The next level Canva is commonly used by bloggers and professionals who prefer to keep their data on the run which can be accessed remotely from anywhere. Canva app is available for both Android and iOS platforms
You name it, Canva has it! that's right, discover the endless options and features to create and attract customers/visitors on your website, Instagram, Youtube and Facebook simply by using drag and drop and friendly User Interface (UI).
I guess Canva is the only web-based online editor which makes you Pro within no time with zero knowledge of using professional softwares. Try it out.
Just as the title says, Ribbet offers combo Online Free editor with PSD and Sketch support for professional users, looking to edit images instantly, You can edit your images with Ribbet's Online Photo Editor. Ribbet requires (flash) for browser make sure you turn the option on and enjoy tweaking images online for free.
Ribbet offers collage maker similar to Befunky, the available tools works like-a-pro software.
Although, Befunky's Interface is far superior and even in the basic free version you get more options such as Grid customization.
Picmonkey is a crossover online platform of (Canva and Befunky) also offers PicMonkey Mobile app, The Online Photo Editor offers basic tools and features, while the collage and blank canvases makes your job easier to create attractive covers and stories for social media platforms.
PicMonkey Photo Editor offers powerful tools with simple and easy to use interface. PicMonkey gives multiple options to edit images and create the collage, social media covers, and stories.
There are several other Free Online Photo Editors available online such as Fotor, Google Photos, Photoeditor, Lunapic, Pizap and many more. However our aim here is to share the tested platforms and the best ones, to make your life and work easier.
If you think we missed an free online photo editor that needs to be in this list, let us know in the comment section below.
Read more: Xiaomi working on smartphone with removable display.
Follow INCPAK on Facebook / Twitter / Instagram for updates.