Muhammad Hassan aka Major Zippy from ZipTech has allegedly scammed Pakistani Gamers of millions of rupees and fled to Turkey. According to the details, ZipTech took money from hundreds of Pakistani Gamers as payment for pre-orders for Graphic Cards (GPUs) and PlayStation 5 (PS5) but never delivered and allegedly left the country.
The matter has been trending on Pakistani PC Gamers Facebook Group as those affected by the ZipTech scam share their story on the group. According to reports, ZipTech has scammed people of an estimated Rs. 145 crores that it collected as pre-order money for GPUs and PlayStation 5.
ZipTech Wasn't Alone
However, there are reports that ZipTech wasn't alone in this scam and others included Absolute Tech, and Endgame.io, which also took money in the form of pre-orders and never delivered to their customers. These reports suggest that all these entities were in contact with each other to scam Pakistani Gamers.
Pre-Orders
These companies, including ZipTech opened pre-orders for Graphic Cards and PlayStation 5 (PS5) at cheap rates compared to the market price of these products. The companies asked customers to pay in advance and wait for 2-3 months for delivery of the product because of shipping delays.
ZipTech, who is known for starting the pre-order trend, said that cheap rates for GPUs and consoles were possible as the company bought these products directly from the vendors, which saved them a lot of money and they passed on this benefit to the end consumer.
Why People Trusted Them
ZipTech and others were able to build trust in the community as they did not scam everyone out of millions the very first day they started business. The companies did pre-orders for years and delivery the promised product on time and they were also endorsed by famed YouTubers like GanjiSwag (aka Junaid Akram) and VideoWaliSarkar.
These companies started to delay shipping of products since last year citing shipping problems but kept on opening new batches of pre-orders for GPUs. In the meantime, they did delivery a few people and had them post on social media about the product which kept the people's trust in their services.
However, once sufficient funds had accumulated by the owners of ZipTech, and other companies like Absolute Tech, they fled the country for Turkey. There are reports that owners of these companies have filed for UK Immigration as well and they're family members are now threatening customers of harassment lawsuits for demanding their money back.
Major Zippy Rejects Rumors
Major Zippy, however, rejected all such rumors and said that everyone's money is safe and products would be delivered or money refunded to customers. He also did a pole on his Facebook page to ask whether people were prepared for full refund or they were willing to wait for their products for a few more months.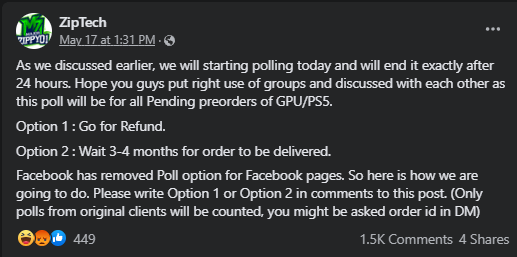 However, the CEO of ZipTech, Major Zippy, never published a follow-up and he has been missing since 17th May 2022 and reports state that he has fled to Turkey and applied for UK immigration.
Legal Notice Against ZipTech Scam
Meanwhile, the hundreds of people affected from the ZipTech scam have sent a legal notice to the company in order to file a lawsuit against Muhammad Hassan aka Major Zippy from ZipTech. The legal notice includes over 160 people affected by the fraud carried out by ZipTech.
However, there are many customers still silent and not posting against Major Zippy in anyway while hoping the company responds and refunds or delivers their product.
Major Zippy's Wife Threatens of Legal Action
Moreover, the wife of Major Zippy, CEO of ZipTech, has threatened of legal action against everyone approaching the family for their product or refund. She has disassociated herself from her husband and his company. The video was uploaded by her on Facebook but following the backlash, the page has been removed from Facebook.
ZipTech.PK Taken Offline
Meanwhile, the Gaming Community reached the domain registrar of ZipTech.PK and had the website's domain suspended after they were allegedly scammed from millions by Major Zippy.
Read more: Fact Check – Facebook is Not Opening an Office in Pakistan.