Amazon claims it will experiment with delivering products via unmanned drones.
The news – timed nicely, and not coincidentally with the 'Cyber Monday' online shopping event – was made by Amazon CEO Jeff Bezos on American TV.
Bezos told 60 Minutes that the robots anticipated by Amazon could be able to deliver packages of up to 5 pounds in weight in less than half an hour. The drones would lift packages off conveyor belts, and be able to carry them a maximum distance of 10 miles.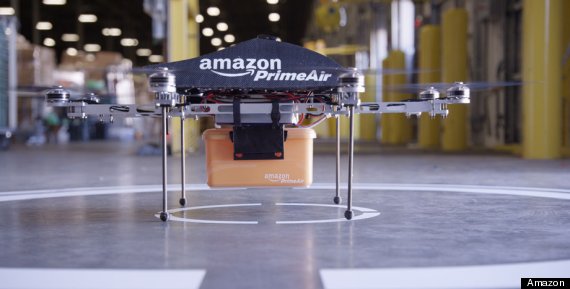 The system is named 'Prime Air', Bezos said, and would involve years of regulatory work, technical advancement and testing to actually implement. Amazon admitted Prime Air would not be ready until at least 2015, possibly much later.
"The hard part here is putting in all the redundancy," Bezos said. "All the reliability to say this can't land on somebody's head."
Luckily Amazon has a video for you right now of the cute little drones in action…
It also answered some questions on its website:
Q. Is this just a sci-fi fantasy?
It looks like science fiction, but it's real. From a technology point of view, we'll be ready to enter commercial operations as soon as the necessary regulations are in place. The Federal Aviation Administration (FAA) is actively working on rules for unmanned aerial vehicles.
Q: Will it be safe?
The FAA is actively working on rules and an approach for unmanned aerial vehicles that will prioritize public safety. Safety will be our top priority, and our vehicles will be built with multiple redundancies and designed to commercial aviation standards.