BAGHDAD: Angry mob in Baghdad, Iraq, has killed teen gunman and left his corpse hanging from a traffic pole.
The sixteen-year-old was shot and killed after he killed six people on Thursday. Iraqi officials have confirmed among the six killed were four anti-government protesters.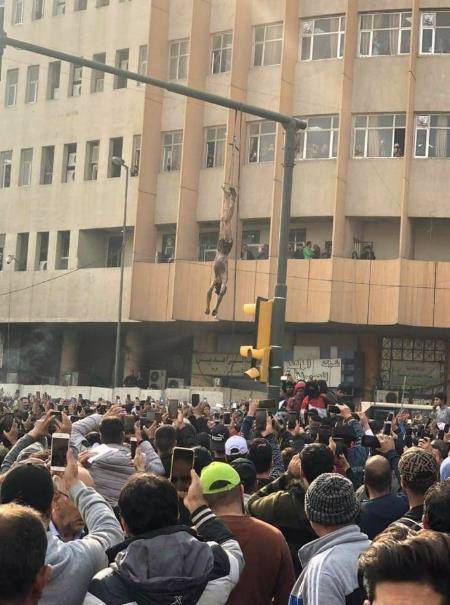 The teen was killed by some of the Iraqi protesters and then hanged him in al-wathba square, and strung up his corpse by its feet from a traffic pole.
While all this was going on many people can be seen pointing their cell phones at the body of the young boy dangling from the pole.
Videos circulating on social media also showed the teen being beaten up and dragged across the street.
READ MORE: Karbala : Twenty dead many injured in Iraq protest
The eight-week-old protest engulfed Iraq on October 1. The Iraqi people came out on streets to protest against the corrupt government, poor services, and unemployment.
Unknown groups of people are said to have started mysterious acts of bloodshed. This has caused fear and a sense of insecurity among the anti-government protesters. The peaceful protest have now turned violent where many youngsters and activists have lost their lives.
Last Friday 25 protesters were killed in Baghdad's Khilani Square. Gunmen in pickup trucks opened fire at the protesters.
Similarly, same week mysterious knifeman attacked dozens of anti-government protesters in Tahrir Square.
Thursday's Bloodshed
Thursday's bloodshed started when the teen gunman opened fire in al-wathba square. Two shop owners and four protesters were killed by the teen.
The security officials have said the teen was wanted by police on drug-related charges and he was on the run from the security forces.
The officials also revealed the angry mob beat the young man to death. At least eight people were also wounded.
Abduction and Assassination of activists
The demonstrators are in a state of fear and paranoia as in recent days abduction and assassination of high profile civil activists have also begun in Baghdad.
Muqtada al-Sadr 
Shiite cleric Muqtada al-Sadr, has called the angry mob who killed the teen "terrorists". He has warned the protesters to identify those involved in the killing of the teen within 48 hours. If they fail to do so he would order his militia to leave the square. The militia who are referred to as "blue hats" is deployed at the square to protect the protesters. 
READ MORE: Iraq Ferry Sinking Death Toll Rises To 71
Read more: WhatsApp child abuse group members arrested globally
Follow INCPAK on Facebook / Twitter / Instagram for updates.