UGANDA: Bobi Wine a rapper turned politician has released a song to spread awareness for the coronavirus disease.
Robert Kyagulanyi Ssentamu is his real name but is known by Boby Wine on stage.
Boby Wine became an opposition leader in Uganda in the year 2017.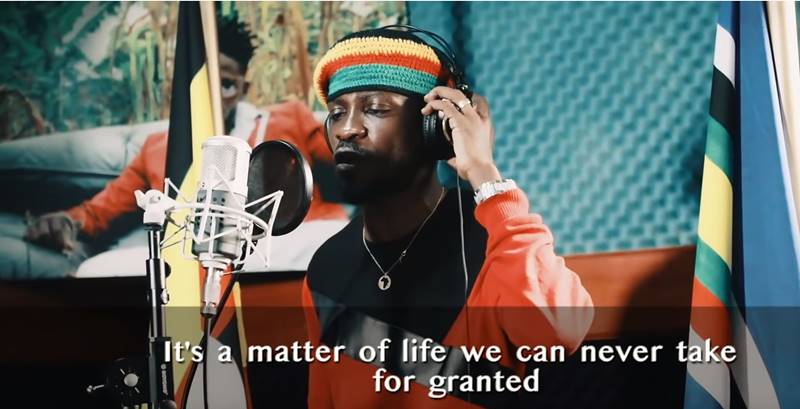 The Ugandan musician-turned-politician teamed up with fellow musician Nubian Li to create awareness about the coronavirus.
Through his songs, he has highlighted the symptoms, and importance of proper hygiene.
He has started his song by giving a positive message. he has said if everyone has the potential to catch the disease then everyone is a potential solution.
he has requested the masses through his song to sanitize and keep a social distance and quarantine.
He has alerted about the global pandemic and has asked not to take it for granted.
he has beautifully highlighted other advice through his song that is
Stay disciplined
Everyone should take charge
Regularly wash your hands
Keep a social distance
Report if you notice any symptom
Symptoms are fever, dry cough, sneezing, Itchy eyes, flu
If transmitted please isolate yourselves. Quoting Italy he said prevention is better than cure.
Bobi Wine and Nubian Li – song for coronavirus disease awareness
Bobi Wine is being praised for sending out the message. The song was viewed more than seven hundred thousands on social media after ten hours of releasing it.
Uganda has 14 confirmed cases of coronavirus, which includes an eight-month-old baby.
READ MORE: Ali Zafar releases song on how to fight coronavirus: Ko ko Corona
The song has gained a lot of publicity, and Bobi Wine said they have been receiving numerous requests from TV and radio for the authorization to play it. He said
Please go ahead and use it! It's not ours anymore but for the world. We're only trying to add our voice to the many ongoing efforts against #COVID19.
He went on and tweeted
Watch as we use music to send the message and further raise awareness on the Corona Virus pandemic. We hope you enjoy the music, pick the message, share widely & spread the word. In solidarity, we shall beat the virus. #Edutainment #UnitedAgainstCOVID19
Read More: Coronavirus: All educational institutions will remain closed till 31 May