Earthquake measuring 7.7  on the Richter scale with an epicentre at Hindukush region rocks Pakistan, Kashmir and India. So far no damage has been reported.
Early reports were not able to locate the location however, US Geological Survey updated the location and the Richter scale after 10 minutes.
Epic Center Location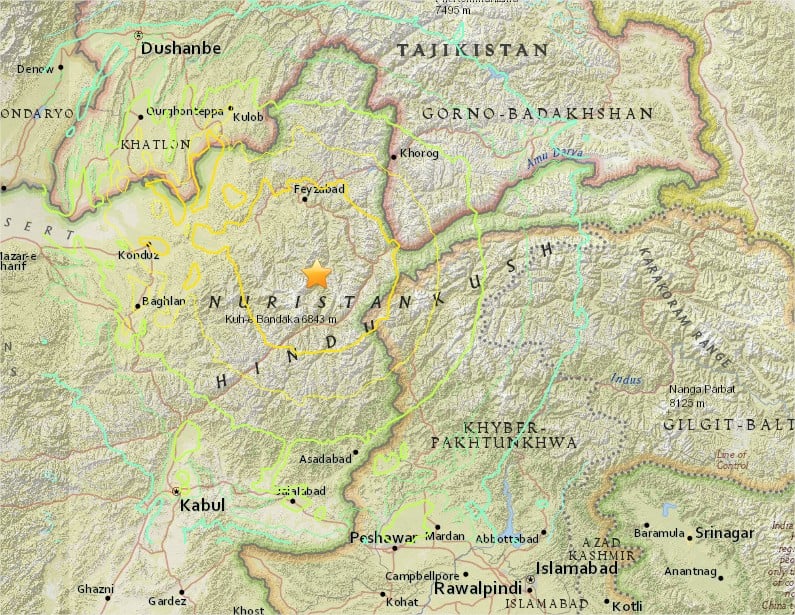 Time   
Location  36.463°N 70.712°E
Depth 213.5 km
Earthquake was strong and felt across Khyber Pakhtunkhwa, Punjab, Azad Kashmir and Indian Occupied Kashmir also reports from Indian media about tremors were felt in New Delhi and other regions of Indian Punjab.
Director Meteorological Dept says that Earthquake was 8.5 as per Dunya news, meanwhile USGS cleared it up that the richter scale measuring 7.7 and and so far so loss of life has been reported.
meanwhile from Gilgit Baltistan reports of building cracks reported.
INCPak will be updating on this story as INCPak team is gather more information.
The tremor said to be 7.7 on the Richter scale. In 2005 earthquake measured 7.8, killed more than 80000 people
OFFICIAL UPDATE FROM ISLAMABAD 
An earthquake measuring 8.1 at Richter scale jolted most parts of the country at 2.09 p.m. on Monday.
The areas include Islamabad, Rawalpindi, Lahore, Karachi, Peshawar, Faisalabad, Multan, and Azad Kashmir.
The epicenter of the quake was Hindukush region.
The tremors were so strong that people came out of their homes and offices.
There are no immediate reports of any damage or casualties.
The tremors also hit several areas of India and Afghanistan.
Prime Minister Nawaz Sharif has directed all federal civil, military and provincial agencies to declare immediate alert and mobilize all resources to ensure security of citizens.
All agencies have been directed to move out with their resources to find out the welfare of the country. No stone should be left unturned to provide all kinds of assistance.
Developing Story…