Joe Biden has taken his oath of office and is sworn in as the 46th president of the United States on Wednesday in a scaled-back inauguration ceremony held in Washington DC due to the coronavirus and the security concerns following the January 6 assault on the Capital by pro-Trump supporters.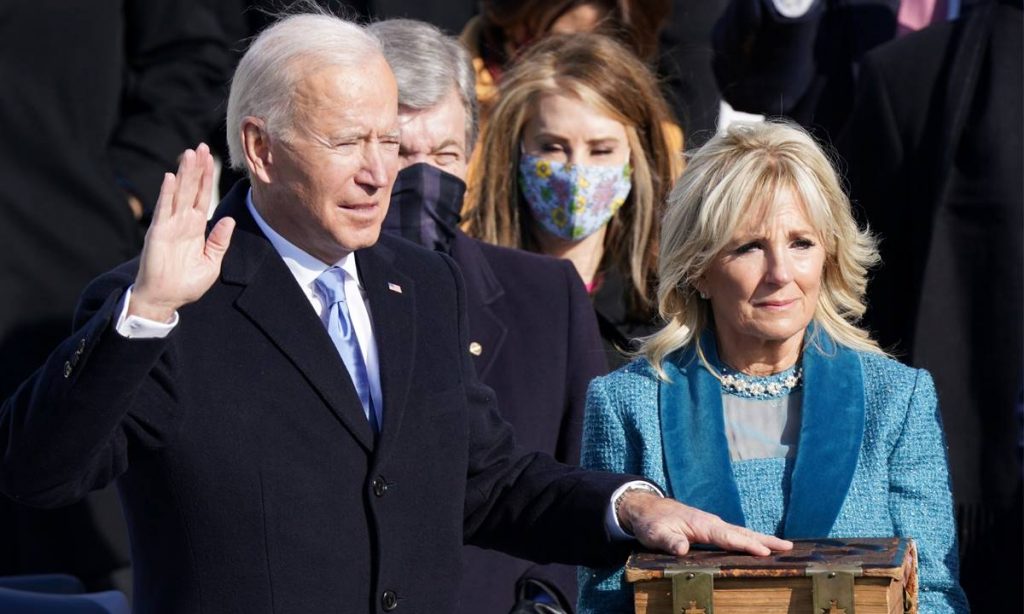 With his hand on a Bible that has been in his family for 128 years, Joe Biden swore to "preserve, protect and defend the constitution of the United States" in a ceremony that was administered by US Chief Justice John Roberts.
The transfer of power came shortly after Kamala Harris was sworn in as the vice president by Justice Sonia Sotomayor, making her the highest ranking female in the history of the United States and the first person of South Asian descent to hold the second highest office.
"This is democracy's day," Joe Biden stated as he began the inaugural address. "The will of the people has been heard and the will of the people has been heeded. We've learned again that democracy is precious, democracy is fragile and at this hour my friends, democracy has prevailed." he continued.
Joe Biden vowed to "restore the soul of America" and promised "press forward with speed and urgency" to tackle the "once-in-a-century virus that silently stalks the country" and confront the increasing problem of white supremacy and terrorism.
Former presidents Barak Obama, George W Bush and Bill Clinton were all in attendance at the inauguration ceremony at the Capitol alongside some of the top Republicans and the party's congressional leaders.
Donald Trump once again defied tradition and left the White House for Florida hours before the inauguration ceremony, but departing Vice President Mike Pence was present in the audience.
"It's a new day in America." Joe Biden declared on Twitter shortly before he was sworn in as the 46th president of the United States.
It's a new day in America.

— Joe Biden (@JoeBiden) January 20, 2021
Joe Biden takes office at a moment when there is deep political divide, a struggling economy and the coronavirus that has taken the lives of more than 400,000 Americans.