Azad Kashmir : Line of Control exchange of fire continued over night, Indian forces fired on Pakistani troops deployed at a check post of Battal in Daramsal area along LoC on Saturday.
Pakistani troops returned fire but there was no report of casualties. "Indian troops fired mortars and machine gun at Battal in Rawalakot sector at 11 am (1100 PST) Saturday but there were no casualties on our side," ISPR spokesman Major General Athar Abbas said. He said Pakistani troops retaliated with "full force" to stop the "unprovoked" Indian fire.
The Statement came from Indian Air Chief Marhshal NAK Browne later this afternoon.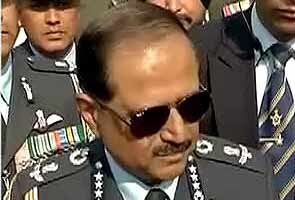 Asserting that repeated ceasefire violations by Pakistan are "unacceptable", IAF chief Air Chief Marshal NAK Browne today warned that India may have to look at "some other options for compliance" if such incidents continue.
"We have a Line of Control, we have a ceasefire agreement, we have certain structures and mechanisms which are sacrosanct and any violation of these with impunity especially what has been happening in the last few months is totally unacceptable.
"We are monitoring the situation carefully because if these things continue to be the way they are and these violations continue to take place, then perhaps we may have to look at some other options for compliance," he told reporters in New Delhi on the side lines of an NCC function.later in the after soon, Indian Air Force Marshals statement came in which he said "Pakistan must stop else we'll go for other options"
Recent Clashes and sparked fire and melting down the ceasefire agreement by arch rivals, yet those the options are not known but Both Forces are ready and prepared to face any consequences.
INCPak.