Typhoon Mangkhut heading towards Philippines estimated to be 1.145km east of the nother province of Catanduanes, an emergency had been declared as thousands of people will be evacuated powerful typhoon roars towards philippines.
With the predicted path of the super typhoon, it could also hit Taiwan and Hong Kong next.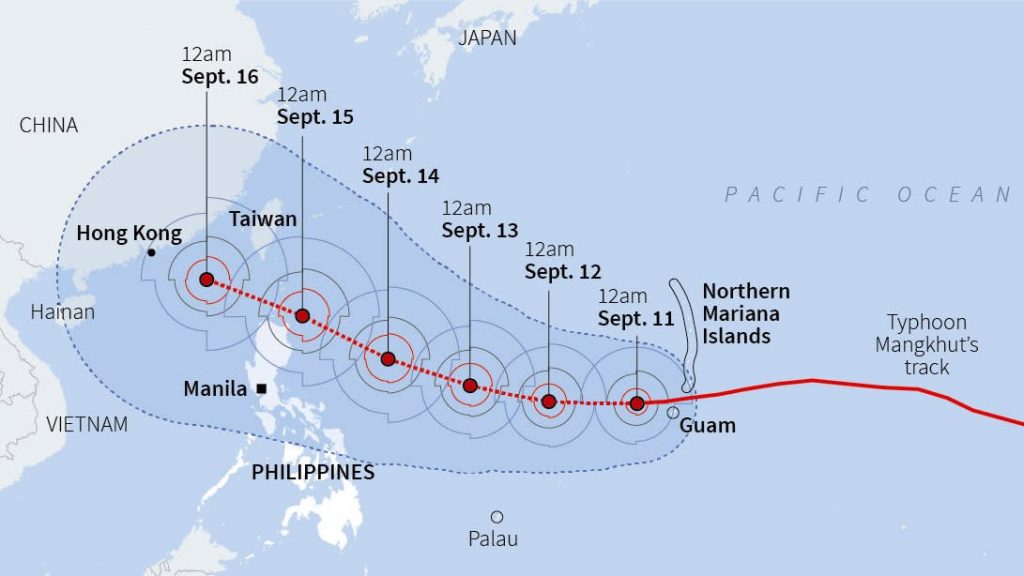 "We're worried for the 10 million people in the Philippines living in the path of this destructive storm, including those who have been displaced several times due to the monsoon rains last July and August," Senator Richard Gordon, the chairman of the Philippines Red Cross, said on Wednesday.
Teams from the International Committee of the Red Cross were placed on high alert in northern Luzon, where the storm is expected to make landfall on Saturday morning.
The typhoon already made its first landfall over the Pacific island chain of the Marianas, just north of Guam. The rain gauge collected 167mm in 12 hours from this cyclone.
Super Typhoon #Mangkhut is located west of Guam with max sustained winds of 140 KT, gusting to 170 KT. The JTWC expects the typhoon to maintain intensity as it approaches the northern #Philippines later this week. (JMA Himawari imagery) pic.twitter.com/me7gEyGmo1

— NASA SPoRT (@NASA_SPoRT) September 11, 2018