Click Here To Watch Highlights Of Atletico madrid Vs Barcelona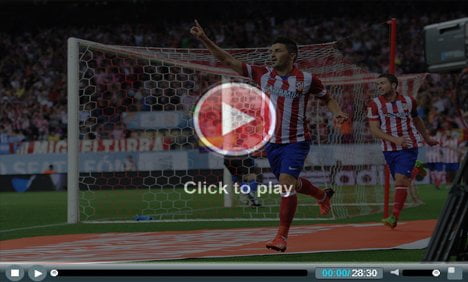 Click Here To Watch Highlights Of Atletico madrid Vs Barcelona
Atletico Madrid exposes Barcelona's core defensive issues
While Wednesday's Spanish Super Cup first leg was a positive result for Barcelona, the overlying performance was riddled with the same issues that haunted the club last season.
The Blaugrana's season opening win over Levante got many excited about Tata's changes and an apparent resurgence of Barca's lethal attacking. The only problem, of course, is that there was an element of smoke and mirrors to that game because the Granotes were truly poor.
On Wednesday in the Spanish Super Cup first leg against Atletico Madrid, we saw something closer to the real Barcelona — a team still struggling with poor defending and an offensive system that can be bottled up by an aggressive and organized defense.
If you thought that Martino's arrival would magically change the fundamental problems that we saw throughout last season, you were likely disappointed.
Despite the positive result — a 1-1 draw — thanks to a second-half equalizer from Neymar, Barca spent much of the game being frustrated in the final third and trying not to get burned by Diego Simeone's well crafted game plan.
Atletico's goal, which came in the 12th minute thanks to a brilliantly executed counter attack and an even more impressive finish by David Villa, was the exact same type of breakdown we saw throughout last spring. With Dani Alves and Jordi Alba playing their usual pressing game on the wings, the responsibility of guarding against breaks fell to Gerard Piqué and Javier Mascherno. For the most part they did the job, but there were several close calls in addition to David Villa's goal.
So Wednesday night's performance was better in places, but it wasn't good enough. At least not by Barca's standards.
Lionel Messi injury overshadows everything
Atletico Madrid and Barcelona will both be fairly pleased with their first leg result in the Supercopa de España, but Lionel Messi's injury is all anyone will be talking about on Thursday.
Things couldn't have gone much worse for Barcelona in the first half. Not only did Messi pick up an injury, but they didn't manage to get a single shot on target. Cesc Fabregas came out to start the second half, replacing Messi at the center forward spot.
Barca still struggled to create chances for good chunks of the second half until Neymar came off the bench. He made a massive difference early and often, going on to score the equalizer and his first competitive goal in a Barcelona shirt in the 66th minute, heading in a cross by Dani Alves.
Atletico Madrid: Courtois, Godin, Felipe, Juanfran, Miranda, Suarez, Koke (Oliver 73′), Turan (Leo Baptistao 76′), Gabi, Diego Costa (Rodriguez 79′), Villa
Goals: Villa (12′)
Barcelona: Valdes, Pique, Alba, Mascherano, Alves, Busquets, Xavi (Song 89′), Iniesta, Pedro (Neymar 59′), Messi (Fabregas 45′), Sanchez
Goals: Neymar (66′)