The Government of Pakistan is providing online vehicle verification services through Excise and Taxation Departments of respective provinces which include Sindh, Punjab, Khyber Pakhtunkhwa (KP) and Islamabad.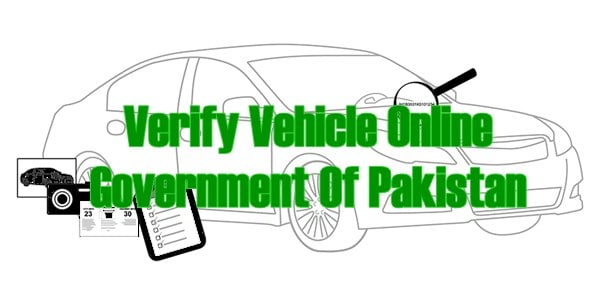 Through the online vehicle verification system, you can check details for any vehicle by providing basic information registration number or the owner's Computerized National Identity Card (CNIC) number where applicable.
Online Vehicle Verification Pakistan
By using the online vehicle verification services, citizens can verify details of motor car / motorbike (private and commercial) as well get updates regarding vehicle token tax.
Online Vehicle Verification Islamabad
The federally administered capital of Islamabad provides online vehicle verification service and registration through their Islamabad City App and through their Excise and Taxation Department's website.
Excise & Taxation Department Islamabad Address
We have provided extended details about the process over here.
Online Vehicle Verification Punjab
Punjab also offers online vehicle verification along with several other services through like token tax payment its ePay Punjab App and Excise and Taxation Department's wesbite.
Excise & Taxation Department Punjab
Punjab vehicle verification portal provides more information regarding entire online processes.
Online Vehicle Verification Sindh
Sindh online vehicle verification service provides similar services allowing citizens to check details regarding their motorcar / motorbike (commercial and private) along with option to pay token tax online as well through the Excise and Taxation Department's website or ePayment GoS App.
Excise & Taxation Department Sindh
For more details check our complete guide on how to pay Sindh motor vehicle token tax online or you can check out Sindh vehicle verification Portal for useful information.
Online Vehicle Verification KPK
Unlike other provinces, Khyber Pakthunkhwa is not offering online services like token tax payments or registrations. However, you can still check vehicle verification online using their Excise and Taxation Department's website.
Excise & Taxation Department Khyber Pakhtunkhwa
The Online Vehicle Verification Portal for Khyber Pakhtunkhwa provides more detailed information about the process.
If you face any trouble with your vehicle verification, kindly download our app.
اگر آپکی گاڑی کی تصدیق کے دوران کوئی مشکل پیش آراہی ہے تو ہماری ایپلی کیشن وہلیکل ویریفیکاشن اون لائن پلے اسٹور پر موجود ہے نیچے دیئے گئے لنک پر کِلک کر كے ڈائون لوڈ کی جئے شکریہ
INCPak Online Vehicle Verification App
Independent News Coverage Pakistan (INCPAK) is providing an all in one solution to online vehicle verification services for all provinces through a single application.
Download our application which is available on the Google Play Play Store with over a 100,000 downloads already.
For more details regarding INCPAK Online Vehicle Verification App you can visit our link below to find out..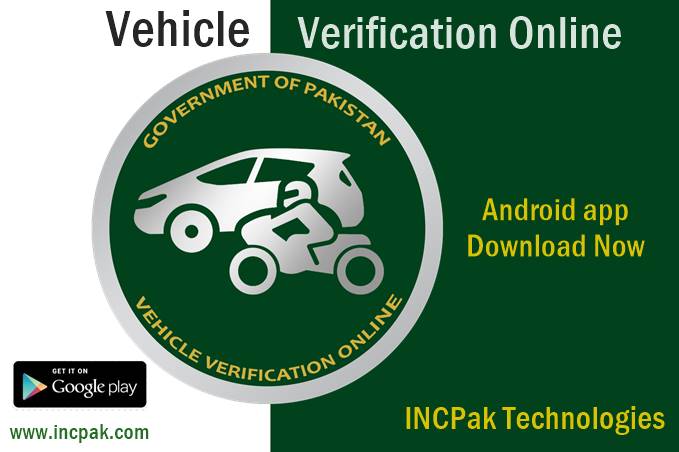 INCPAK Team Message:
All of this information is updated ee are committed to provide you with an online technical solution and assist you better, for any queries kindly email us [email protected].
Follow INCPAK on Facebook / Twitter / Instagram for update