The Government of Sindh Introduced 'Sindh Vehicle Verification and Registration Online' services are being provided by the Excise and Taxation Department (ENT) through the use of Motor Transport Management Information System (MTMIS), which allows citizens to check registration details of any vehicle by providing basic information such as car's registration number or Computerized National Identity Card (CNIC) number.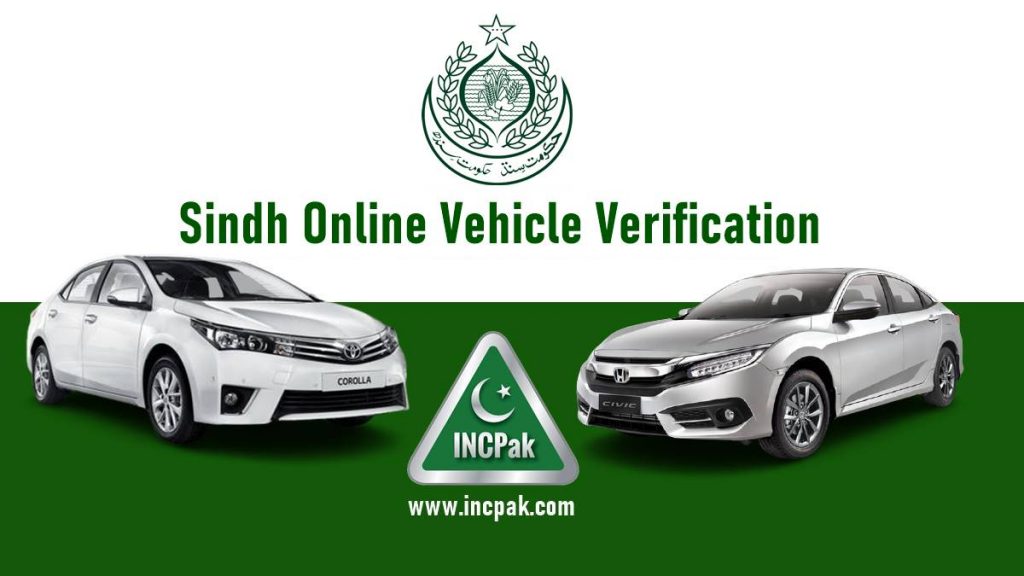 MTMIS Sindh Online Vehicle Verification allows citizens to check details of all registered motor vehicles, including bikes, private and commercial cars, semi-trucks, busses and tractors, registered within the Sindh Province.
MTMIS Sindh Vehicle Verification Online
Using the MTMIS Sindh Online Vehicle Verification Services, you can check the following:
Vehicle's smart card status
Vehicle's smart card availability status
Vehicle Details, including:

Car Make
Car Model
Registration Date
Owner's Name
Token Tax Information
How to use Sindh Online Vehicle Verification service?
You can find vehicle information using the official website of the Sindh Excise and Taxation Department (ENT) or you can download our application 'INCPak Vehicle Verification Online' through the Google Play Store.
Sindh online vehicle verification service provides services allowing citizens to check details regarding their motorcar/motorbike (commercial and private) along with the option to pay token tax online as well through the Excise and Taxation Department's website or ePayment GoS App.
Excise & Taxation Department Sindh

Sindh Vehicle Registration Smart Card
The Sindh Excise & Taxation Department has introduced 'Smart Card' replacing the traditional registration book. For updates please follow the link below:
Read more: Sindh govt introduces 'Smart Card' for vehicle registration.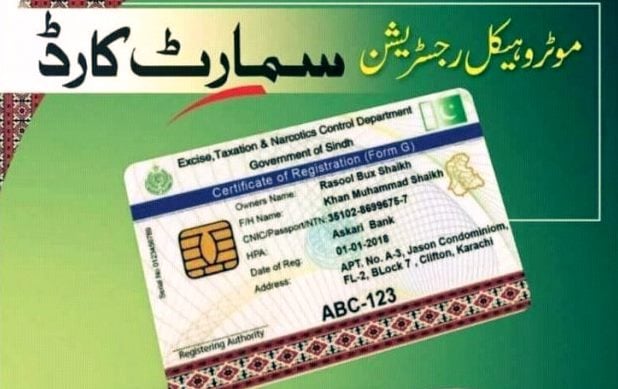 Read more: Sindh Vehicle Registration is now possible on CNIC number.
Why is it important to check how many vehicles are registered on your name?
When you sell your vehicle, it is mandatory to transfer the vehicle's ownership onto the new owner's name, however, most people skip this part as they are buying and selling a vehicle, which is a common business practice in Sindh province.
Sindh Government has directed the Excise & Taxation Department to strict the rules and make sure that the vehicle is on the owner's name as in near future, the Government of Sindh in collaboration with NADRA will introduce Biometric Verification and Transfer Process which will make the existing owners and sellers bound to be present at Excise & Taxation Office to get the vehicle transferred to the new owner's name.
NOTE: When you sell the vehicle make sure that the purchaser gets it transferred immediately within a week, otherwise you will be liable if the vehicle caught in any crime.
Here is a list of documents you need to present in order to verify vehicle ownership in Sindh:
Vehicle Registration Book
License Plate Number
Original Return File
Original Sale Invoice
Sale Receipt
Delivery Letter
Token Tax Record
NOTE: Sindh Online Vehicle Verification is limited to Karachi Registered vehicles Only as only commercial vehicles are being registered in other cities.
Inform CPLC For Stolen Vehicles
FOR STOLEN CARS / BIKES:  If The vehicle is stolen or missing, kindly report it to the nearest police station and CPLC contact number. Before Buying any vehicle is it good to verify it online, perhaps CPLC clearance is essential.
CPLC Karachi Information Update & Contact Information
Note: This Online Verification is not connected with CPLC's record, If your vehicle appears as CPLC CLEAR in the search query result, still we recommend you to contact CPLC personally to verify again.
If for some reason the vehicle appears NOT CLEAR or Safe Custody you are requested to contact CPLC immediately they will update the information on behalf of the Registered FIR.
The Official site of  CPLC Karachi site: www.cplc.org.pk is working actively You can call on
CPLC Phone Number: 021-35683333-2222  and reach out to the address: Sindh Governor's Secretariat Karachi.
INCPak Online Vehicle Verification App
Independent News Coverage Pakistan (INCPAK) is providing an all-in-one solution to online vehicle verification services for all provinces through a single application.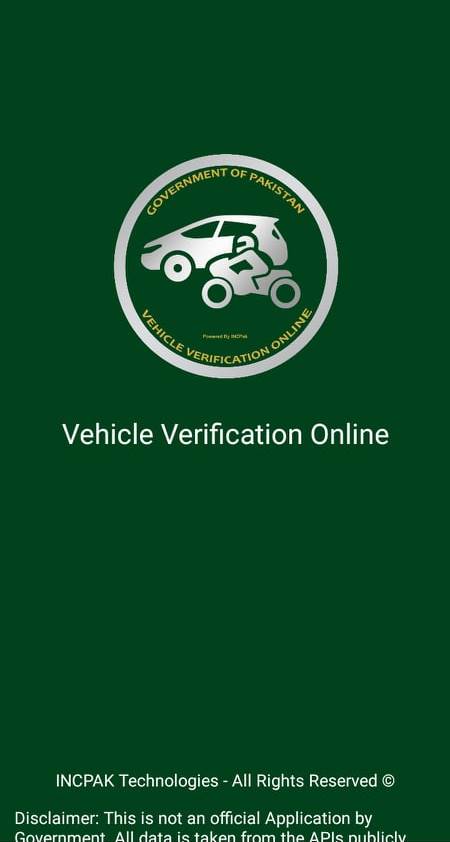 INCPAK Vehicle Verification Online app does not require any login and you can simply download and click on the desired Provinceto check the information of the vehicle.
 'INCPak Vehicle Verification Online' has the following sections:
Islamabad: You can click on this section and check vehicle details after entering registration number. Instructions have been provided in app for your convenience. Furthermore, there is section of Motor Vehicle Tax, which provides information based on provinces and also includes registration fee details.
Punjab: You can do vehicle verification with the app by providing vehicle registration number. There are different formats you have to follow for verifying Punjab vehicles and instructions have been provided in this section.
Sindh: This section has two separate options, which include "Four Wheel" and "Two Wheel" selection. You need to select "Four Wheel" in case of cars and trucks while "Two Wheel" will provide vehicle verification for motorbikes.
Khyber Pakhtunkhwa: In this section, you need to select your district and registration type before providing vehicle number for verification. Please note that instructions are available on page and process is simple.
Balochistan: The province does not have online vehicle verification, however, in this section we have provided contact numbers of Excise and Taxation Department for your convenience.
AJ&K: Similar to Balochistan, contact information for Excise Department has been provided as vehicle verification is not available for AJ&K.
Gilgit-Baltistan: Online verification is available and you just need to provide your license number in the format mentioned.
Vehicle Taxes: This section provides motor tax information for Islamabad, Punjab, Sindh and KPK.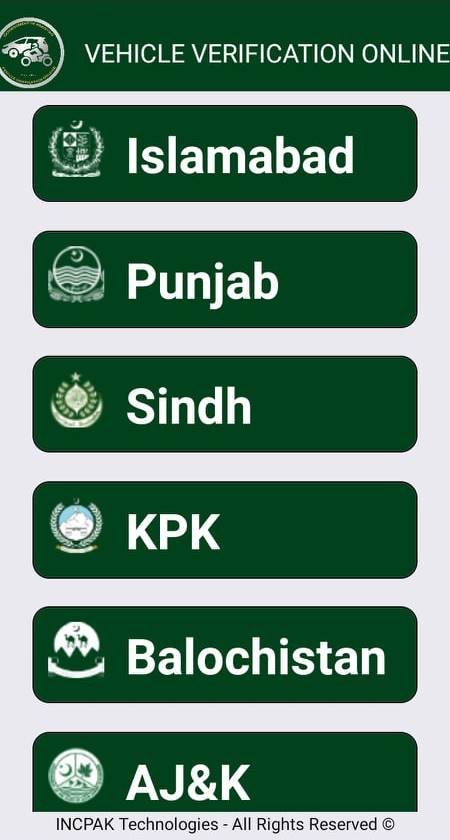 Download our application which is available on the Google Play Play Store with over 100,000 downloads already.
For more details regarding INCPAK Vehicle Verification App you can visit our link below to find out..
NOTE
اگر آپکی گاڑی کی تصدیق کے دوران کوئی مشکل پیش آراہی ہے تو ہماری ایپلی کیشن وہلیکل ویریفیکاشن اون لائن پلے اسٹور پر موجود ہے نیچے دیئے گئے لنک پر کِلک کر كے ڈائون لوڈ کی جئے شکریہ
Follow INCPAK on Facebook / Twitter / Instagram for updates.