Punjab Excise and Taxation Department has developed the Motor Transport Management Information System (MTMIS) for Punjab Vehicle Verification and Registration Online, which allows you to check registration details of any vehicle by providing basic information such as the vehicle's license plate number.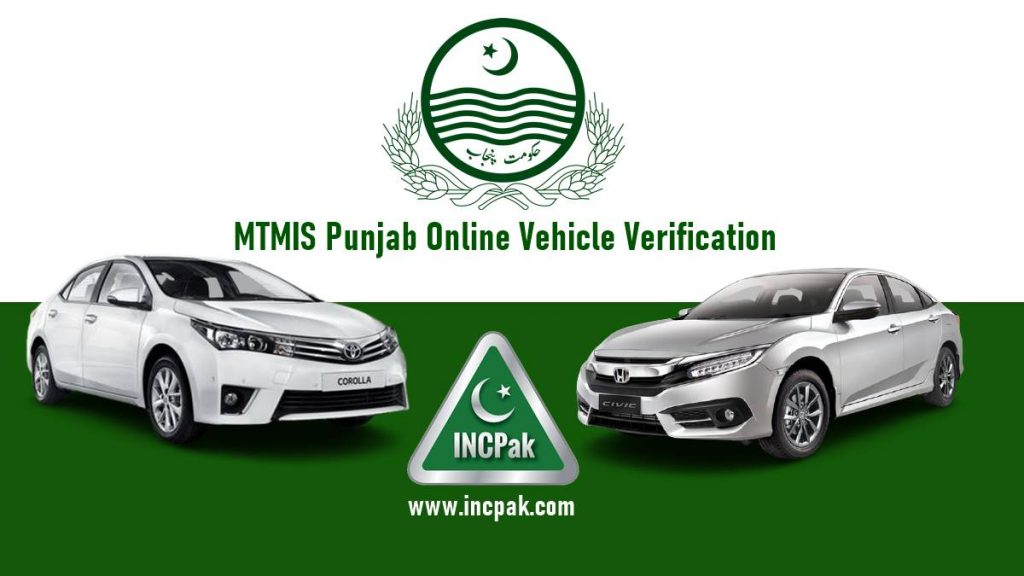 MTMIS Punjab Online Vehicle Verification allows citizens to check details of all registered motor vehicles, including bikes, private and commercial cars, semi-trucks, busses, and tractors, which have been registered within the Punjab Province.
UPDATE: Punjab Excise Allows Online Transfer of Vehicles in Lahore.
Vehicle Verification Services
Using the MTMIS Punjab Online Vehicle Verification Services, you can check the following:
Vehicle's smart card status
Vehicle's smart card availability status
Vehicle Details, including:

Car Make
Car Model
Registration Date
Owner's Name
Token Tax Information
MTMIS Online Punjab Vehicle Verification
You can vehicle information using the official website of the Punjab Excise and Taxation Department or you can download our application 'INCPak Vehicle Verification Online' through the Google Play Store.
Punjab also offers online vehicle verification along with several other services through like token tax payment its ePay Punjab App and Excise and Taxation Department's website.
Excise & Taxation Department Punjab
UPDATE: Dealer Vehicle Registration System (DVRS) – Authorized Dealers List
Punjab Vehicle Registration Smart Card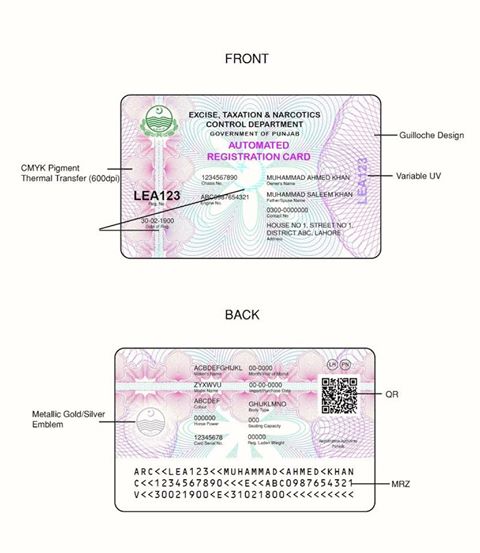 SRU and Excise Department has launched the third phase of the Transport Sahulat Program with Automated Registration Card (ARC). No more paper-based vehicle registration will be required with the Smartcard, which will hold citizen and vehicle information.
For Stolen Cars and Bikes kindly contact your nearest Police Station grab a copy of the First Information Report (FIR) and report to Excise & Taxation Officer (ETO) with a written application. Further, if you have any query you can email us and we'll try our best to guide you as much as possible.
Punjab vehicle verification portal provides more information regarding entire online processes also read Pay Vehicle Token Tax Online in Punjab
The federally administered capital of Islamabad provides online car and motorbike verification service and registration through their Islamabad City App and through their Excise and Taxation Department's website.
Excise & Taxation Department Islamabad Address
We have provided extended details about the process over here.
Sindh online vehicle verification service provides similar services allowing citizens to check details regarding their motorcar / motorbike (commercial and private) along with the option to pay token tax online as well through the Excise and Taxation Department's website or epayment GoS App. Excise & Taxation Department Sindh not only introduced Web portal but Mobile app for vehicle registration verification, Motor Token Tax payment via app. This application allows user to verify vehicle license plate or to calculate tax on a vehicle. Users can verify license plate by entering vehicle number manually. Through this application users will be able to verify whether their vehicle is registered or not, also can check whether tax is clear or not.
Excise & Taxation Department Sindh
For more details check our complete guide on how to pay Sindh motor vehicle token tax online or you can check out Sindh vehicle verification Portal for useful information.
UPDATE: The excise & Taxation Department of Khyber Pakhtunkhwa (KP) has introduced Zama KP app,
Zama KP app enables you to perform all services related to Excise, Taxation and Narcotics Control Department like:Zama KP AppGoogle PlayStore

– View vehicle registration info

Token tax payment

Dues and penalty payments

Zama KP is the one-stop for all future KP government services.

Excise & Taxation Department Khyber Pakhtunkhwa

The Online Vehicle Verification Portal for Khyber Pakhtunkhwa provides more detailed information about the process.
NOTE: INCPak does not keep any information, we are bringing everything one step closer to you so you can check your registration, verify any vehicle before you buy or sell. if your vehicle is not appearing below, kindly contact the Excise & Taxation Department.
اگر آپکی گاڑی کی تصدیق کے دوران کوئی مشکل پیش آراہی ہے تو ہماری ایپلی کیشن وہلیکل ویریفیکاشن اون لائن پلے اسٹور پر موجود ہے نیچے دیئے گئے لنک پر کِلک کر كے ڈائون لوڈ کی جئے شکریہ
INCPak Vehicle Verification Online Smartphone App
You can download our INCPak Vehicle Verification Online Smartphone App through the Google Play Store. The app can be used for MTMIS Punjab Online Vehicle Verification along with verification of vehicles from other provinces. The app provides information regarding motor tax as well.
Independent News Coverage Pakistan (INCPAK) is providing an all-in-one solution to online vehicle verification services for all provinces through a single application.
'INCPak Vehicle Verification Online' has the following sections:
Islamabad: You can click on this section and check vehicle details after entering registration number. Instructions have been provided in app for your convenience. Furthermore, there is section of Motor Vehicle Tax, which provides information based on provinces and also includes registration fee details.
Punjab: You can do online vehicle verification with the app by providing vehicle registration number. There are different formats you have to follow for verifying Punjab vehicles and instructions have been provided in this section.
Sindh: This section has two separate options, which include "Four Wheel" and "Two Wheel" selection. You need to select "Four Wheel" in case of cars and trucks while "Two Wheel" will provide vehicle verification for motorbikes.
Khyber Pakhtunkhwa: In this section, you need to select your district and registration type before providing vehicle number for verification. Please note that instructions are available on page and process is simple.
Balochistan: The province does not have online vehicle verification, however, in this section we have provided contact numbers of Excise and Taxation Department for your convenience.
AJ&K: Similar to Balochistan, contact information for Excise Department has been provided as vehicle verification is not available for AJ&K.
Gilgit-Baltistan: Online verification is available and you just need to provide your license number in the format mentioned.
Vehicle Taxes: This section provides motor tax information for Islamabad, Punjab, Sindh and KPK.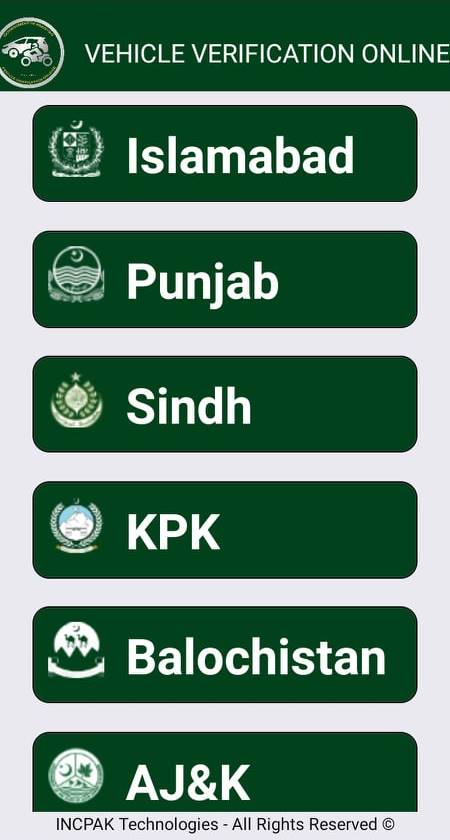 Download our application which is available on the Google Play Play Store with over a 100,000 downloads already.
Please avoid buying Non-Custom Paid (NCP) vehicles, These vehicles are affecting our economy and can be caught anywhere – Those of you looking for information regarding NCP vehicles, please read this article.
Read more: Information on Non-Custom Paid (NCP) Vehicle's.
Follow INCPAK on | Facebook | Twitter |Instagram | for updates.