West Indies Beats Pakistan by 37 runs in the 2nd ODI on 16 July 2013 with the help of match winning performances by Bravo brothers scoring 97 runs combinely and Sunil Narine's magic spin bowling taking 4 wickets in 10 overs giving away 26 runs only. Read out the match report and also watch video highlights of the 2nd ODI match between Pakistan and West Indies.
Match Report:
West Indies were unusually generous in the field but their batting showed signs of returning to form and Sunil Narine roared back to his best as they overcame Pakistan in Providence to level the series at one-each. West Indies themselves had been helped by a sloppy effort from Pakistan's bowlers, who conceded a whopping 38 extras in a low-scoring game.
Darren Bravo provided the stability at the top of the order and, though Pakistan's naggingly accurate trio of spinners choked the scoring in the middle overs, Dwayne Bravo and Kieron Pollard played some big shots towards the end of the innings to lift West Indies to a competitive 232 on a slow surface.
Pakistan's response was guided by Nasir Jamshed, who was more than compensated for being incorrectly adjudged lbw early in the first ODI. He was dropped three times during his half-century and Johnson Charles fluffed one stumping chance in an ungainly innings that also had several inside-edges and mishits. Jamshed took forever to get off the mark as Kemar Roach began with four maidens in a row, and was dropped on duck off his 21st delivery. You could feel the frustration and in the next over, he connected with a pick-up shot over midwicket for six to relieve some of the pressure.

His opening partner Ahmed Shehzad failed for the second consecutive match on his comeback. Mohammad Hafeez decided to hit his way back to form before unwisely thinking he could smash Narine over the man at long-on to fall for 20. Misbah-ul-Haq could have been run-out on 0, a score he remained on after facing 11 deliveries before breaking free with a typical loft over midwicket. The manner of his dismissal was totally out of character though, as he skipped beyond leg stump to make room and missed a straight one from Darren Sammy. Asad Shafiq was the next to go, slapping a long hop from Marlon Samuels to extra cover and Pakistan slid to 122 for 4.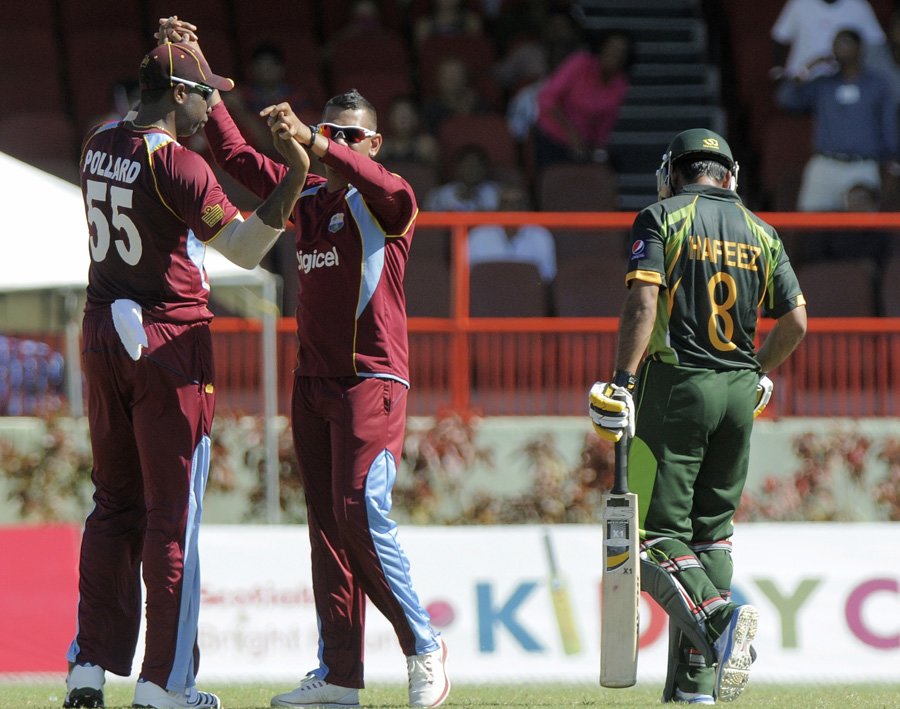 Through it all, Jamshed persevered, putting aside the false strokes and strokes of fortune and, in the 35th over, he completed his fifty with a calculated chip over mid-on for four. With the flamboyant pair of Umar Akmal and Shahid Afridi to come, Jamshed didn't need to go for the big hits but when Pollard was given his first over in the batting Powerplay, Jamshed promptly holed out to wide long-on.
After the magical performance in his comeback match on Sunday, could Afridi deliver once more? He couldn't, as he fell for 5 after an innings in which he batted as though on hot coal. Every ball, he charged out of the crease or backed away from the stumps or shuffled across to the off; none of that was enough to counter the canny variations of Narine, who had him stumped to expose Pakistan's lengthy tail. Pakistan were left needing 82 off the final 10 overs, which proved too much for Akmal, who finished with a 46-ball 50 to reduce the margin of defeat.
Pakistan had actually been on top for much of the time that West Indies batted. When West Indies were 150 for 5 in the 39th over, with only the inconsistent allrounders to come, the only thing Pakistan had to complain about was some chewing gum which was stuck to the ball, but Pollard and Dwayne Bravo put on 70 brisk runs to lift West Indies to a respectable score.
Chris Gayle's miserable run continued as he fell to a swinging Mohammad Irfan delivery in the first over, before Darren Bravo and Charles showed some spine on either side of a 45-minute rain break. The more gentle medium-pace of Asad Ali didn't complement the threat provided by Irfan, as he routinely strayed with the new ball to allow Darren Bravo some confidence-building boundaries.
The art of taking singles continues to mystify Charles – he took only one single in the first ten overs – forcing him to go for the big hits often. It was one such attempt that ended his innings on 31, as he completely missed a legbreak from Afridi to be stumped yards out of his crease.
Darren Bravo and Marlon Samuels kept out Pakistan's dangerous spinners for a while, without scoring at much pace, but Saeed Ajmal removed them both – Darren Bravo with a doosra, and Samuels with one that didn't spin. It extended Samuels' wretched run in ODIs, and he walked off with a shrug acknowledging that Ajmal had got the better of him.
When the batting Powerplay only yielded 18 runs and produced two wickets, West Indies looked headed for a score around 200. Pollard and Dwayne Bravo haven't covered themselves in glory in recent times but they played the role they are well suited for. Pollard repeatedly powered the ball down the ground, and Dwayne Bravo regularly pinged the off-side boundaries in the quick-scoring partnership. The big push arrived when Wahab Riaz was taken for 18 in the 47th over, and West Indies ended up with a total that has usually proved a winning one at this ground.
Video Highlights:
Part 1

Part 2

Part 3

Part 4

Part 5
Scorecard:
Source: Cricinfo.com, Cricketveerablogspot.com