Storyline
The Bourne Lagacy is continuity of the Bourne Series, The events in this movie takes place around the same time that the events in The Bourne Ultimatum. When a British reporter was writing an expose about Black Ops operations Treadstone and Black Briar, and the ones responsible for them are concerned. And when Jason Bourne, former Tread stone operative got the file on Tread stone and Black Briar and gave it to Pamela Landy who them passed it to the media. When the men behind Tread stone and Black Briar learn of this, they're concerned how this will affects other ops they have. They decide it's best to shut down all ops and make sure make everyone involved disappears. They try to take out Aaron Cross who is part of another op called Outcome, but he manages to survive. He then seeks out Dr. Marta Shearing who worked on him when he began. It seems part of the program is for all subjects to take medications but he has run out, which is why he seeks her…
Rating  PG13  Duration  135 min  –   Genre  Action | Adventure | Mystery
My Review
In a way I think this film disgraces the Bourne series, I mean replacing Matt Demon with Jeremy  Renner wasn't the smart move at all, I been watching the entire Bourne Series and personally I feel that he had the attitude which was needed to keep up with this character, although Jeremy Renner is a fine action hero but not a replacement when it comes to Demon.
Here's why: it simply did not have the feel of a Bourne movie. Between awkwardly chosen locations, some sci-fi drug twist, and and incredibly over-simplified and at times dull plot line, this is hardly an action movie, let alone a Bourne movie. Also, and this part really bothered me, even going so far as to change the initiation program and the amount of information leaked at the end of Ultimatum.
Secondly, the direction was very close up the entire time, and during many of the chase scenes I found myself unable to watch. The entire time it is very shaky, and because of the closeness, it's difficult to get the whole picture of what's going on, in simple " too many Close ups "
Lastly, some of the acting wasn't good as expected. I am not the fan of Jeremy Renner and this movie didn't change my opinion about him. It's not that he's a bad actor, it's just that he didn't fit in this character. The best performance was probably from Rachel Weisz, who did well as a woman trying to deal with shock and guilt, she was at her best in this movie.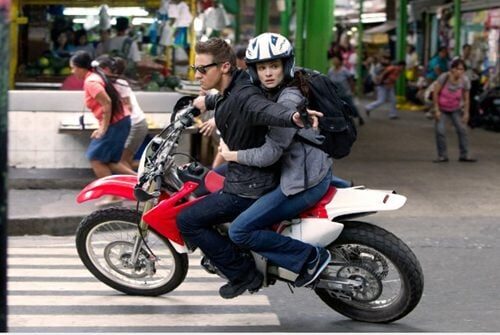 Finally Motorbike Chase Scene, well Jeremy did it well thou direction wasn't precise at it was required for the action 'Stunt Scene' but so far did well. What I am expecting that Matt Demon takes it back in next Bourne series movie else after Ultimatum it has lost the attitude charm.
Movie : Bourne Legacy Review
Farhan Imaan
INCPak.
If you happen to like almost all action movie, go ahead and watch this, but if you're a Bourne fan, I wouldn't bother wasting your and tarnishing some aspects of the past movies.