The cabinet has approved the Automotive Industry Development and Export Policy (AIDEP) 2021-2026. Under the new Auto Policy, airbags have been made mandatory for the sale of vehicles in Pakistan. The new policy brings several incentives for the car manufacturers as well as multiple benefits for the end consumers.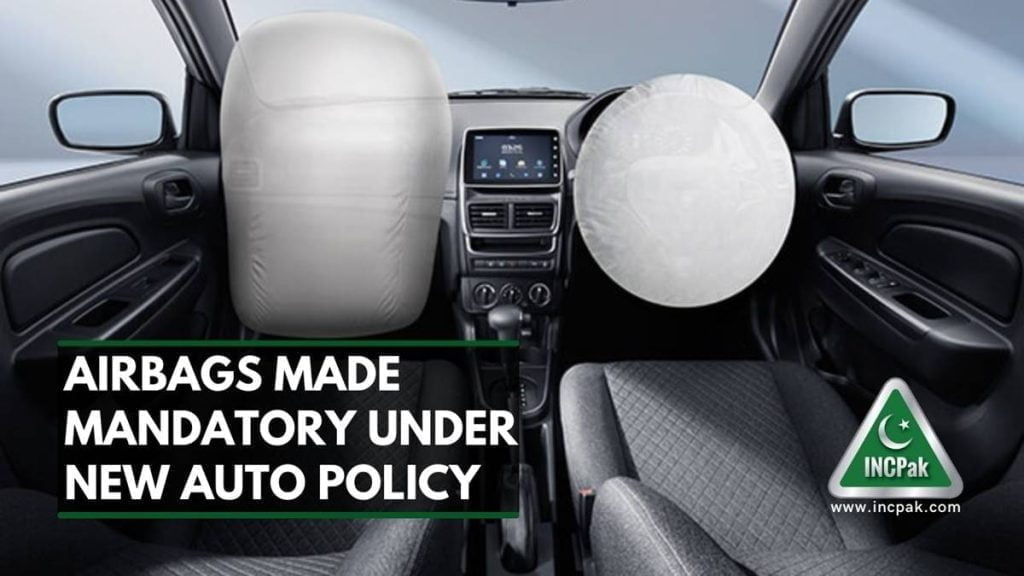 The AIDEP 2021-2026 mandates that car manufacturers must abide by the World Forum for Harmonization of Vehicle Regulations (WP.29). These regulations were introduced by the United Nationals Economic Commission for Europe (UNECE) and these are followed by 64 countries.
Pakistan had initially agreed to adopt the UN vehicle regulations back in April 2020, but the new WP.29 regulations were not effectively enforced by the Government and the automotive companies did not follow the rules.
However, the new auto policy (AIDEP 2021-2026) has now made it mandatory for car manufacturers to abide by the few rules, which have made airbags mandatory for vehicles in the country along with several other safety regulations.
The new auto policy focuses on driver and passenger safety and mandates that car manufacturers must ensure the inclusion and quality of the vehicle steering wheel, tires, braking system, seatbelts, headrests, airbags, rearview mirrors, and an anti-theft system along with several other safety features.
The car manufacturers will not be allowed to sell vehicles without the inclusion of the mentioned features, especially the airbags, which have been a rare commodity in most entry level vehicles in Pakistan. The new policy is certainly going to be a major hit to some car manufacturers especially Suzuki, which mostly occupies to the entry level market and most of its vehicles lack basic safety features, especially airbags.
It will obviously take some time until these companies are able to upgrade their vehicles in order to comply to the new Auto Policy (AIDEP 2021-2026), however, it is also expected that car manufacturers will increase their prices if they have to add features like airbags, since they are now mandatory for all vehicles in Pakistan.
It is pertinent to mention that some of the most sold Pakistani cars come without airbags installed, including the Suzuki Alto VX, Cultus VXR, Suzuki Wagon R, Suzuki Bolan, and Suzuki Ravi. Meanwhile, the entry level Chinese vehicles like Changan Karvaan, United Bravo and United Alpha also lack this basic safety feature.
Read more: Best Selling Cars in Pakistan 2021.
Follow INCPAK on Facebook / Twitter / Instagram for updates.