Atlas Honda has launched the latest Honda CG 125 2022 with a Brand New Sticker. The Honda CG 125 2022 Price in Pakistan is Rs. 179,900 (w.e.f 1 August 2022), which is very competitive in comparison with other motorcycle manufacturers. However, the Honda CG 125 still has an outdated look in compared with other motorcycles available in the market. The company claims to have made 55 changes (including Frame and Engine) to the new model but these don't make the motorcycle more appealing because the overall design is unchanged the still outdated.
آ گیا نیا اسٹیکر ہونڈا والو نی پاکستانی عوام کی پھر سے سن لی
Honda Motorcycles prices are updated in the link below.
UPDATE: Honda Motorcycle Prices in Pakistan Increased From 1 June 2022
Honda CG 125 2022 Price in Pakistan
Honda CG 125 2022 Price in Pakistan is Rs. 179,900 for the latest model which has been introduced by the company on Monday (11 October 2021). The motorcycle has a strong customer base in Pakistan as Atlas Honda is known for providing good quality products at a very reasonable price when it comes to motorbikes.
Prices updated on April 1, 2022.
| Model | Price (PKR) |
| --- | --- |
| HONDA CG 125 Price | Rs. 179,900 |
| HONDA CG 125 SE | Rs. 210,900 |
Honda CG 125 2022 Price in Pakistan
Honda CG 125
The Honda CG 125 2022 model looks the same apart from the new adhesive sticker. The motorcycle has been the most popular option in the 125cc category since it first came into production in 1992. The Honda CG 125 is known for its durability, reliable engine and easy maintenance. The motorbike has the top resale value in its class, which is considered very important for Pakistanis when buying any type of vehicle.
The engine of the two-wheeler has since been upgraded several times by the company and meets the Euro II standard, making it the top choice for many customers looking for an affordable yet reliable ride to get about their daily lives. The Honda CG 125 has seen several other changes over the years, including new carburetors, rear signals, seats, headlights, etc.
Honda CG 125 has proven to be a lifetime asset, which keeps on running for generations if taken care of properly by the owner. The parts are easy available anywhere you go and most mechanics know how to work on the motorcycle, if you ever come across any kind of problem.
However, the only complaints by customers is the outdate look of the two-wheeler. There are several customers who wish to see a more modern look in the CG 125 but Atlas Honda continues to introduce the same basic design every year for its loyal customers. There are other options with a better shape, such as the CB 125 but it still has not earned trust of customers like the CG 125.
Honda CG 125 2022 Model New Sticker Pictures
Atlas Honda has unveiled the Honda CG125 2022 model with brand new sticker but not much else is different in the motorcycle when it comes to looks. However, the company has claimed that there are several design changes in the latest model with changes to the frame and engine collectively.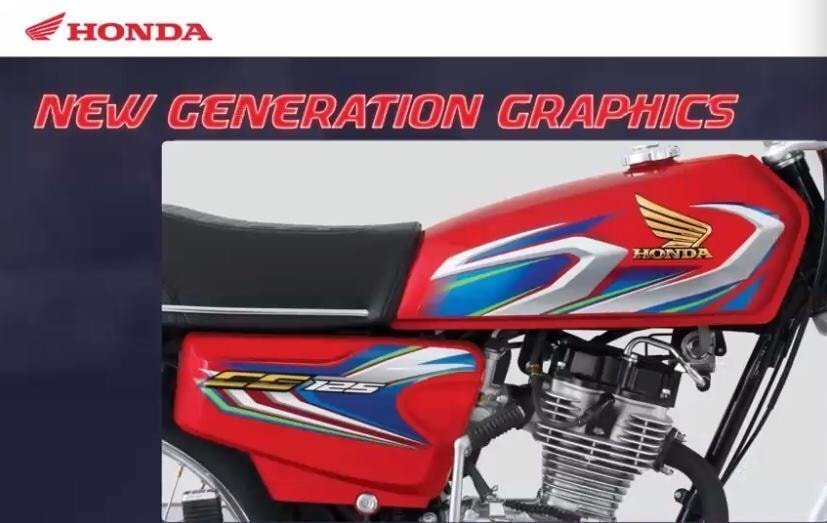 Honda CG 125 Colors
The Honda CG 125 comes in two color options, which includes Black and Red. The Honda CG 125 2022 Price in Pakistan is Rs. 179,900 for both color options. However, the Special Edition (SE) variant is more expensive than the base model.
Honda CG 125 2022 Pictures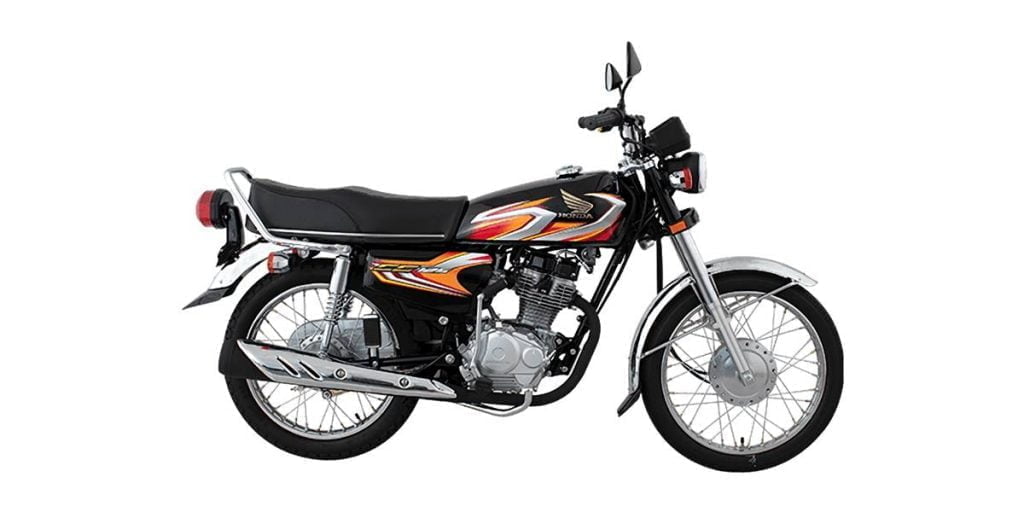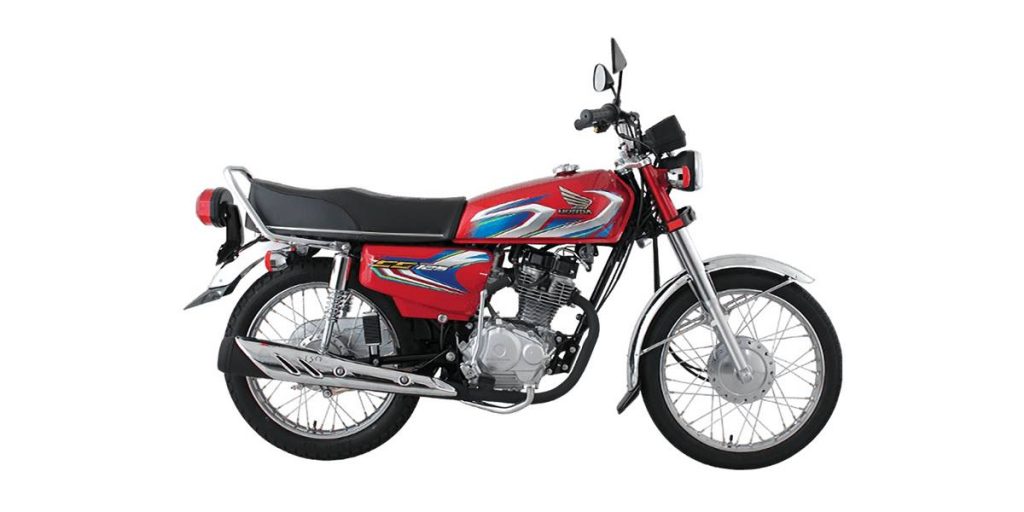 Technical Specifications
| | |
| --- | --- |
| Engine | 4-Stroke OHV Air Cooled |
| Bore & Stroke | 56.5 x 49.5 mm |
| Starting | Kick Start |
| Final Drive | Roller Chain |
| Transmission | 4 Speed Constant Mesh |
| Dimension(LxWxH) | 1912 x 735 x 1026 mm |
| Seat Height | 764 mm |
| Ground Clearance | 132 mm |
| Petrol Capacity | 9.2 Liters (Reserve: 2 Liters) |
| Wheel Base | 1204 mm |
| Tire at Front | 2.50 – 18 (4 PR) |
| Tire at Back | 3.00 – 17 (6 PR) |
| Suspension Front | Telescopic Fork 103 mm Travel |
| Suspension Back | Swing Arm 68 mm Travel |
| Dry Weight | 100kg |
What's New in Honda CG 125 2022 Model?
According to Atlas Honda, there are 55 changes in the new Honda CG 125 2022 model, including a brand new sticker aka 'NAWEE PATTI' along with 18 design changes to the frame and 37 changes to the motorcycle's engine itself.
Engine Changes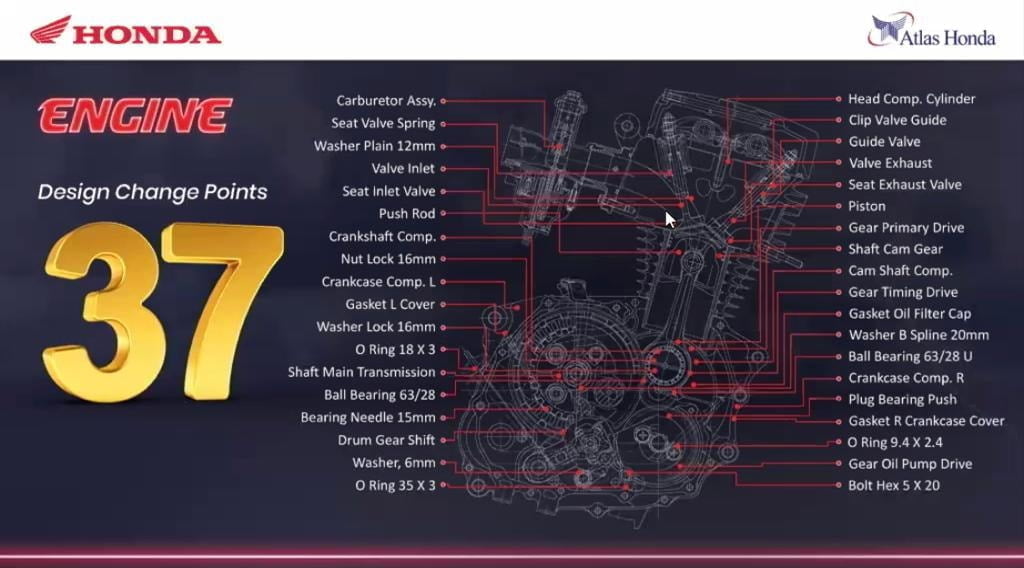 Frame Changes
Features
Stylishly Designed Speedometer With Honda Logo
Powerful Japanese OHV Engine With High Tech Parts And Euro 2 Technology
Newly Designed Fuel Tank Graphics With Euro 2 Sticker
Powerful And Durable Rear Wheel
Modern Black Painted Stylish Silencer Core With A Breathtaking Sound
Newly Designed Comfortable Seat With Seat Bar
Do you think the Honda CG 125 2022 Model Price in Pakistan is justifiable? Let us know the comments below.
Read more: Atlas Honda Motorcycle Price in Pakistan Increased [October 2021].