Pak Suzuki Motor Company (PSMC) has patterned with Meezan Bank and Bank Alfalah to provide easy installment plans for Suzuki cars through RV (Residual Value) Financing arrangement that is aimed to help customers change their car every 2-3 years.
Through RV Financing, the middle-income customer base has a chance to purchase their favorite Suzuki car at an easy installment plan with less than regular monthly rentals (40% lower) during times of increasing inflation.
Furthermore, the installment plan offers customers the facility to pay up to 60% of the car's financing amount at the end of the financing tenure (which is called Residual Value amount), which makes for a lower loan amount and easier monthly installments.
Moreover, the RV Financing offers the option to change your car every 2-3 years by utilizing Pak Suzuki One Window Solution. All you need to do is return the car and get the right market value through Pak Suzuki's dealerships in order to upgrade to a newer model.
Pak Suzuki Motor Company (PSMC) is also offering a BUY BACK GUARANTEE for up to three years so the dealership will pay the RV amount to the bank and the remaining amount can be utilized to make the down payment for a new car.
Features of Suzuki Car Installment Plans
Free Registration
Discounted Markup Rates (up to K +3%)
Discounted Insurance Rates (up to 1.99%)
No Early Settlement Charges (if you settle loan and get new car)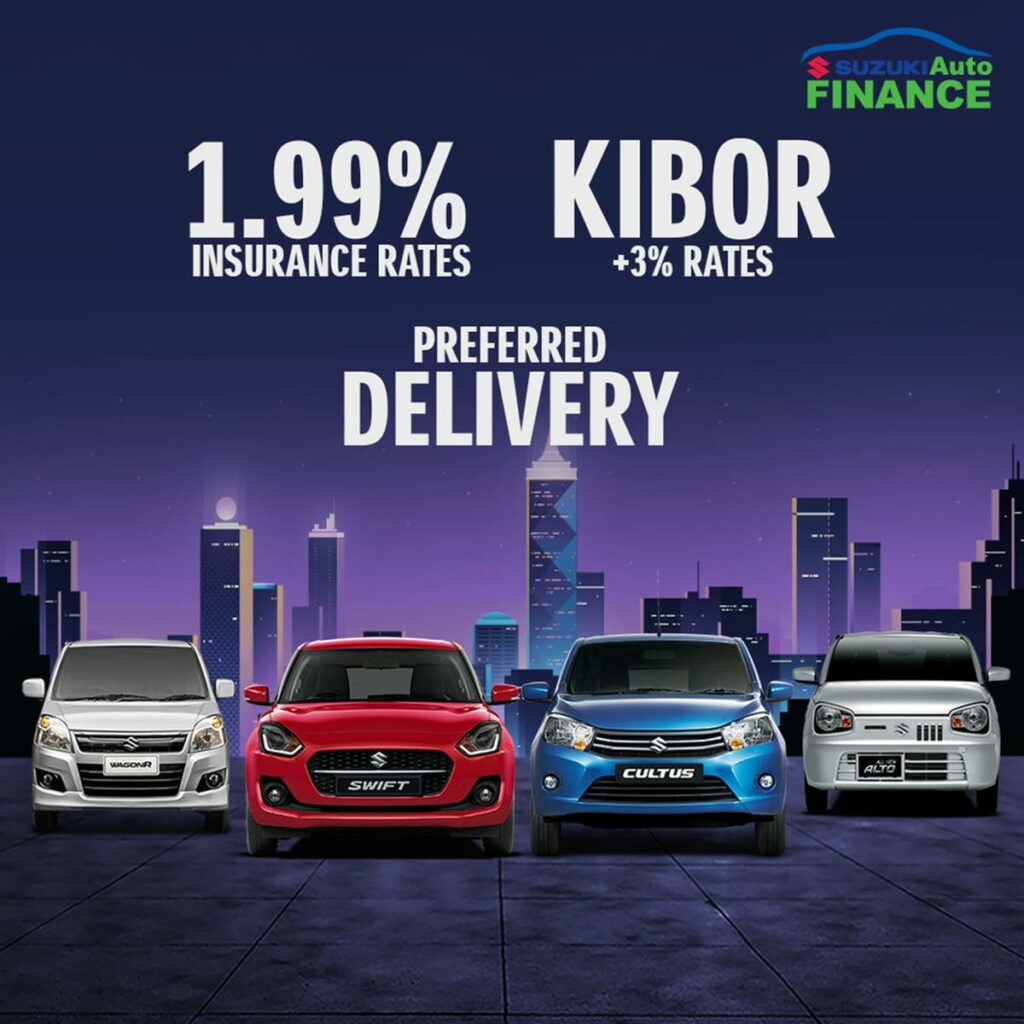 Furthermore, the installment car for Suzuki cars will allow customer to settle their loan any time during the financial tenure.
Monthly Rental / Installment
Through the Suzuki Car Installment Plans, customers can get monthly rentals as low as:
Suzuki Alto – Rs. 39,455
Suzuki Wagon R – Rs. 51,170
Suzuki Cultus – Rs. 60,336
Suzuki Swift – Rs. 75,000
These rentals are calculated based Residual Value Installment for 3 Years.
For more details, make sure to contact Meezan Bank or Bank Alfalah for details. Furthermore, you can also visit Pak Suzuki Motor Company's (PSMC) website for details.
Read more: Meezan Bank Offers Installment Plan for Toyota Cars With Priority Delivery.