United Motorcycles has partnered with Daraz, Pakistan's most popular ecommerce platform, to provide United Scooty 100CC on easy installment plan at zero mark-up (interest-free) through various banks' credit cards.
According to the details, the installment plan for United Scooty is available through the use of credits cards from Standard Chartered, MCB Bank Limited, and United Bank Limited (UBL) while buying the vehicle from Daraz.pk
This offer is especially useful as it has become extremely difficult for anyone to purchase any type of vehicle by paying the entire amount upfront due to high-inflation and deteriorating economic conditions.
United Scooty Installment Plan via Daraz.pk
According to a social media post by United Motorcycles, you can avail United Scooty 100CC on an easy 12-month installment plan with zero mark-up through Daraz.pk by using the credit cards from the following banks:
Standard Chartered
United Bank Limited
MCB Bank Limited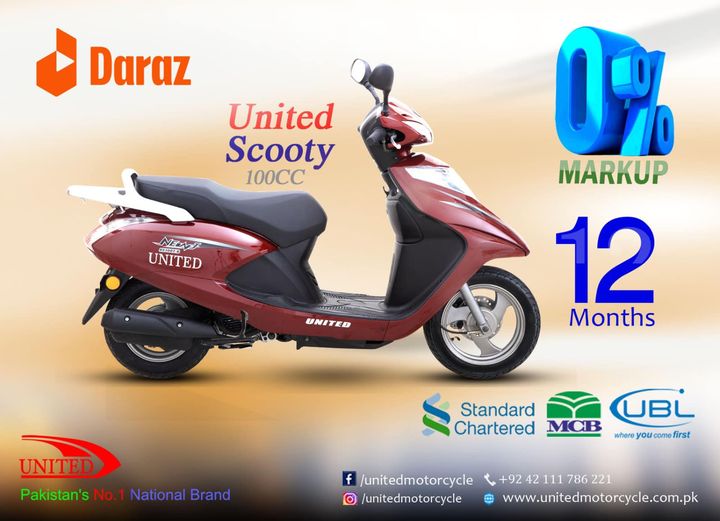 United Scooty 100CC Price in Pakistan
The price of the United Scooty 100CC in Pakistan is Rs. 228,000 on Daraz.pk, which can be availed on easy 12-month installment through the website for zero mark-up. However, if you are willing to pay interest, you may extend the installment up to 36 months, which brings the monthly payment as low as Rs. 10, 443.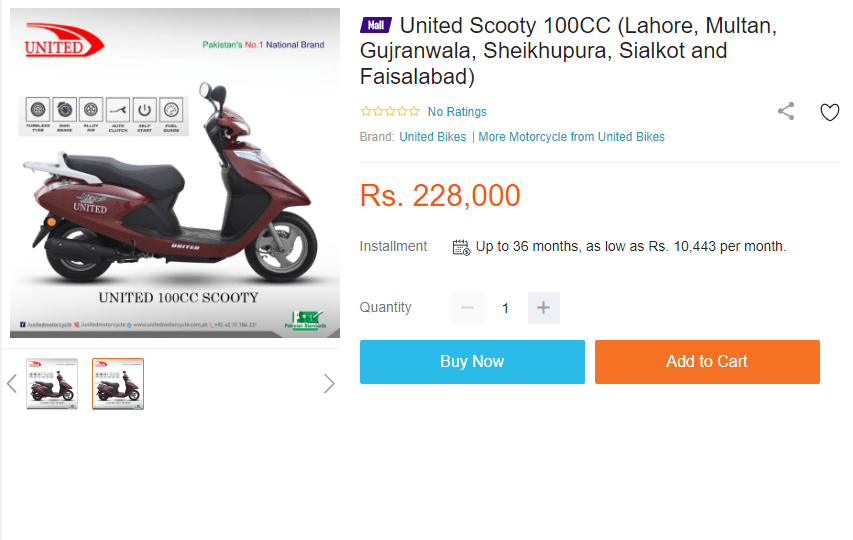 Although, the installment plan for United Scooty is only available in select cities, including Lahore, Multan, Gujranwala, Sheikhupura, Sialkot, and Faisalabad. Meanwhile, other cities are not included at the moment and may be added soon under the offer.
Specifications
Dimension (mm)
1870×650×1140
Seat Height (mm)
725
Wheelbase (mm)
1240
Net weight (kg)
91
Brake
Disk
Wheel (front/rear):
Al-alloy
Tyre size (Fr./Rr.)
90/90-12; 3.50-10
Displacement cc
100 cc
Engine type
Single-Cylinder, Forced Air-cooled,
Four-stroke
Fuel Tank Capacity (L)
5.5
Start Mode
Push Button /Self Start
Transmission
Auto-clutched
For more details regarding the installment plan, you can visit Daraz.pk.
To check out other installment plans, you should check out our automotive section.
Meanwhile, you may be interested in installment plans for Honda Motorcycles via Daraz as well.
Read more: Honda Motorcycles Available on Easy Installment Plan.
Follow INCPAK on Facebook / Twitter / Instagram for updates.