Yamaha Motor Pakistan (Private) Limited has notified of a massive increase in Yamaha Bike Prices in Pakistan starting 1 December 2021. The company has increased prices of all models, including the price of Yamaha YB 125Z, YB 125Z DX, YBR 125 and YBR 125G in Pakistan.
According to the circular, the new price of Yamaha YB 125Z is Rs. 190,000 while price of the Yamaha YB 125Z DX will be Rs. 205,500. Similarly, the price of Yamaha YBR 125 will be Rs. 211,000 and YBR 125G will cost Rs. 220,500.
Yamaha Bike Prices [December 2021]
| | |
| --- | --- |
| Model | Price (PKR) |
| YB125Z | Rs. 190,000 |
| YB125Z DX | Rs. 205,500 |
| YBR125 | Rs. 211,000 |
| YBR125G | Rs. 220,500 |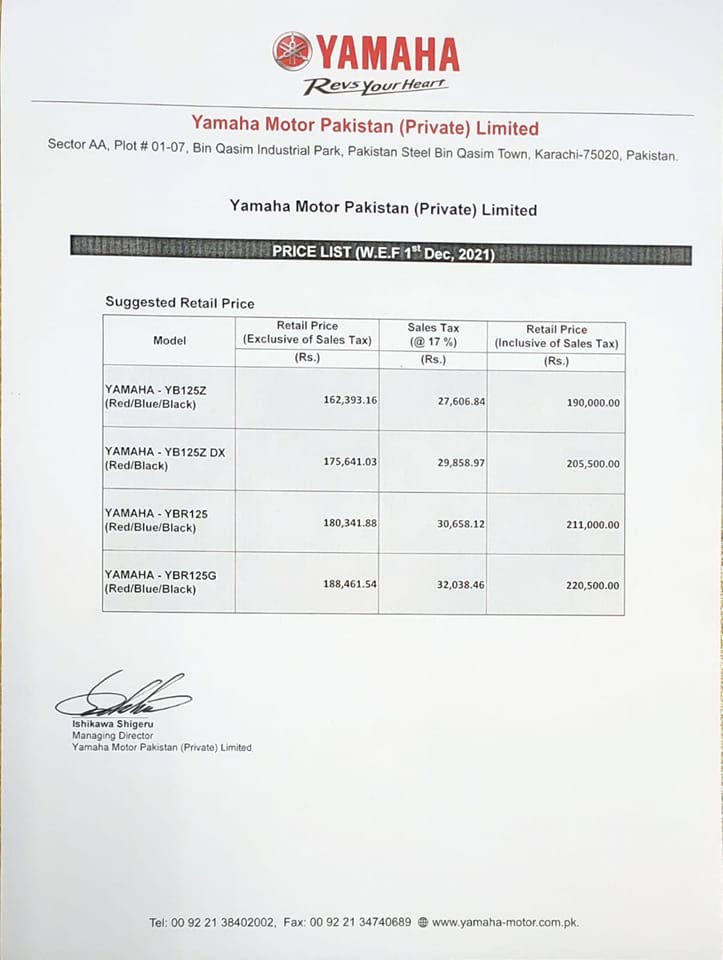 It is pertinent to mention that Yamaha has increased price of their motorbikes several times since start of 2021. These motorcycle manufacturers have made it a habit of increasing their prices almost every month.
Meanwhile, it is expected that other motorcycle manufacturers will follow the company and announce price hikes for their motorcycles during the month of December 2021 as well.
Follow INCPAK on Facebook / Twitter / Instagram for updates.