In this article, we are going to review the Yamaha YBR 125G, which has gained a lot of popularity in the local automotive market ever since Yamaha Motors Pakistan launched back in 2015 as it offered something different compared to already popular motorcycles like the Honda CG 125, despite belonging to a completely different category.
Yamaha YBR 12G was introduced by the company in 2015 and received its first major upgrade in 2018 when the company made some tweaks to the motorcycle. However, some might argue that Yamaha ended up downgrading a few aspects of the motorcycle with the launch of the YBR 125 G 2018 such as adding free-flow exhaust, making tweaks in the carburetor and replacing the cluster meter. From 2018 to 2022, Yamaha Motors Pakistan just replacing the sticker following the footsteps of Atlas Honda. Although technical changes were appreciated by the motorists, however, replacing the original Japanese-built cluster meter was not a sensible choice.
Yamaha YBR 125G gained popularity due to its unique shape and motorist preferred to go on long tours on this bike, Motorbike is pretty comfortable for long rides, and suspension and handling make it easier for a rider to enjoy the ride.
Yamaha YBR 125G Specifications
| | |
| --- | --- |
| Engine Type | 4-Stroke, air cooled, SOHC |
| Displacement | 124 cm3 |
| Bore x Stroke | 54.0 mmx54.0 mm |
| Compression Ratio | 10:01 |
| Starter System | Self Starter/Kick Starter |
| Transmission | Constant Mesh 5-Speed |
| Ignition System | 12V DC – CDI |
| Fuel Tank Capacity | 13.0 L |
| Overall Length | 1990 mm |
| Overall Width | 745 mm |
| Overall Height | 1080 mm |
| Seat Height | 785 mm |
| Wheel Base | 1295 mm |
| Ground Clearance | 145 mm |
| Front Brake | Single Disc Brake |
| Rear Brake | Drum Brake |
| Rear/Front Wheel | Cast Wheel |
| Headlight | 12 V 35W x 35W |
| Bulb Type | Halogen Bulb |
| Front Suspension | Telescopic, Coil Spring, Oil Damper |
| Rear Suspension | Swing-arm, Coil Spring, Oil Damper |
| Tire Front | 3.00 – 18 47P |
| Tire Rear | 90/90 – 18 57P |
| Dry Weight | 113 kg |
Yamaha YBR 125G Specification
YBR 125G Build and Design
The build quality of the Yamaha YBR 125 G is satisfactory but nothing extraordinary considering the high price, which is increased several times a year. In terms of design, the motorcycle is considered a crossover offering some off-roader characteristics.
Switch Assembly
YBR125G Switch assembly comes with basic features (Hi/Low) Beam, Horn, Turn indicator switches on the left side and Start button, Parking/light button on the right side, however it does not have the engine kill switch, dipper and hazard light button although these features are very important for any bike however they are missing in all Yamaha YB Series motorbikes.
Engine and Transmission
Yamaha YBR 125 G comes with a 125cc SOHC engine that is mated to a very smooth 5-speed constant mesh transmission system and it is capable of producing 10.05 horsepower that is more than enough for a motorcycle of this class.
The bike has good torque and manages 0-60km/h with ease and the best part is the s-peed transmission. However, the Yamaha YBR 125G has a reverse shifter, which means that 1st gear is engaged by pressing forward, while the others are engaged backwards and this can cause some confusion for people upgrading from Honda CG 125.
The reverse shifter isn't a big issue though and one can easily get used to it after a few rides.
Yamaha YBR 125G Fuel Average
Yamaha YBR 125G offers a very good fuel average but it all depends on the rider. According to our testing, the Yamaha YBR 125 G managed a fuel average of 60km/l with the speed of 50-60km/l and engine RPM of around 4000 to 5000. Make sure to check the plug is properly clean, the Air filter is clean and the tire air pressure is all set according to the recommendations, otherwise bike will not give you the exact average.
However, heavy foot and faster riding style will reduce the fuel average significantly and we noticed the motorcycle giving a fuel average of 40-45km/l, which still isn't bad.
Headlights
Headlights of the Yamaha YBR 125G are up to the mark and have enough through for your day-to-day needs. However, if you are getting this motorcycle for touring purpose, you may want to make an aftermarket upgrade in this area for better visibility.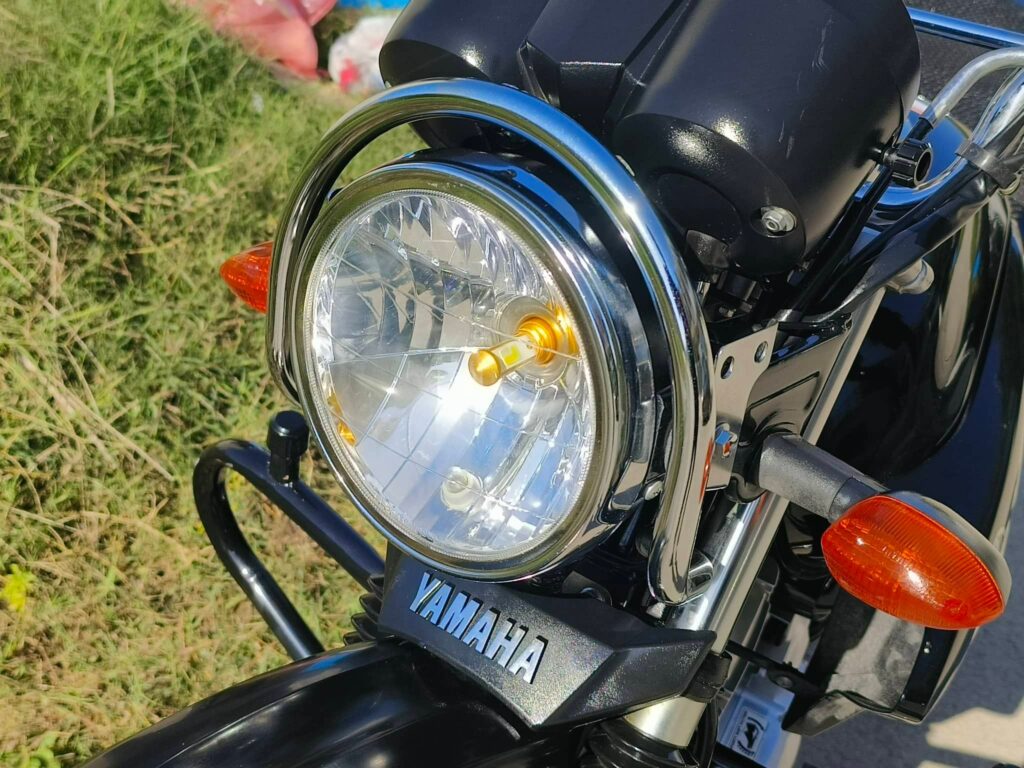 Suspension
The motorcycle features a telescopic suspension with coil spring and oil damper on the front, while the rear suspension is equipped with swing-arm. The Yamaha YBR 125 G offers excellent performance. If you are upgrading from Honda CG 125, you will notice a significant difference in the shock absorption over bumps.
Furthermore, the bike offers a really good ground clearance and absolutely no extra vibrations like the Honda CG 125.
Brakes
Yamaha YBR 125G features a single disc brake on the front with a drum brake in the rear and the performance of brakes is not satisfactory. The braking isn't bad but could have been improved as the front brakes are too strong, which can be dangerous in emergency situations, while the rear brakes are weak and need to offer some more braking power.
Tires
The motorcycle comes installed with 3.00 – 18 – tire on the front, while the rear is equipped with a 90 – 90 -18 tire that offers less than desirable road grip while cornering and it would have been nice to see them install 100 – 90 – 18 sized tires. Moreover, the installed Panther tires are not built for slippery roads and one might want to invest in something better for reason.
Panther Trekker tires are OK for city and off-roading, However adventure motorists prefer to replace the tires before going on a tour.
Furthermore, there is a lack of radial/tubeless tires, which would have been nice to see considering the constant price hikes and an already high price tag at Rs. 328,000.
Latest Update: Yamaha YBR 125 & 125 G Price in Pakistan October 2022
Due to inflation and import duty almost all motorbike and cars prices hiked almost double in Pakistan, Yamaha YBR 125G was a sensible choice at first but now Motorbike fans are complaining about the recent price hike especially when the USD dollar depreciated against the Pakistani Rupee, the company still managed to hike the price for no good reason and no upgrades.
Verdict and Recommendation
An adventure touring motorist has only two choices in the budget category, either go for Suzuki GS150 or Yamaha YBR125G, YBR wins the race when it comes to the design and overall appearance, meanwhile, Suzuki GS150's engine is pretty powerful in performance.
NOTE: Safety Comes First – Always Wear a Certified Helmet and Do Not Remove The Rear-View Mirrors – They Are Very Important to Catch a Glimpse of Who is Behind You.
Finally, Yamaha Motorbikes are available on a 0% Markup plan, you can check the details here.
Follow INCPAK on Facebook / Twitter / Instagram for updates.