Meezan Bank is providing Freelancers the facility to open an account to easily directly receive work payments and enjoy essential banking services without any hassle.
According to the details, Freelancers can open a Meezan Freelancer Account in Pakistan Rupee (PKR) or Foreign Currency (FCY) in both Current and Savings.
Key Features
Free Chequebook
Free Pay Orders
Free Internet Banking
Online Branch Banking
Unlimited Withdrawals
Inward Foreign Remittance
Free Meezan Mobile Banking App
Debit Card
SMS Alerts
Opportunity to Invest in Meezan Bank's Certificate of Islamic Investments (COIIs)
Ability to pay utility bills, fees and conduct other fund transfers in Pakistan using Meezan Internet Banking Facility and Mobile App.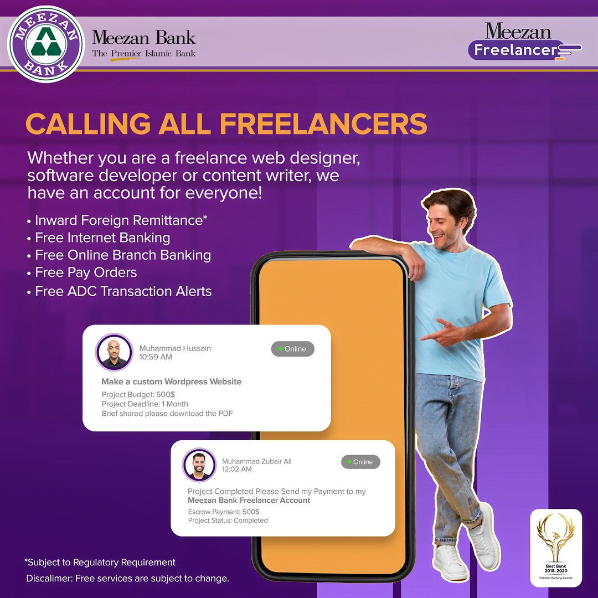 Requirements
Proof of profession such as copy of agreement/certificate/ letter-based correspondence that
includes:
Portal name through which services are provided
Nature of services
Scope of work
Copy of Sale Tax NTN Certificate
Furthermore, a valid source of income such as the certificates / statements of earnings for past
3 months or any other document provided by the companies / clients proving that the freelancer
is working for it and has earned a particular amount of income in past 3 months, are also
considered a valid source of income.
However, despite being a Freelancer Account, Meezan Bank only allows commercial remittance to be received in PKR account only. However, you have the option to receive Home Remittance in both accounts from any blood relative.
Debit Card
Meezan Bank provides debit card for only PKR account and charges will be based on the bank's Schedule of Charges.
Read more: Currency Rates in Pakistan (Daily Updates).
Follow INCPAK on Facebook / Twitter / Instagram for updates.