The foreigners (Chinese and Americans) are given a free hand in Pakistan who not only breach the national laws but threaten the very existence of our lives.
Yesterday a US Defense Attaché, Col. Joseph E. Hall, was reportedly speeding under the influence of alcohol when he hit two Pakistani innocent citizens on a motorbike, one of whom died on the spot. The attache refused to dismount the vehicle and couldn't be arrested under the garb of "diplomatic immunity".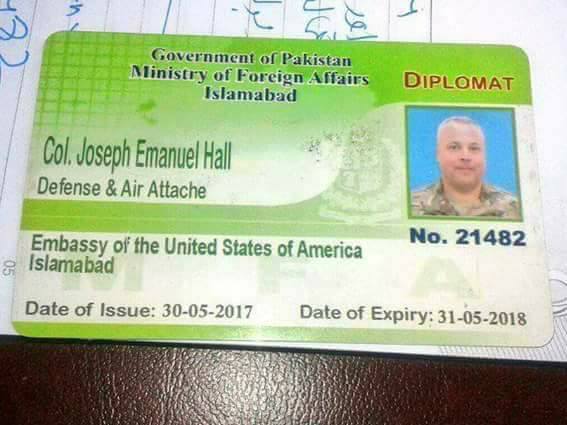 He then crashed into a motorcycle (number plate ARM-900) around 3pm Saturday on Margalla Road when he violated a traffic signal, as per footage from a closed-circuit television (CCTV).
Motorcyclist Ateeq Baig, a resident of the city's Tilhar suburb, died on the spot, while he was en route to his office with his cousin Raheel riding pillion.
Raheel was critically injured in the accident and, consequently, moved to a nearby hospital.
Following the accident, police reached the spot and brought the diplomat to the police station.
He was not arrested due to his diplomatic immunity.
He then ended up locking himself inside the vehicle and subsequently fled in another car.
The police, however, seized the vehicle.
A case was also registered at the Kohsar Police Station later the same day.
The accident occurred to due to sheer negligence of the driver of the embassy's car, the first information report (FIR) said.
Authorities said officials from the embassy are in contact with the law enforcement agencies (LEAs).
Vienna Convention on Diplomatic Relations. 1961
According to Article 31(1) of the Vienna Convention on Diplomatic Relations (1961) exempts diplomatic agents from the criminal jurisdictions of host states. This article clearly states that while diplomatic immunity privileges may exist in a host state, these privileges do not exempt the diplomatic agent from the jurisdiction of local laws and courts. These privileges are not absolute either. For example, Article 32 provides that the sending state may waive all diplomatic immunity privileges enjoyed by the diplomatic agent.

According to established practice, the diplomat may, when apprehended, be transferred by the sending state, or if not, he is likely to be declared persona non grata "an unwelcome person" by the receiving state.