Pakistan included in " US Visa Waiver Program" by United States.
This was an important news for all Pakistanis posted on Jang (Archive link) and Express (Archive link) E-Paper and on the front page of today's hardcopy of Express Urdu Newspaper.
It continued with "John Kerry said that this is a token of appreciation for Pakistan. Pakistan has became the 39th country to enjoy this privilege."
A lot of people rejoiced after reading the news of US Visa Waiver and some of them even started packing their bags for a trip to US. But those who had a sense of visa process and Pakistani Passport's rankings, started to wonder; how and why would US do that?
Some people were also convinced by the story because US Embassy Islamabad's Webpage (here) says :
Embassy Islamabad wishes to remind all Pakistanis who are able to travel to the United States via the Visa Waiver Program that as of 01 April 2016, they must have a valid electronic passport.
However on the same page it mentioned that you can check your passport validity from another link which doesn't mention Pakistan in the list of US Visa Waiver Program.
The line written on US Embassy's website was for those Pakistanis who have a dual-nationality with one of the countries in the program.
After some investigation, we found that the news was a satire from a fake dailymail website which had various similar stories in it. But in the race of publishing the news first Pakistan's top media houses didn't care about the validity of the news and published it.
Here are the screenshot for proof more-ever the links have been archived on web.archive.org for safe-keeping.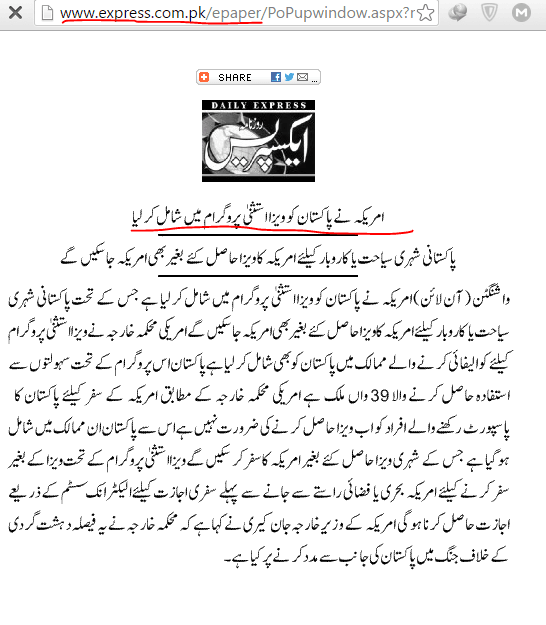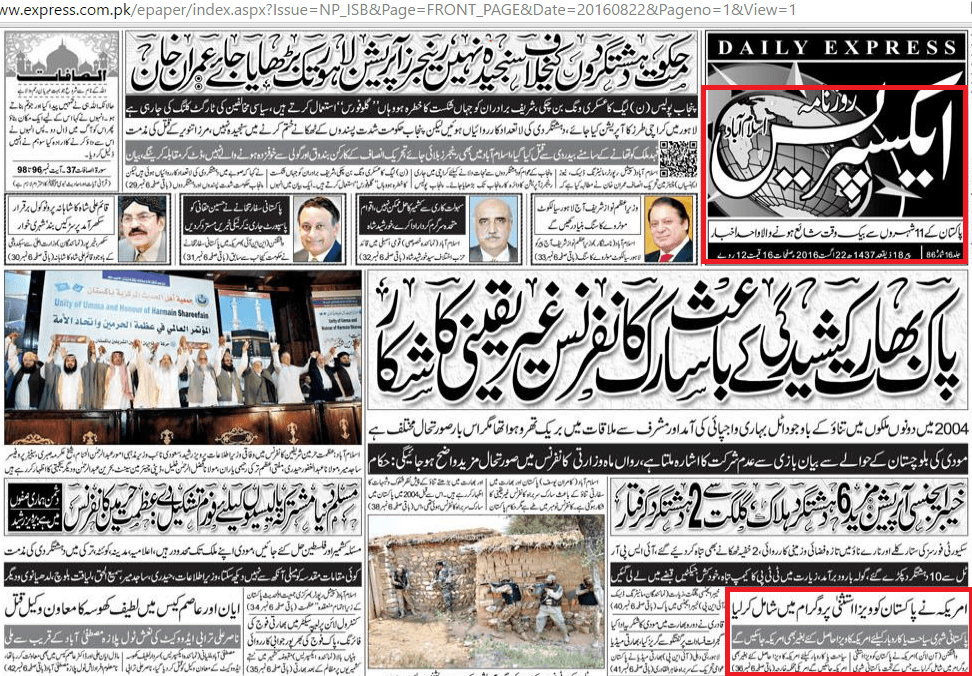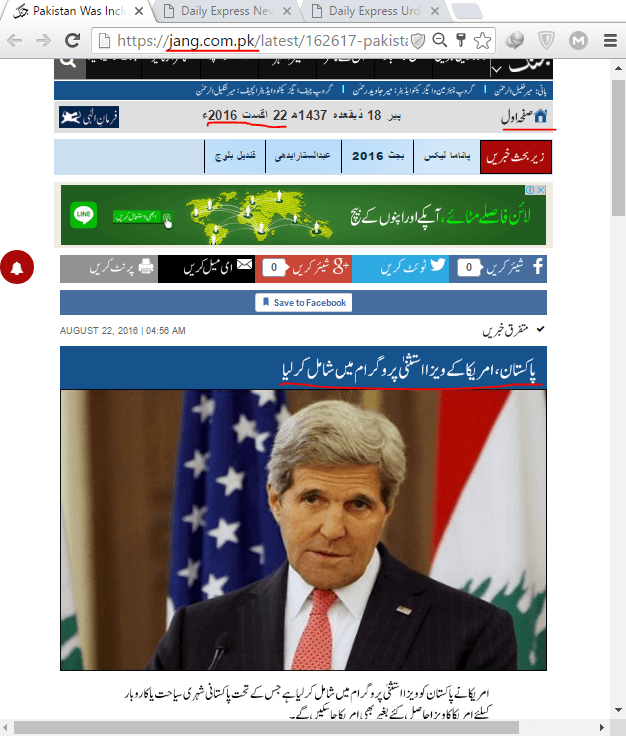 Is our media free of any accountability or credibility check that they published news without verification or wasn't there one sane minded person in the whole chain ( from reporting to publishing) who doubted and tried to verify the story. Such stories will create a mistrust on our media.
Should media be given so much freedom that it doesn't remain restricted by any moral grounds anymore?
UPDATE: US Embassy Islamabad has confirmed via twitter that the news is fake.
Reports that #Pakistan has been added to the Visa Waiver Program are false. 1/2 pic.twitter.com/vcv1FEZpAQ

— US Embassy Islamabad (@usembislamabad) August 22, 2016
Share this with everyone before someone starts a scam based on this story (happened with the fake Chinese Mehran story)