Golra Sharif Railway Station Jn, which is very much well known for its Museum now, in fact it is much more than just a Railway Junction. It's a place where everyone will find one thing or the other to enjoy or admire.
Golra Sharif Station is approximately 12 km from Zero-point, Islamabad. lies on the main line of Pakistan connecting rest of country and Peshawar to the north, located above mean sea level 1994.80 FT. While speaking to the duty train master available there, he confirmed as much as 20 trains pass through this junction daily. This station was built in 1882 during the British Raj and upgraded as a junction in 1912. If you sit there on one of the benches quietly, for a moment you will get the feeling that you are in 1882. The presence of old memories, the museum housing the relics and memorabilia there and the efforts of Pakistan Railway has definitely tried their best to keep it in its original state as much as possible. Trust me you can feel it there.
Golra Sharif Railway Museum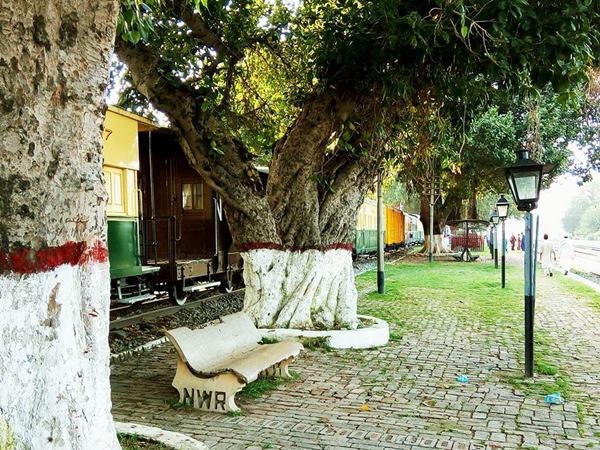 The parlor car of Lord Mountbatten, in which he used to travel is also present there and definitely, is in its best form. The museum was established in October 2003, it comprises of old locomotive trains, steam engines, old paintings, furniture, electric heater, electric fans, Victorian crockery, utensils, clocks, guns used by the guards at the train station, fireplace, hand pump, telephone and many more.
Another interesting feature of Golra Sharif Railway Junction is the presence of old trees. Very tall, healthy and they seem as old as the station itself. If you stay there till sunset you will get to know the trees are full of bird nests. By sunset as the birds return back, it gets really noisy, and that's the only noise you will hear.
The station is equally enjoyed by the locals and the visitors. The residents of the surrounding area will also be seen there, children playing, on their cycles with school bags and people heading towards or coming back from the mosque.
Golra Sharif Station master sharing some useful information related to railways how they manage and control signals using old technology which still existing and functioning in Pakistan.
Special thanks to Mr.Atkhar,23 years of service in Pakistan Railways and managing Golra Sharif Station since 4 years.
Pictographic View of Golra Sharif Railway Junction
Golra Sharif Railway Station
The magnificent building has Victorian Architecture with yellow stone masonry comprising of five hall-like rooms.
2. Golra Sharif Railway Heritage Museum
It was established in October 2003, in an attempt to preserve and display vintage items and artifacts related to the history of railways. Relics dating back to the inception of railways in the subcontinent by the British are preserved here. The Rail Heritage Museum contains artifacts reflecting the history of Railway over a period of more than 150 years including almost 100 years of undivided India. The museum consists of an impressive blend of artifacts covering the many facets of the railways systems. 
3. Mesmerizing Trees at Golra Sharif Station 
The presence of mesmerizing trees gives the station a fantastic look. They seem as old as the station itself. These trees hold the countless number of nests and as the sun sets there is life in these. The station gets really noisy as the birds return to their nests as the sun goes down.
4. Narrow-gauge steam engine.
This narrow-gauge steam engine is almost 100 years old. It is resting here at the station on the narrow tracks. It is no longer operational. It is still in a very beautiful state. Just looking at it will bring out a smile on anyone's face.
5.  Signboard showing the uses and benefits of consuming tea.
One more attraction, this simple sign board draws every ones attention. It is as old as the station. The first parts of the sign board tell about the method of preparing tea. The second portion states the price per cup of tea. The third portion states the befits of  drinking tea. The fourth portion states that if you drink tea you will get wealth and health.
6. The parlor car of Lord Mountbatton.
Luxury saloon of last viceroy of India, Lord Mountbatten. According to Railway sources founder of Pakistan Mohammad Ali Jinnah also traveled in this saloon.These are preserved and renovated to save our precious heritage
Yet another interesting historical relic from history. The parlor car personally used by only Lord Mountbatton. The last green parlor visible in this image was personally used by only him.
7. Diesel engine (Model) at Golra Sharif Station
Model of diesel train engine. It is used by Pakistan Railways nowadays.
8. Railway Tracks
Daily around 20 trains pass through these railway tracks.
9. Railway warehouse at Golra Sharif Station
The railway warehouse at the Golra Railways Station, currently unoccupied, its under construction.
10. Hand Crane
Manually operated crane can also be seen at Golra Sharif Museum. These are no longer used by Railways as they are replaced by heavy cranes.